Now that the sun, surf, and sand are once again within reach, we're daydreaming about the Caribbean cruise ports of call we can't wait to revisit.
Sure, you might have to fly to a port outside of the United States in order to get on a ship (at least until the CDC lifts its Conditional Sailing Order), but for those anxious to set sail, that's a small price to pay.
Whether you're planning your first visit to one of these gorgeous destinations or just want to remember why you fell in love with them in the first place, here's a quick guide to 10 of our favorite Caribbean ports of call listed in alphabetical order.
1. Antigua
Yes, there are really 365 beaches on this island, which is particularly incredible when you consider how small it actually is. Measuring only 108 square miles in total (and 18 miles across), there's literally no place on Antigua that you couldn't visit during a typical cruise ship's visit.
Although all of the beaches are technically open to the public, that doesn't necessarily mean all are easily accessible. On the plus side, there are plenty of great resorts offering day passes, as well as smaller beach bars offering a more personal experience.
One thing we highly suggest: Do a little research in advance to determine which beach or beaches you want to hit. Some of the most beautiful stretches of sand are a tad more difficult to access than others.
TRIP REPORT: Carnival Breeze in Antigua 
Most ships dock in St. John's, the largest town on the island, home to a wide variety of shops and restaurants, and you'll easily be able to hire a driver here. (In fact, the true challenge might be avoiding the many taxi drivers hoping to take you for a literal ride!) Finally, remember that the island's name is pronounced An-tee-ga, not An-tee-gwa.
2. Aruba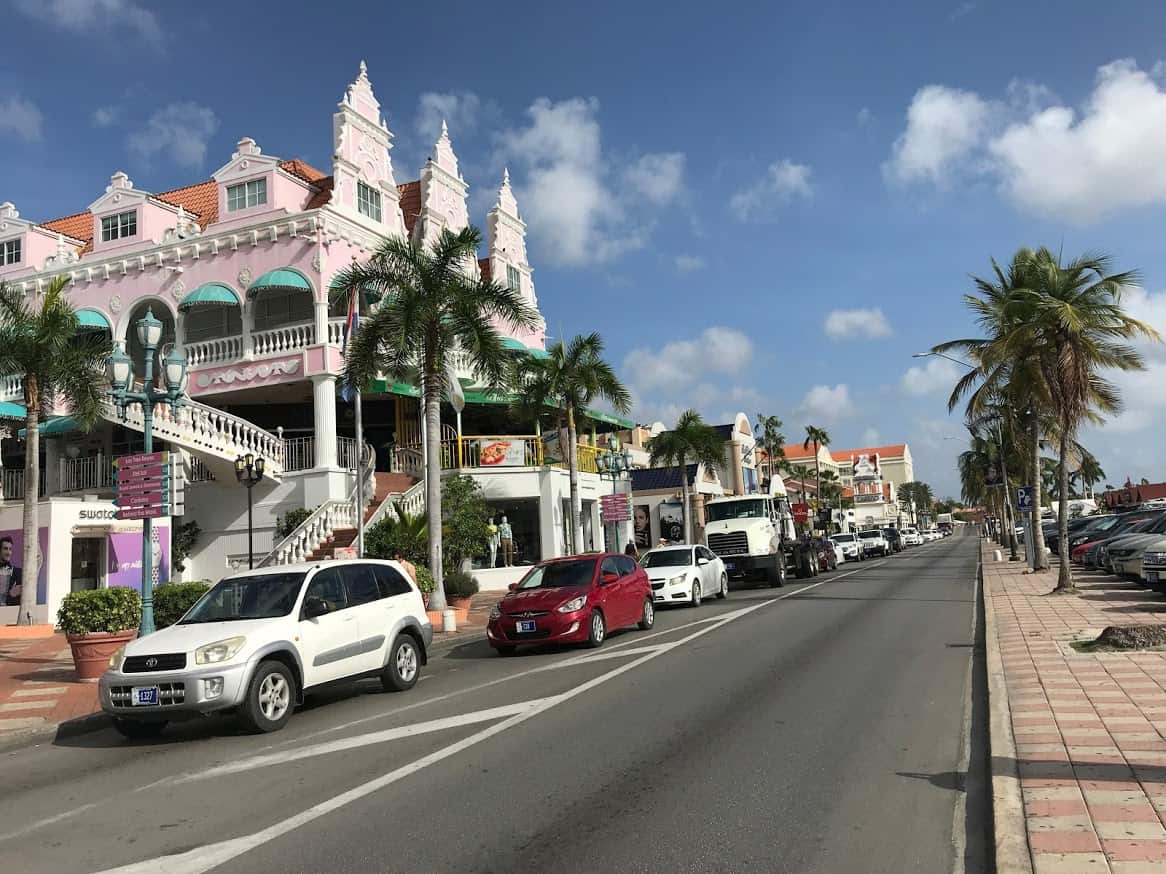 As one of the southern Caribbean islands, the popular cruise port of Aruba is often known for its wind sculptured desert landscapes, crystal clear waters, and beautiful blonde sand beaches.
Cruise ships dock in Oranjestad, the capital, where the clean city streets remain just a short walk away from the ship. 
Disembarking passengers will find it easy to navigate the local shops, cafes, and casinos in town. The best advice remains to not solely walk on L.G. Smith Boulevard, but to head in a few streets and walk the parallel avenues and experience more of the port city's charm.
With a bus terminal relatively right in front of the port terminal, public transport remains an easy and affordable way to travel the island. Multiple bus stops take cruise-goers to arguably some of the best island beaches in the Caribbean. And for those lucky enough to have a long day in port, nearby Eagle Beach provides a perfect setting for the sunset, too. 
Taxis are also plentiful and relatively reasonable compared with other islands.
For those deciding on an excursion in Aruba, snorkeling, sailing, ATVs, and island tours remain the most popular. 
REVIEW: Aruba's Snorkel and Beach Excursion
3. Barbados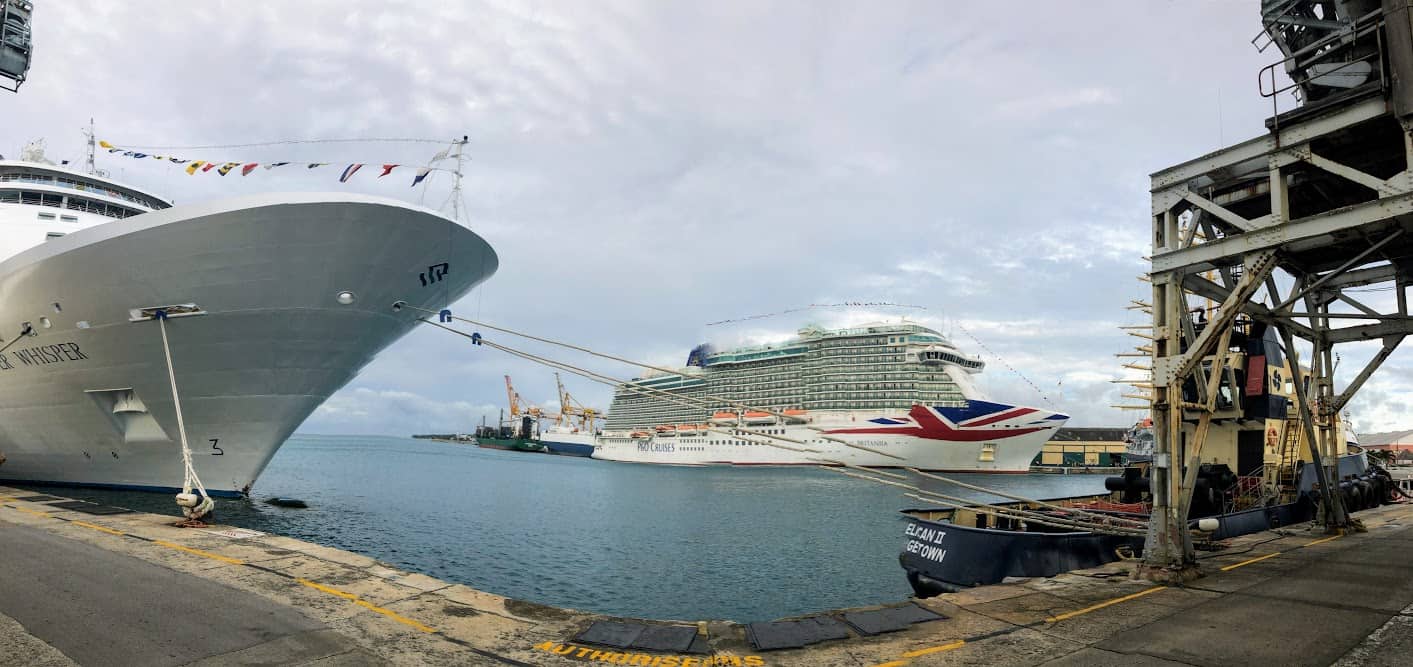 If there's one thing that surprises many people about this gorgeous island nation, it's just how flat it is compared to other Caribbean islands.
Upon arriving at the terminal located just outside the island's capital side of Bridgetown, more than a few cruisers have been known to never get past the duty-free shops which greet them immediately upon disembarking. But there's much more to see, do, taste, and experience where Barbados is concerned.
Of course, there are beaches — this is, after all, a Caribbean island. But if you're looking to do something a bit different during your visit, there is a chocolate factory to tour, golf courses on which to play, and a variety of festivals that take place throughout the year. If you want a truly unique experience, check the schedules to see if you can catch a cricket game.
4. Cozumel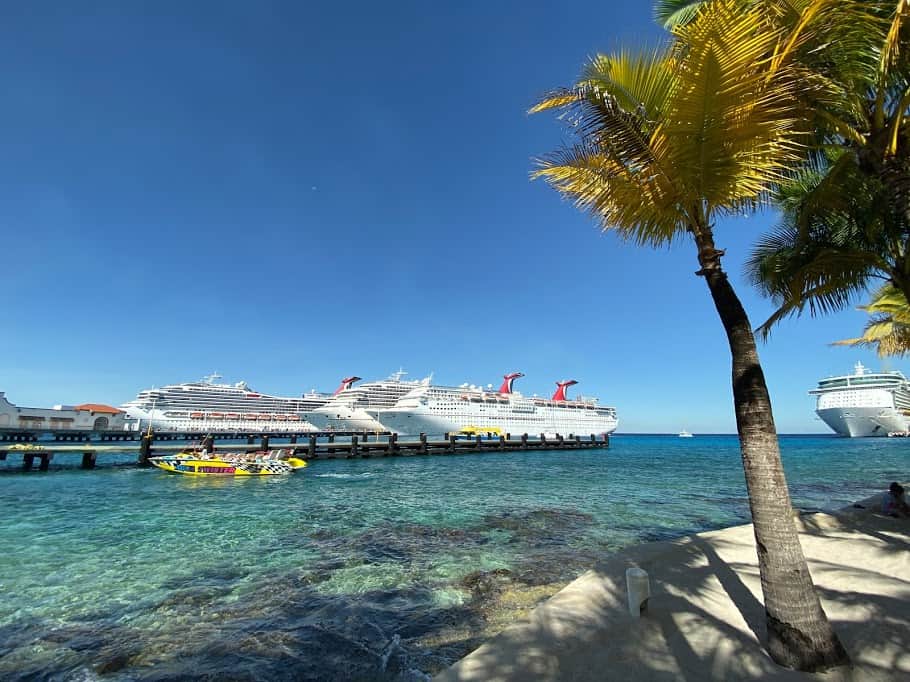 Cozumel, originally made famous as a SCUBA diving destination, now serves as a popular Mexican cruise port. Today, as many as eight cruise ships can be found docking across the multiple cruise terminals on the island.
Each terminal offers a taxi stand where all the fares are listed for all Cozumel's major attractions. The taxi drivers take both dollars and pesos. 
Most cruise passengers spend their day at one of the many popular beach clubs to enjoy the pools and pristine beaches. Options exist when choosing a beach club, from all-inclusive to pay as you go — many come with available water sport activities too.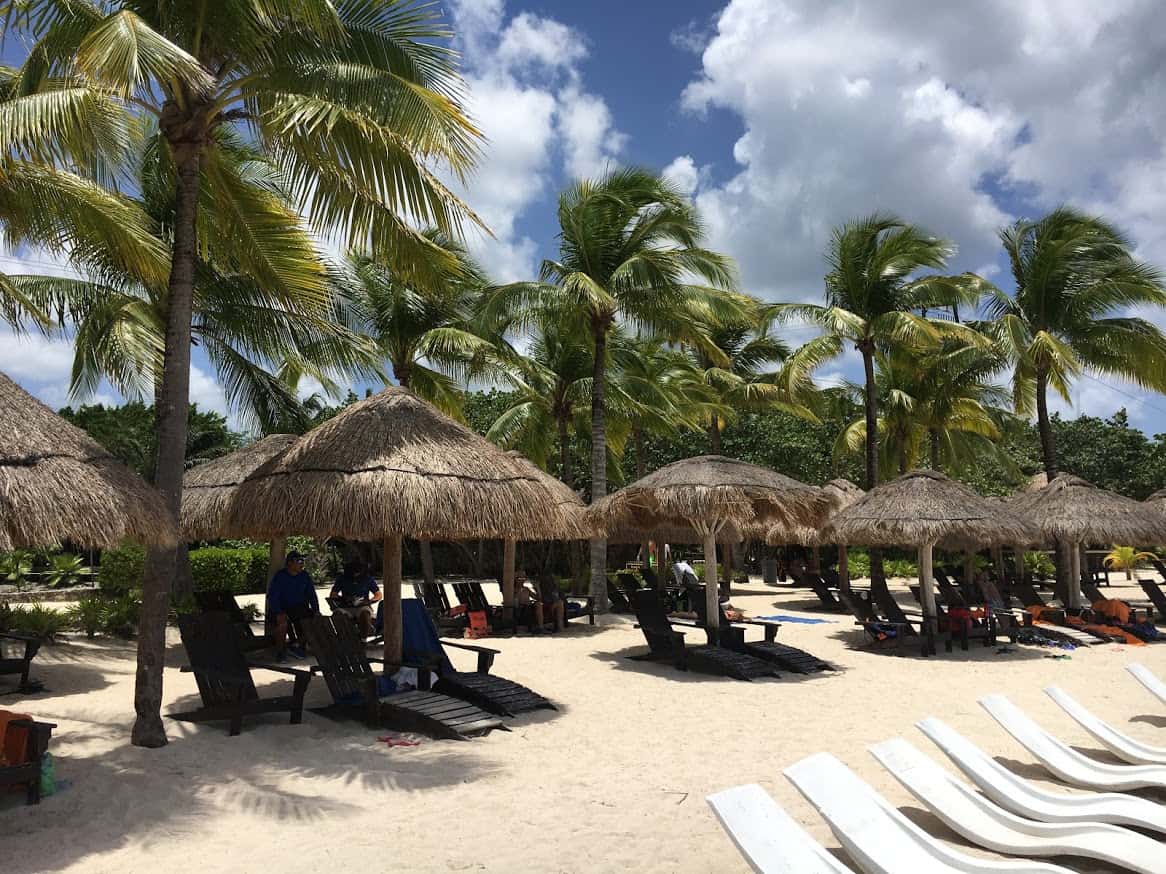 Other options exist as well, such as Chankanaab National Park, providing access to live performances, a beach, and even exhibits on the Maya. Visitors can also take excursions such as a speedboat ride, island jeep tours, and catamaran snorkeling adventures. 
For others, this is the shopping destination both inside the cruise ports and in the main downtown area. Shoppers like to pick up popular items such as vanilla extract, local Mayan chocolate, ceramics, and hammocks. Some appreciate the free tequila samples while others find their tequila at the local bars such as Carlos and Charlies. 
It's also good to be aware of the time, as traffic can cause delays since so many passengers disembark and the island only has one main road.
REVIEW: Nachi Cocom Beach Club in Cozumel
5. Harvest Caye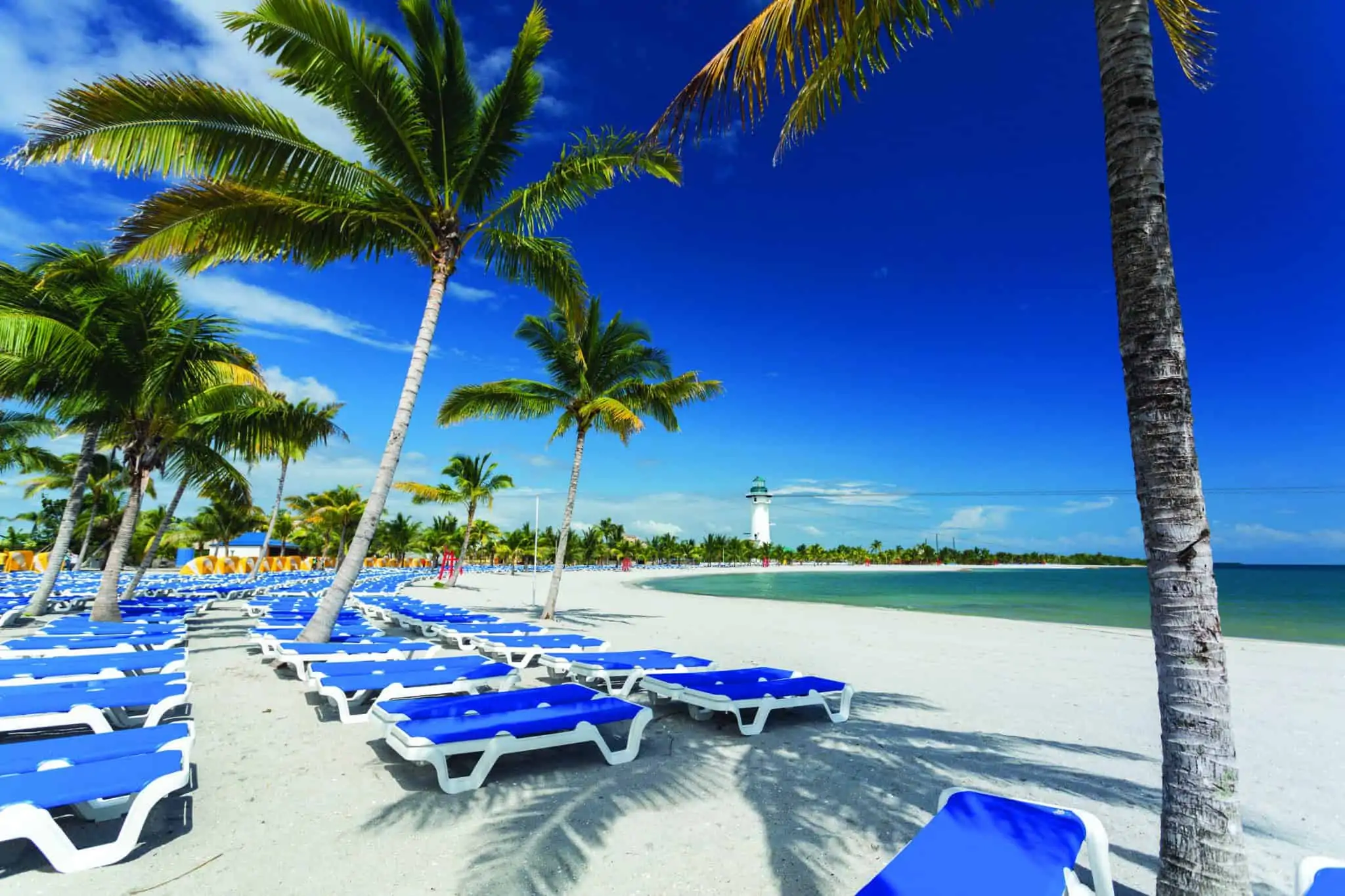 Harvest Caye, a private destination developed by Norwegian Cruise Line in Belize, offers passengers the chance to disembark into a tropical paradise while on a western Caribbean cruise.
Arrival begins with a walk through a long canopy-covered pier positioned alongside the mangroves. For most, the chance to relax in the lounge chairs along the seven acres of white sand beaches or the 15,000 sq. foot pool remains the main activity, but plenty of other excursions exist.
For starters, visitors can't miss the 136-foot-high lighthouse, a lighthouse structure used as the venue for aerial activities such as suspension bridges, free-fall jumps, and zip lines including the now-famous "superman" style. Plus, wildlife experiences were also brought to the island with exhibits of blue morpho butterflies, boa constrictors, toucans, and other tropical species. 
With shopping designed to be locally owned and operated, the foods, art, and souvenirs will not be the same in the next port. Additionally, local onsite watersports include everything from kayaks to stand-up paddleboards and parasailing. Norwegian Cruise Line also offers mainland excursions into Belize there. 
READ: 6 Cruise Line Private Islands
6. Nassau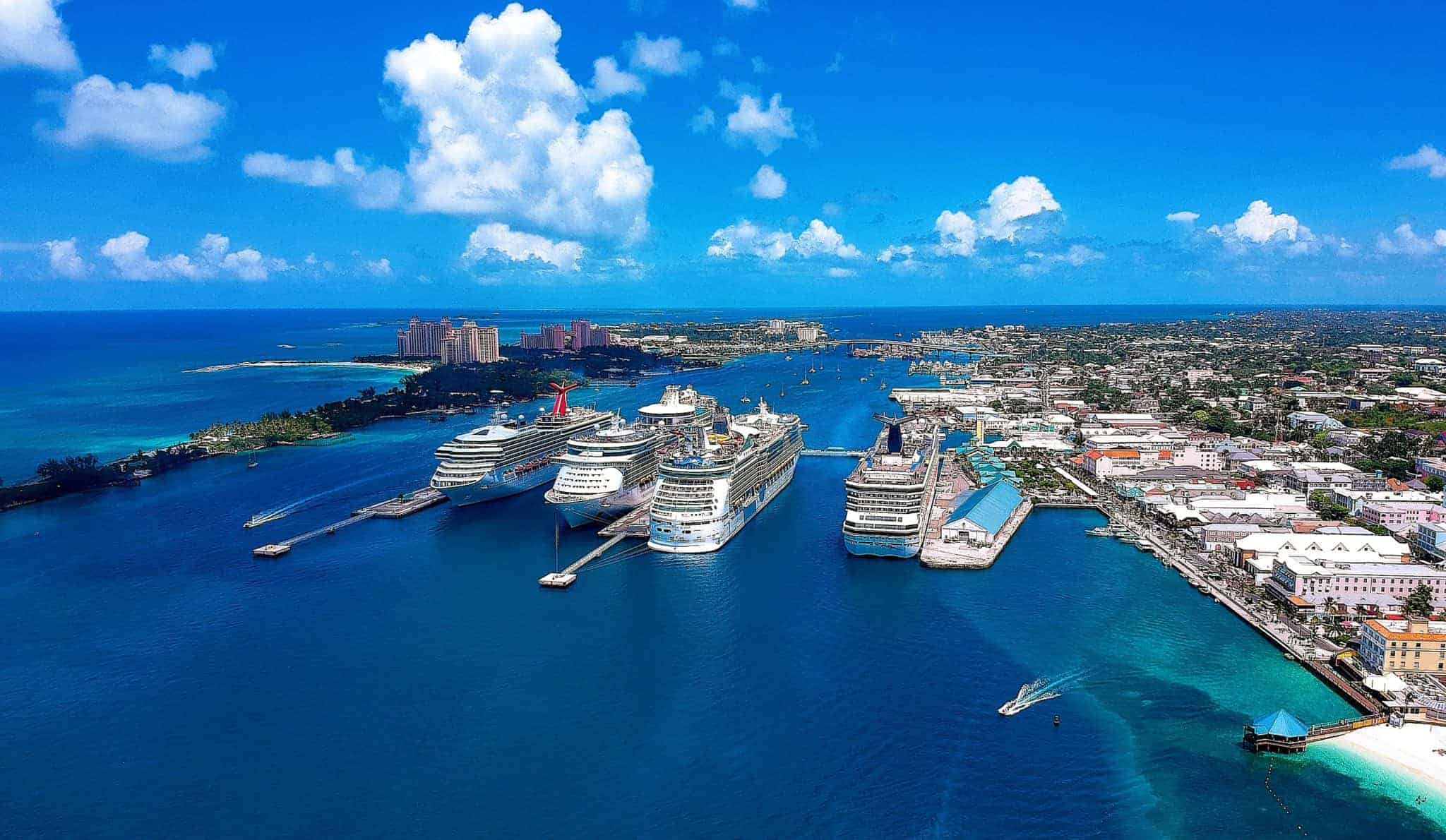 One of the busiest ports in the Caribbean — and certainly the most well-known city to cruisers in the Bahamas — is Nassau. 
Located on 21 mile-long island New Providence, Nassau is full of things for cruise passengers to do. The cruise port is located right in the center of town, and can accommodate seven ships at once.
Walk off the pier and you're right in front of shops and restaurants, and just a short walk from a straw market full of souvenirs.
There are a variety of hotels and resorts just a walk or short cab ride away, and many offer beach day passes. Public beaches are also available within a short distance, such as Junkanoo Beach and Cable Beach.
The popular Atlantis resort is on the other side of the cruise piers on Paradise Island, which you can get to via taxi or a 10-minute ferry ride. Other available activities and excursions in Nassau include parasailing, snorkeling, taking a sailboat ride, and food/drink tasting tours.
MORE: 11 Tips for Navigating Nassau, Bahamas
7. Ocho Rios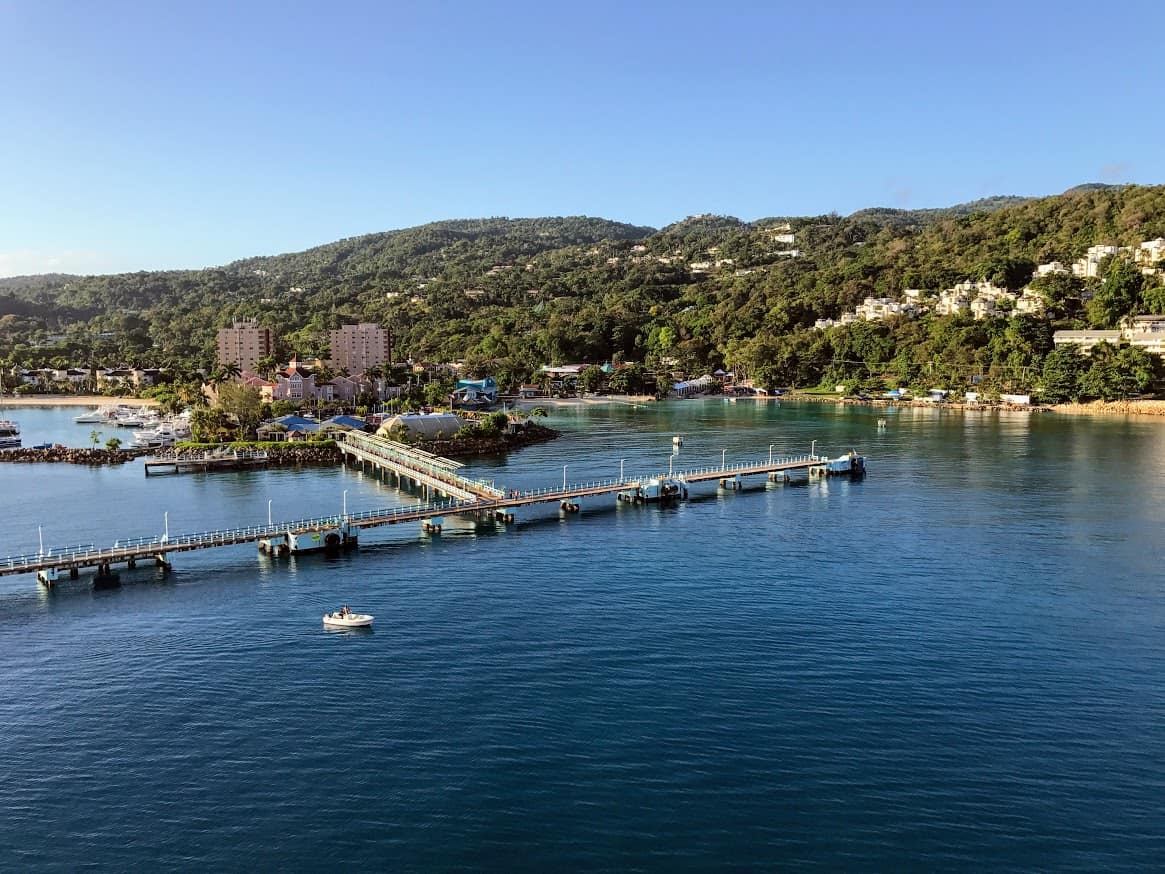 At the port of Ocho Rios, Jamaica, cruise ships either dock at Turtle Bay Pier or James Bond Pier. The terminals are a short distance from the shops and cafes of the small downtown.
For most cruise passengers, this part of northern Jamaica is a chance to experience the beauty of nature and the environment provided by the Eight Rivers (Ocho Rios) and its mountains.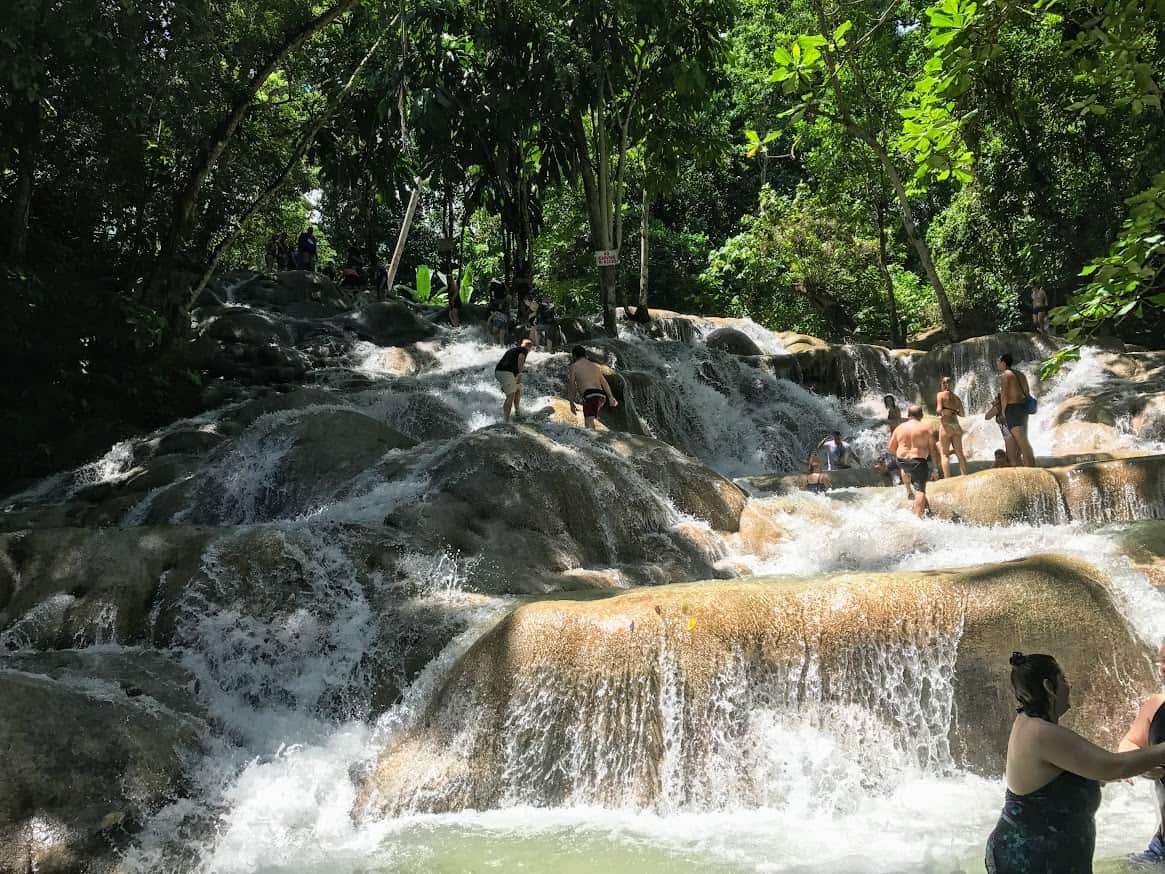 Dunn's River Falls remains the one must-do at Ocho Rios. Visitors start from the beach to hike up the many levels of this idyllic five-story waterfall made famous by a James Bond film. Balance is required and so are water shoes (available for purchase onsite) to make the hike.
Other attractions also highlight the beautiful landscape, and guests can go horseback riding on the beach, spelunking (caving) in Green Grotto Caves, tubing on one of the rivers, head out to sea on a cameraman, and more.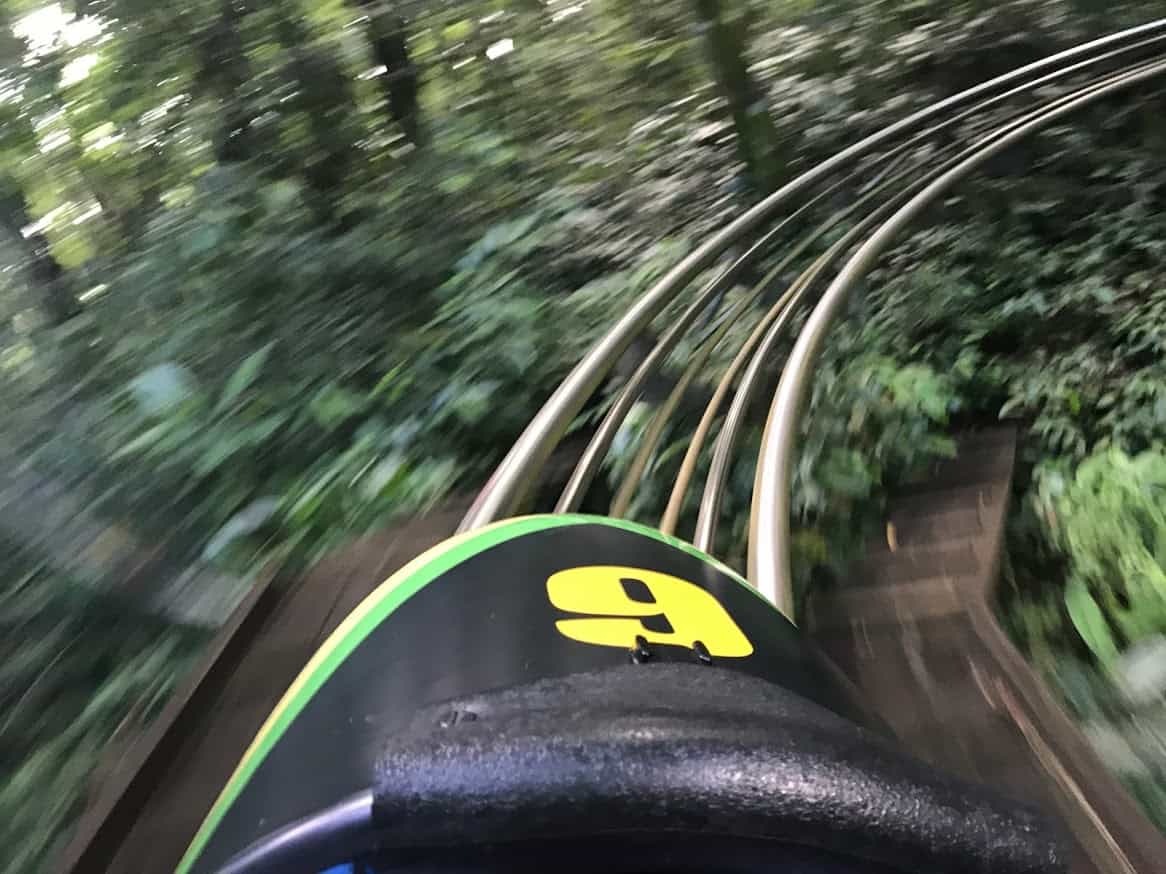 Another favorite is Mystical Mountain. The mountain's lush beauty is appreciated further from the high-speed alpine slide mimicking the Jamaican bobsled team efforts. Certainly a cool run(nings) for sure. 
8. Perfect Day at CocoCay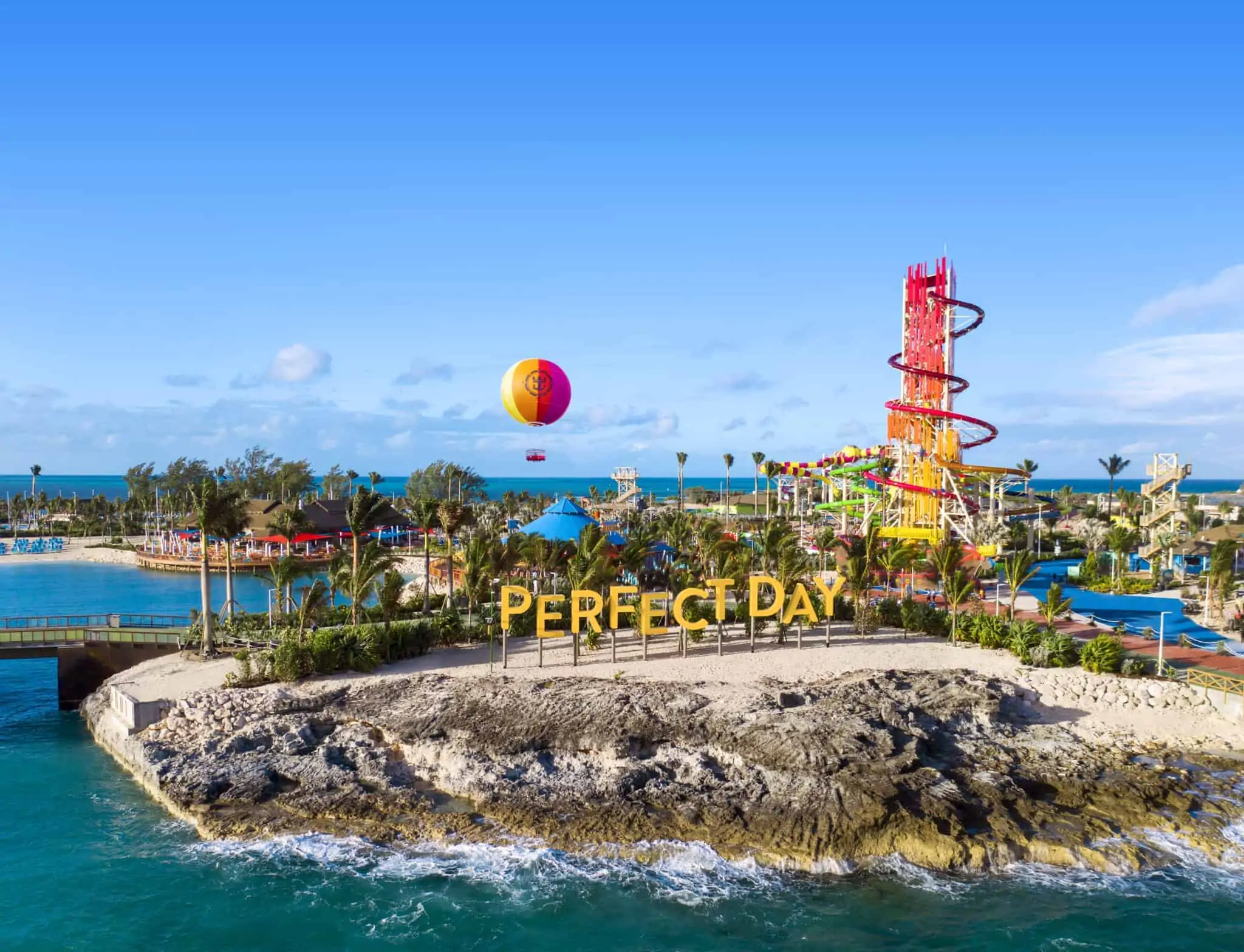 One of the most spectacular additions to the cruise industry over the past few years is Royal Caribbean's $250 million upgrade to its private island Perfect Day at CocoCay. This already-popular slice of paradise was reimagined, and is now one of the most popular cruise destinations in the world.
Get your adrenaline going at Thrill Waterpark, as you navigate your way through the wave pool, countless slides and splash zones. If you're feeling courageous, make the climb to the top of Devil's Peak, the tallest waterslide in North America.
After you've conquered the waterpark, head over to the zip line and enjoy a canopy tour around the entire island. For those of you looking to reach new heights, check out the "Up, Up and Away" tethered hot air balloon that will give you a drone's eye view of the nearby islands AND your stunning cruise ship.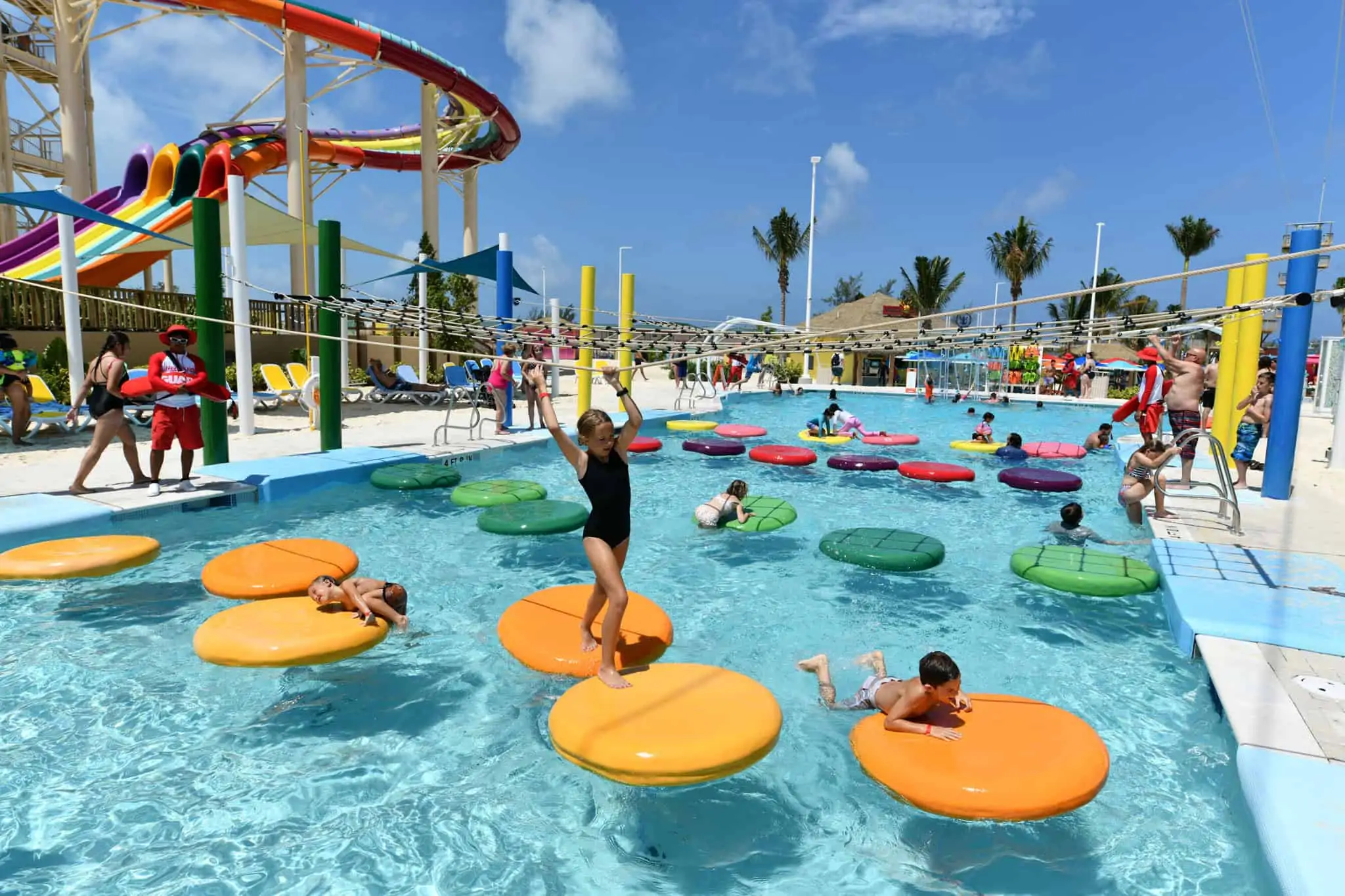 For beach bums, there are no shortages of places to put your toes in the sand. From the oceanfront shorelines of Chill Island and South Beach to the tranquil hideaway dubbed Harbor Beach, you'll get all the rest and relaxation you need. If you want to avoid the sand and surf, you may want to take a dip in the Caribbean's largest freshwater pool, Oasis Lagoon. 
After all that action, you'll want to replenish with some delicious food and ice-cold beverages. Perfect Day at CocoCay has several bars and eateries for you to indulge in. While a small fee can get you some delicious fare at The Snack Shack or Captain Jack's, buffet venues such as Skippers Grill and Chill Grill are complimentary.
Guests looking to get their drink on can enjoy tropical libations at popular hotspots like The Wacky Seagull Bar, The Oasis Lagoon Bar and the floating Tiki bar a few dozen feet off the beach.
Royal Caribbean spared no expense when it created "Coco Beach Club," an exclusive beach experience featuring upscale fare, premium cocktails and a network of Bora Bora style "over the water" private huts.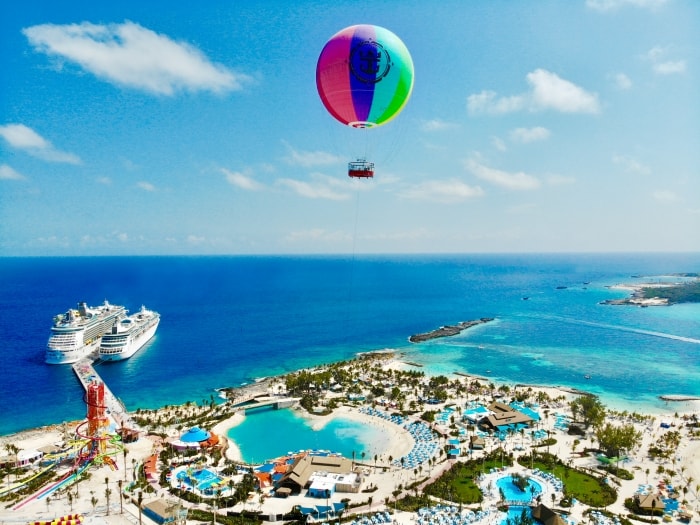 Rounding out the virtually unlimited features of this marvelous destination, guests can enjoy water sport rentals, snorkeling, unlimited loungers, intimate cabanas, and plenty of shopping. 
Just remember, many of these attractions are complimentary but some charge a nominal fee. Check your cruise planner regularly as pricing fluctuates by season and demand.
9. St. Maarten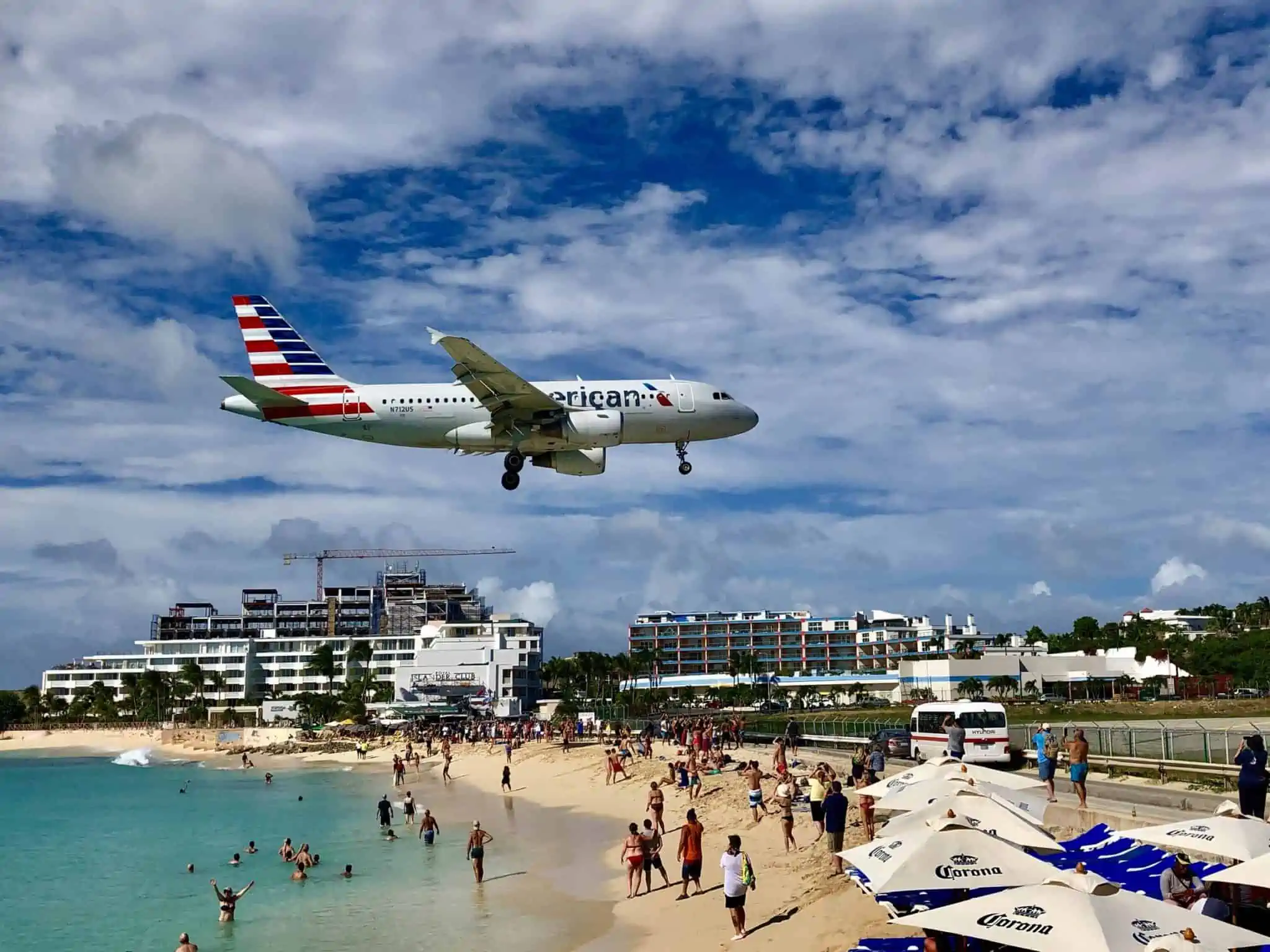 St. Maarten is a Dutch country in the eastern Caribbean and shares an island with a French country of the same name, just spelled differently: St. Martin. When cruise ships visit, they dock at a port on the Dutch side in Philipsburg, which can accommodate seven large vessels. 
Like many other high-traffic cruise destinations in the Caribbean, St. Maarten has a well-developed port area with bars, food, and souvenirs available to purchase.
One popular spot for cruise passengers in St. Maarten is Maho Beach, which is an easy cab ride away from the port area. The Sunset Bar lies right on the edge of the beach — a great place to grab a drink and watch the airplanes fly overhead and land at Princess Juliana International Airport.
Other activities include browsing the Front Street thoroughfare for luxury jewelry, clothing, perfume, and classic Caribbean souvenirs. There's also Little Bay Beach a short walk from the port, the Treasure Seeker pirate ship attraction that's perfect for families, culinary walking tours, and Water UFOs — flying saucer-shaped discs that you can ride on the water like a jetski. 
10. Tortola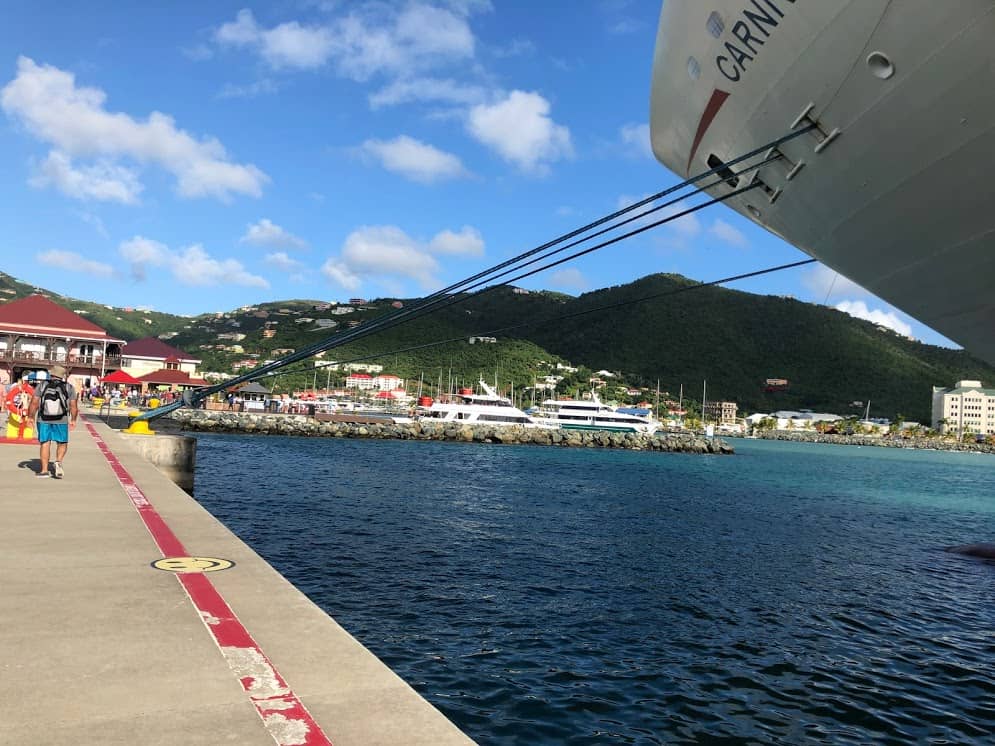 Located in a harbor at the center of Tortola lies the capital city of Road Town, where the cruise port is. The port can accommodate three cruise ships at a time, two at the pier and one anchored offshore. Part of the British Virgin Island (BVI) chain, the port is considered one of the Caribbean's off-the-beaten-path ports and likes it that way. 
The pier backs up to a marina with added shops, making it easy if you're opting for an excursion that requires a boat. But in order to fully take advantage of Tortola, you'll have to leave the pier. 
There are two popular excursions that guests tend to flock to while visiting Tortola, and both are a boat ride away. Nearby island Jost Van Dyke has a beautiful beach lined with bars and white sand, while The Baths are located on the island of Virgin Gorda and offer beach and rock formations with tunnels.
If you're feeling adventurous you can take a boat ride to Willy T's floating bar, a retired tanker ship turned restaurant that is permanently anchored off the coast.
MORE: 7 Best Cruise Ports in the Eastern Caribbean
BONUS: Bermuda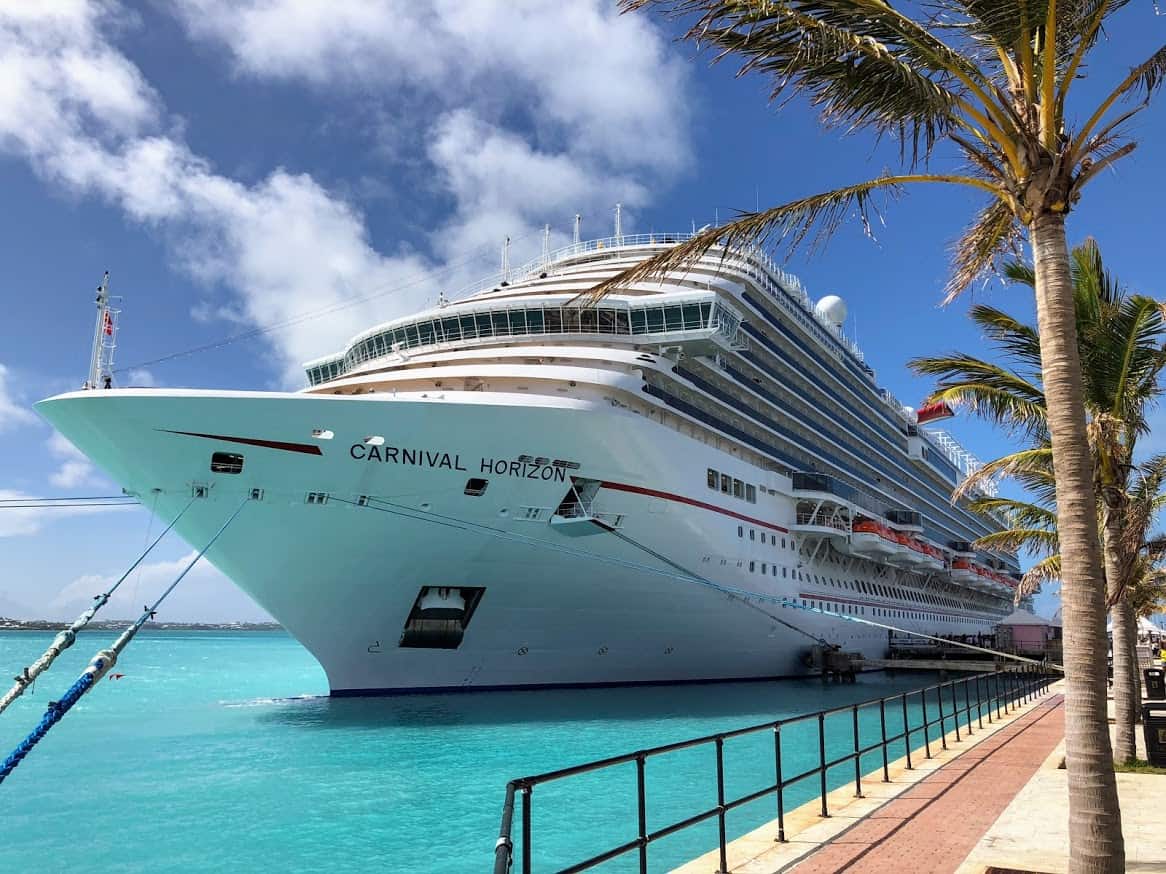 There are a few places for cruise ships to dock in Bermuda, but the most popular pier is the Royal Naval Dockyard. It's located all the way at the northwestern tip of the island, across the Great Sound from the country's capital of Hamilton.
There are a number of shops and places to grab a drink within walking distance from the pier. However, keep in mind that because you're on an island and 100s of miles from land, everything you purchase was imported in, so the cost is a little more expensive than ports in the Caribbean. 
While Bermuda has something for everyone, most travelers head to the beach to take in the pink sand and frozen drinks. Horseshoe Bay Beach is well-known and only a 20 minutes taxi ride from the pier. Another popular draw is taking a snorkeling trip to a sunken shipwreck in the Bermuda triangle. 
If you're feeling adventurous, Calico Jack's Floating Bar is an eyeshot from the pier and lets you order drinks and walk the gangplank, splashing into the bay.
REVIEW: Horseshoe Bay Beach in Bermuda
By Doug Parker, Sarah Bretz, Craig Zabransky, Richard Simms, and Tommy Casabona
Pin it!