As the cruise continued, we arrived at the first Carnival Venezia sea day, and I've come to appreciate my decision to spend a little extra on a Terrazza stateroom.
As I mentioned in part one of this report, this is very similar to the Havana area on some other Carnival ships. It's a great example of what the line's been marketing as "Carnival Fun, Italian style."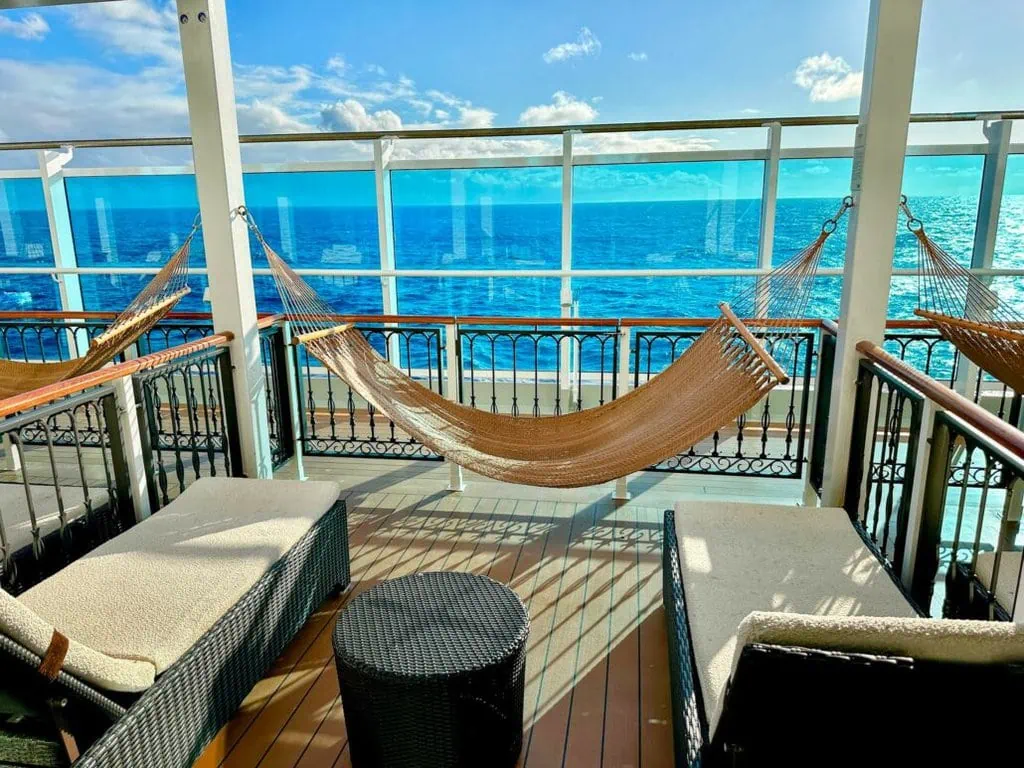 Yes, it costs extra to stay in the Terrazza staterooms. But there comes a point when you realize you're ready to spend money on the things that matter.
Maybe it's a sign that I'm getting a little older, but I've gotten to the point where I'm happy to fork over some extra cash in exchange for additional amenities. In this case, one of those is this amazing area on the back of the ship. 
Carnival Venezia Sea Day
Almost every cruise is a "working vacation, " meaning I look around for a quiet workplace. (This will become increasingly difficult as Carnival and other lines move toward eliminating libraries on their ships.)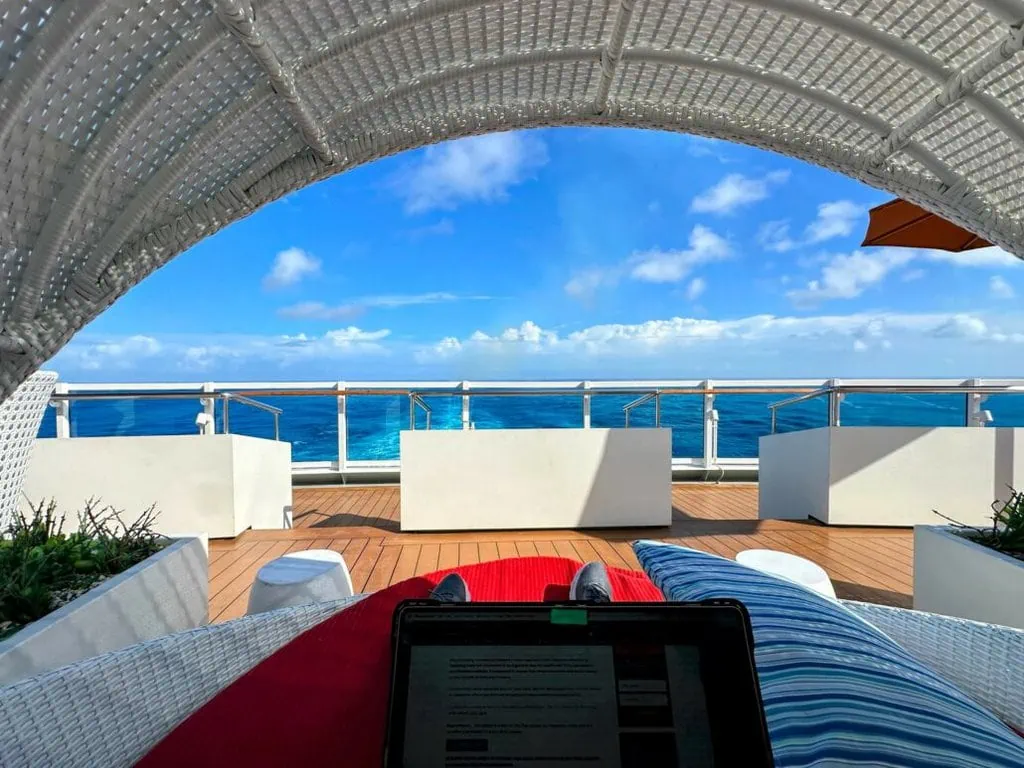 Yes, I could do it in my stateroom, but you want to see more of the ship than the room you're staying in, right? So today, I'm sitting in a clamshell on the aft of the ship, happily ensconced in the Terrazza area, working away while watching the wake.
Blue skies above, churning water below. This is, for me, the ultimate paradise. One big difference between the Terrazza and the Havana area you'll find on other ships. Enforcement.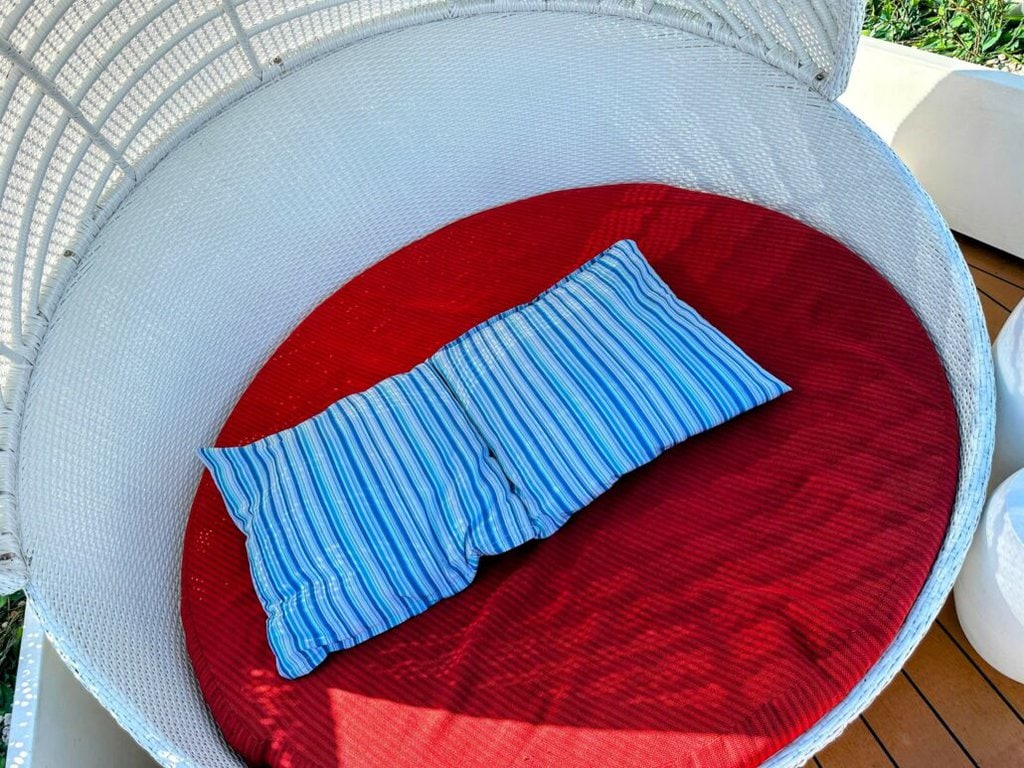 Numerous people told me during interviews that despite Havana being sold as an exclusive experience. Anyone could pretty much stroll in and grab a lounger. That's not true here.
There is a wristband check station, and it's been staffed by a crew member every time I've entered. (After dark, anyone is allowed access. But during the daytime, this area is for the exclusive use of Terrazza guests.)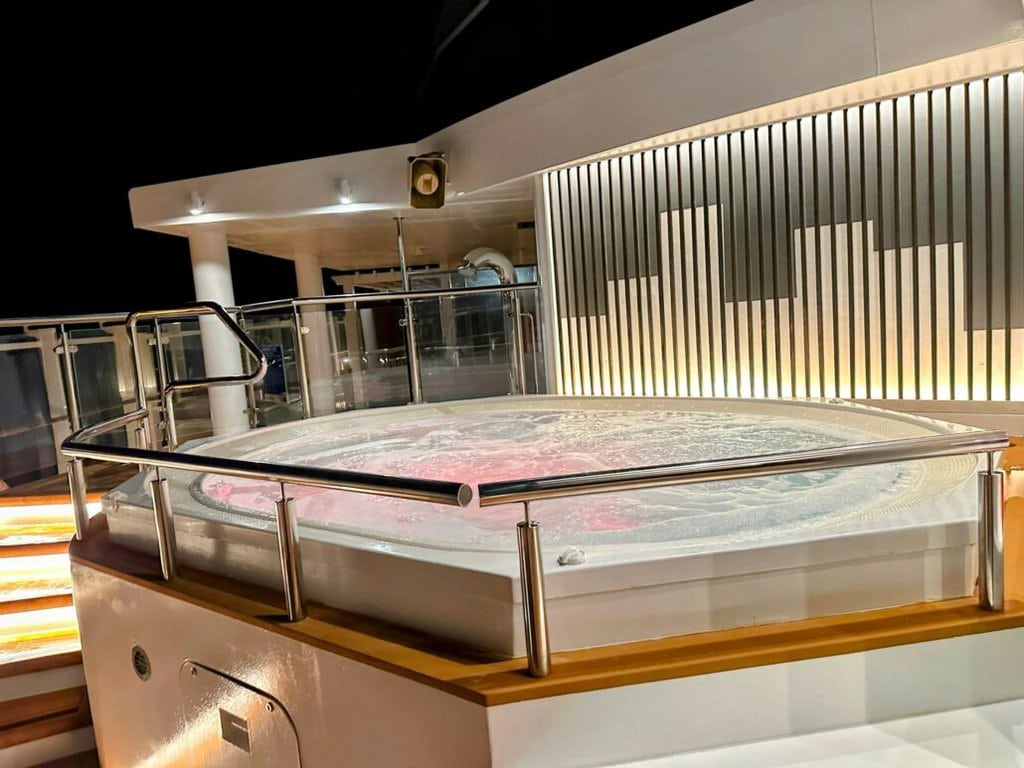 Every now and again, a deck attendant will wander by offering frozen watermelon balls and fresh strawberries.
I booked a room in the Terrazza area for the outside deck and private pool access at the back of the ship. But I wasn't even aware of several perks associated with this type of booking. For example, each morning, there's a private breakfast held in the Carnivale Bar.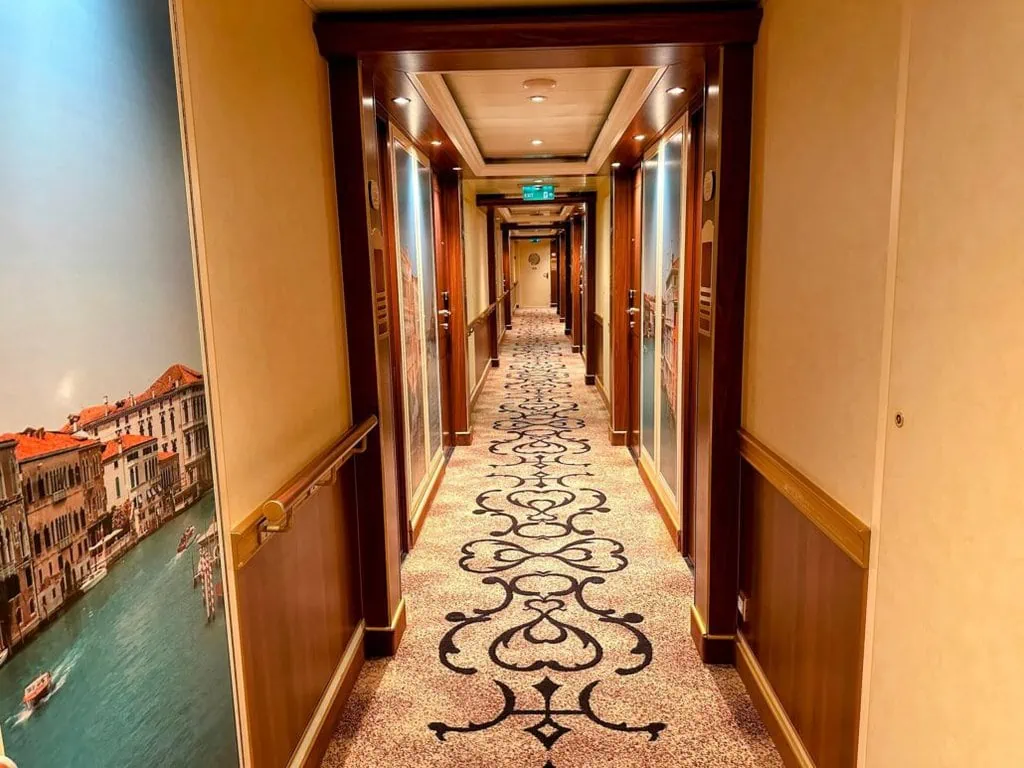 We aren't talking about eggs, bacon, and toast. It's more like a nice continental breakfast with hot pastries (actually in a mini oven), yogurts, granola, cereals, and fruits—a very nice selection.
This has worked perfectly for someone who isn't a big breakfast guy. Granola and coffee is the breakfast of champions.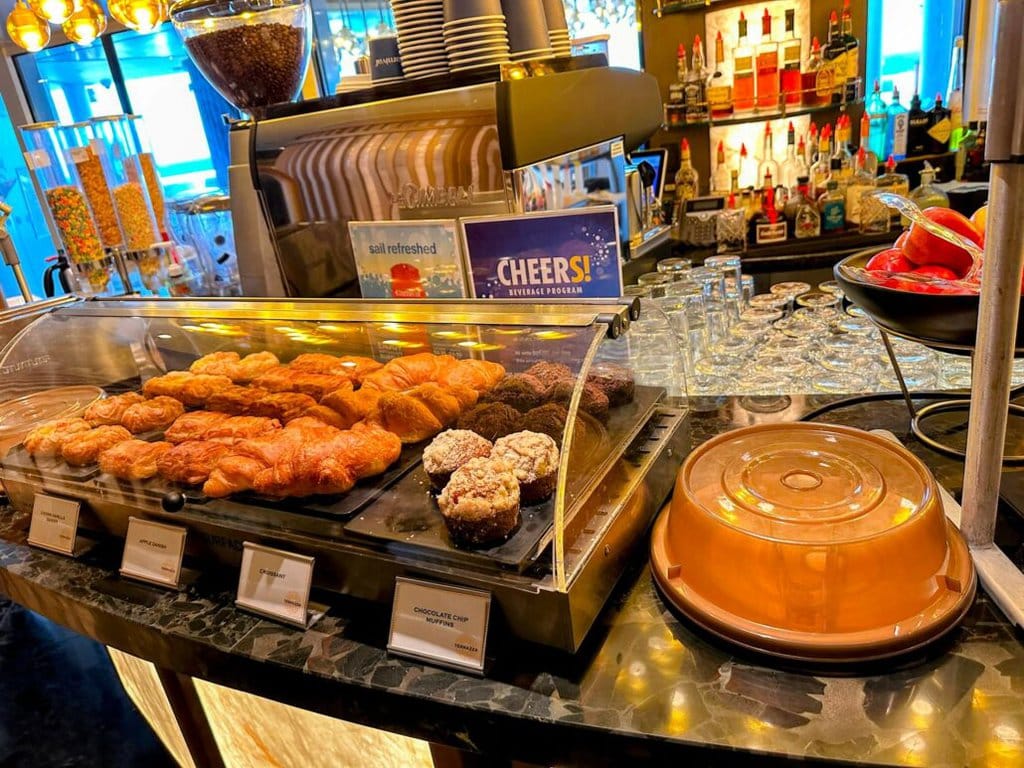 A special sea day brunch is offered one day for Terrazza guests in the steakhouse. I missed it, but my friends enjoyed it. On longer voyages, it's offered twice.
Speaking of the steakhouse, five of us went to Fahrenheit 555 last night, and it was, as always, a solid meal.
When I was in Venezia for a couple of days earlier this year, I didn't go to the steakhouse because it was a short trip, and I had plans to dine in other restaurants, like the new-to-Carnival Italian venue.
Fun fact: What is now the steakhouse on Venezia was to separate venues completely when the ship originally sailed for Costa.
You probably wouldn't know, but once you're made aware of it, there are a couple of design elements — like an interior walkway separating the different spaces — which you'll notice. They did a good job when converting the ship to make it seem like one big space.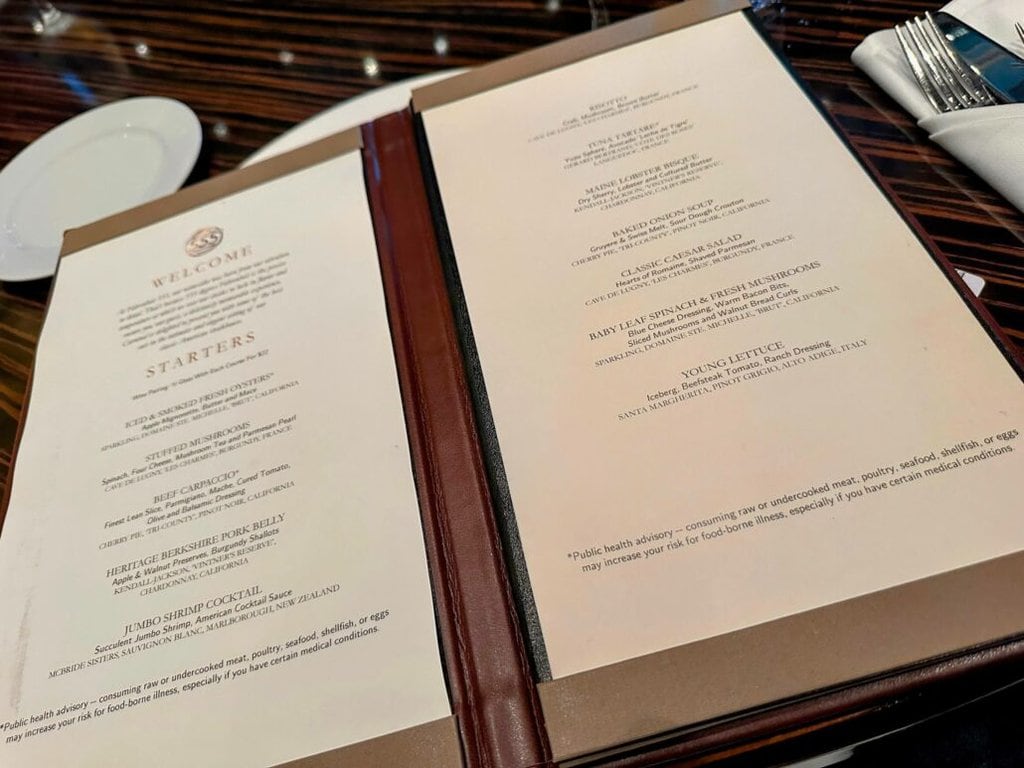 The steakhouse is now $48 per person, and I ordered an extra entree, so it was an additional $22. No regrets, and I would do it again. I got the 18-ounce cowboy cut and twin lobster tails with a side of broccoli. The dueling lobster tails drowned in butter, and the steak was perfectly cooked.
Want to receive daily industry updates? Sign up for our RSS updates
We had excellent service and were in and out in under two hours. We did eat at 5:30, so the restaurant certainly wasn't slammed when we sat down to dinner.
I noticed the steakhouse menu had changed slightly since I last went there. The desserts were slightly condensed down, and the Art for the Table was removed.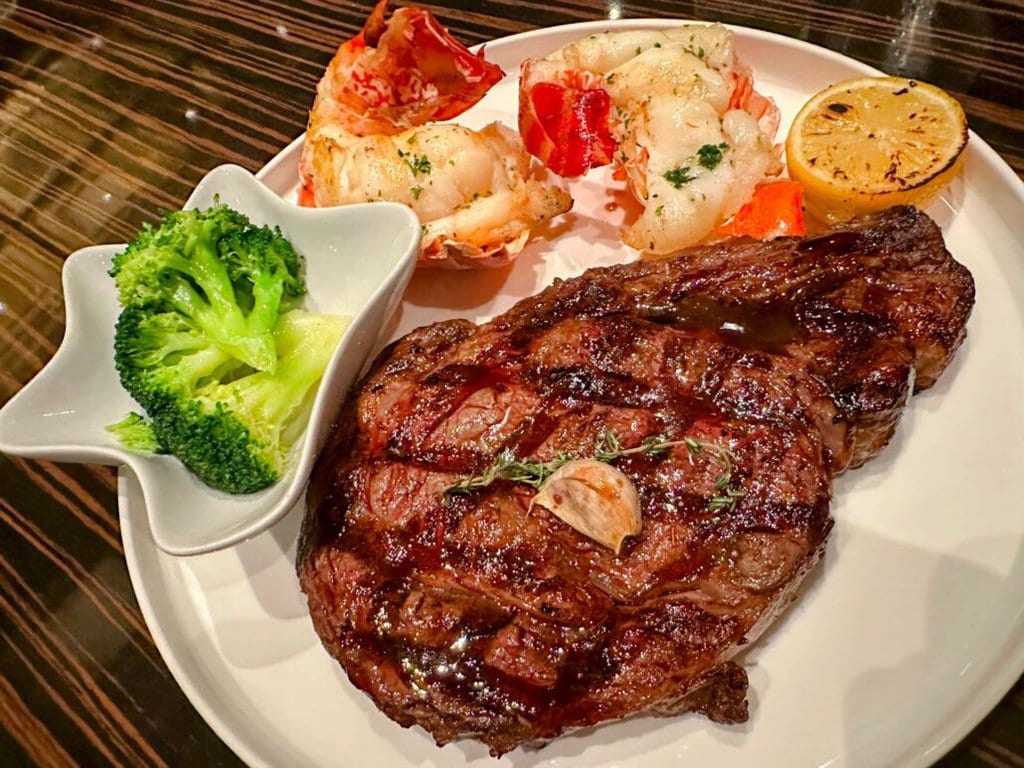 Some folks loved that dessert, but I don't miss it. I always found it somewhat awkward to have someone standing at your table long enough to create those complex desserts.
And no, I'm not into having someone make guac tableside, either. It brings all conversation at the table to a halt as you sit there and watch the person do their thing. 
Besides, the new apple Danish dish on the menu was hands down the best dessert I've ever had in the steakhouse. It may be the best dessert I've ever had on a Carnival ship. It's that good… and with the added benefit of not watching someone stand around making it.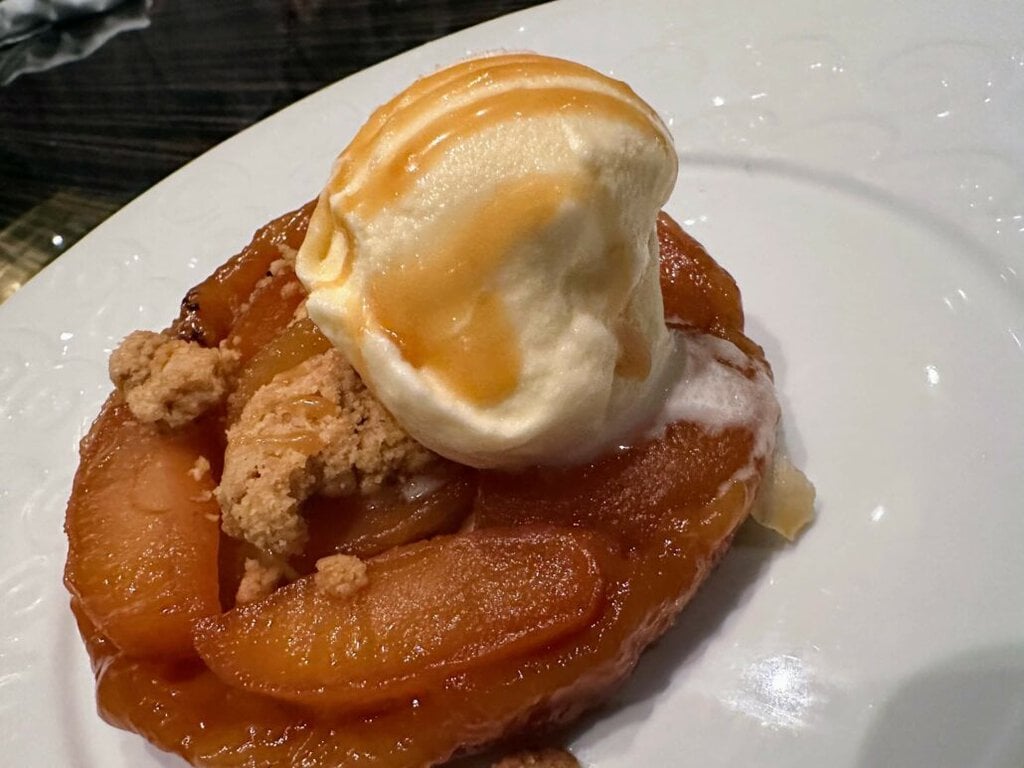 After dinner, we grabbed a drink at the Frizzante Bar, the Italian version of… you know, I'm not even sure.
To be honest, everything on the ship has an Italian bent, so some things feel familiar but different (like the Amari Bar, which is this ship's take on the Alchemy Bar), while others feel entirely new. I know Ii grabbed an Aperol Spritz here and talked with some friends briefly before calling it a night.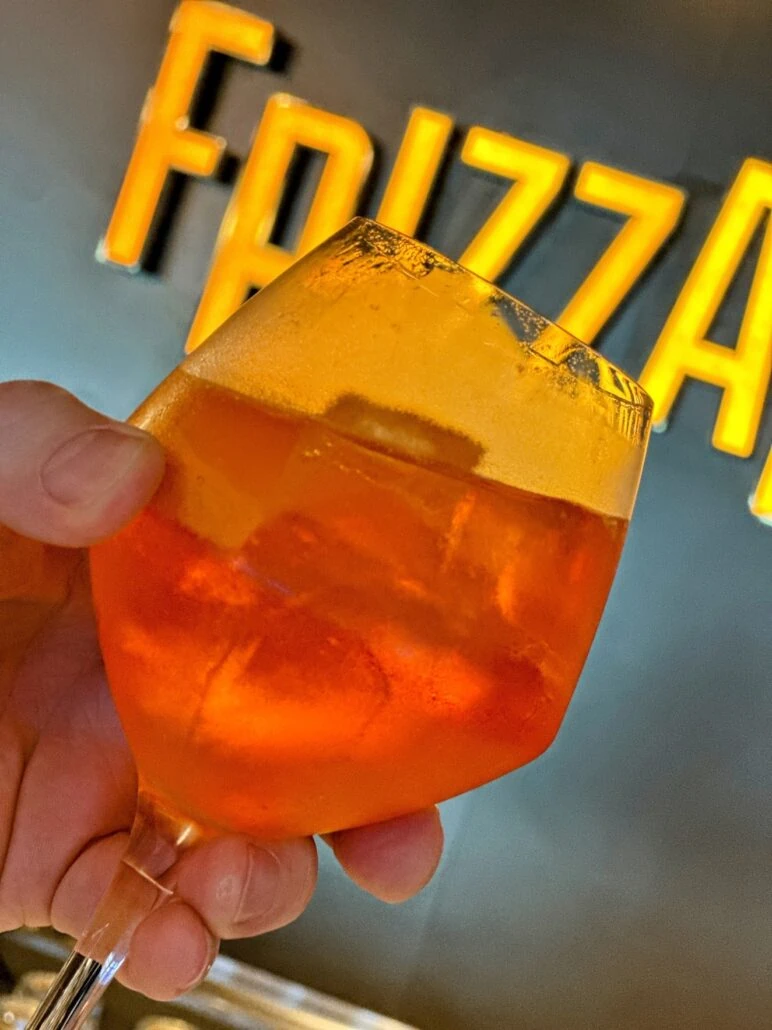 We are in Grand Turk tomorrow, so I will hop off and take some photos for a port review and then head down to Jack's Shack to see if they've got their stuff together. I loved that place at one time, but it was a disaster the past two times I visited.
Here's hoping they have righted the ship! The bottom seemed to fall out after the change of ownership. 
On a more positive note, having had a little more time to explore this ship than I did last time I was on board, I have to say I like her. I won't say she's perfect, and it's not right for everybody.
Some of the design elements are a little weird, and some don't work at all. But Venezia also has some cool elements that make her worth checking out.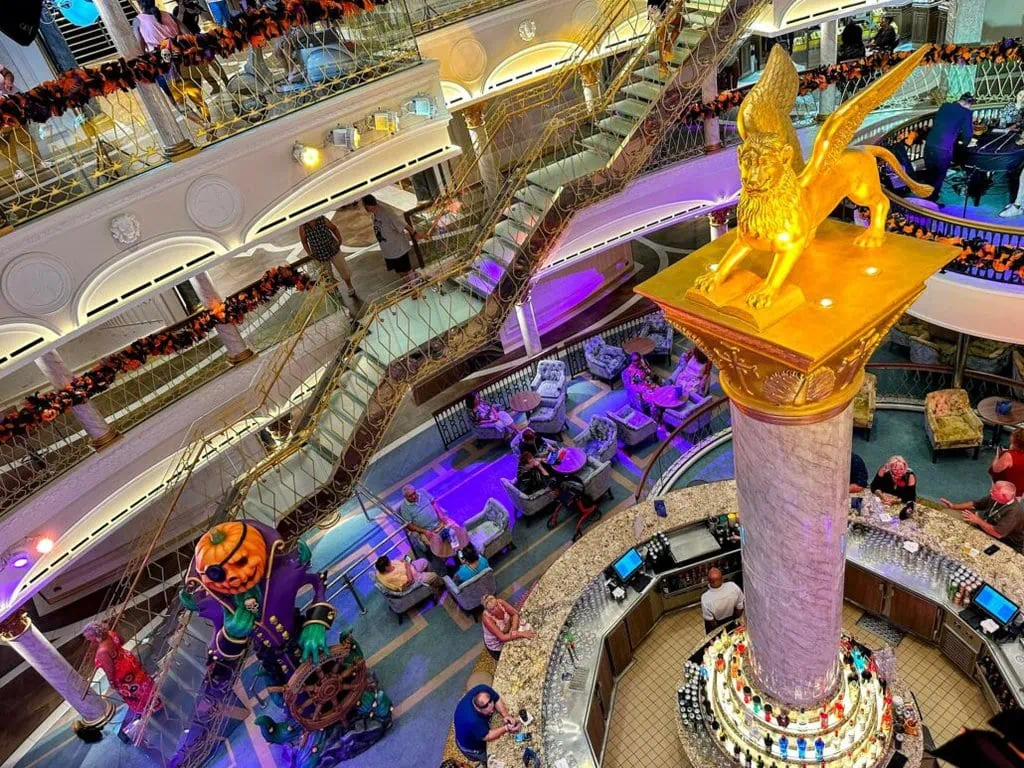 For instance, where you'd find Ocean Plaza on other Carnival ships, you'll find the Gondola Lounge here. It's got a massive LED screen that shows great pics of Italy throughout the day before becoming a cool interactive element when, after dark, the space becomes a karaoke bar.
And no, I didn't get up and sing before you asked. That, my friends, is not going to happen.
See you in a couple of days.
Sailing Carnival Venezia? Check out these articles: