It's my last full day on Celebrity Edge, which means we're paying a visit to Nassau before, overnight, making our way back to Fort Lauderdale. Up until now, this trip report has not been exactly what I expected it to be. Coming into the trip, I imagined these reports would be filled with details about how cruising has changed. The things that you can still do, but not in quite the same way that you did them before.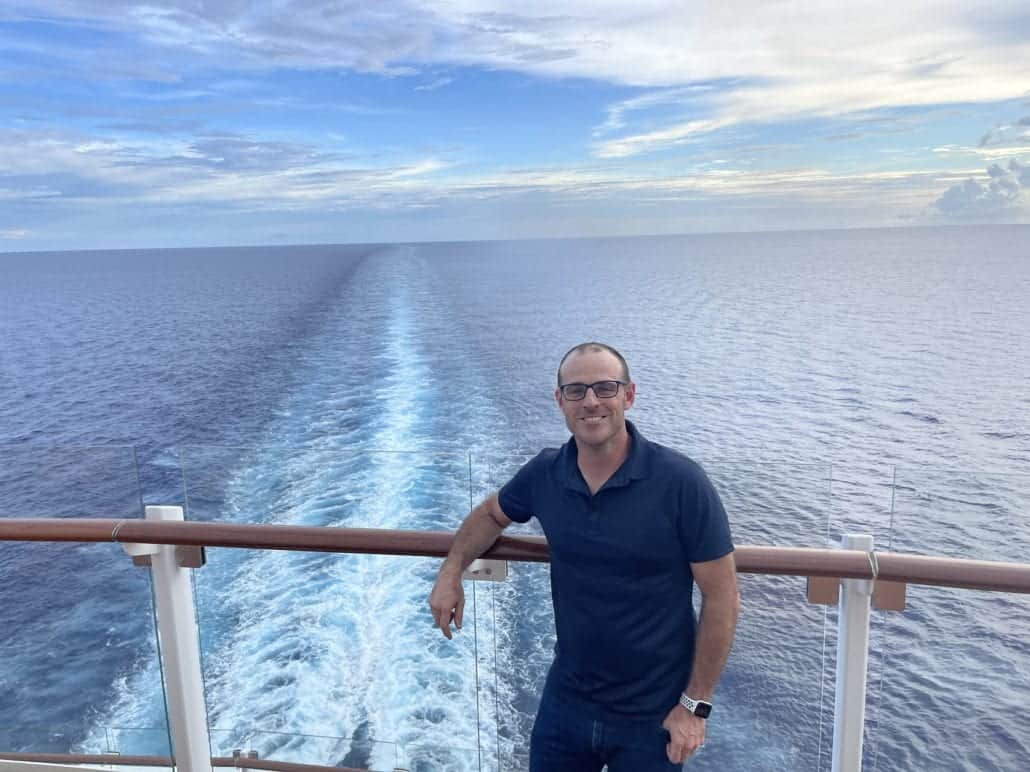 As you know by now, that hasn't been the case. We haven't had to wear masks on board. The buffet is no longer self-serve but is otherwise the same. Shows have gone on, drinks have been had, meals (so many meals!) have been eaten.
The proverbial good time has been had by all.
Until, that is, today, when things took a slightly darker turn, although not due to anything on board or involving the ship. Rather, it was with regards to our visit to Nassau. Things started off normal. Anyone who's ever visited the Bahamas will recognize (and probably misses) the lighthouse which greets you.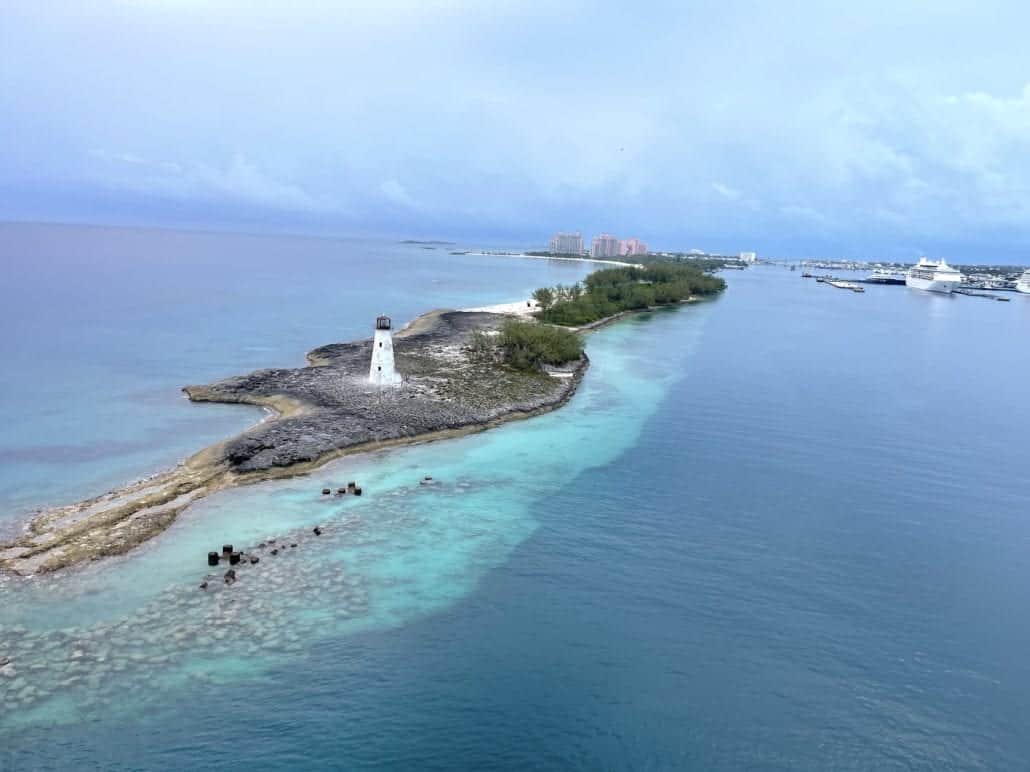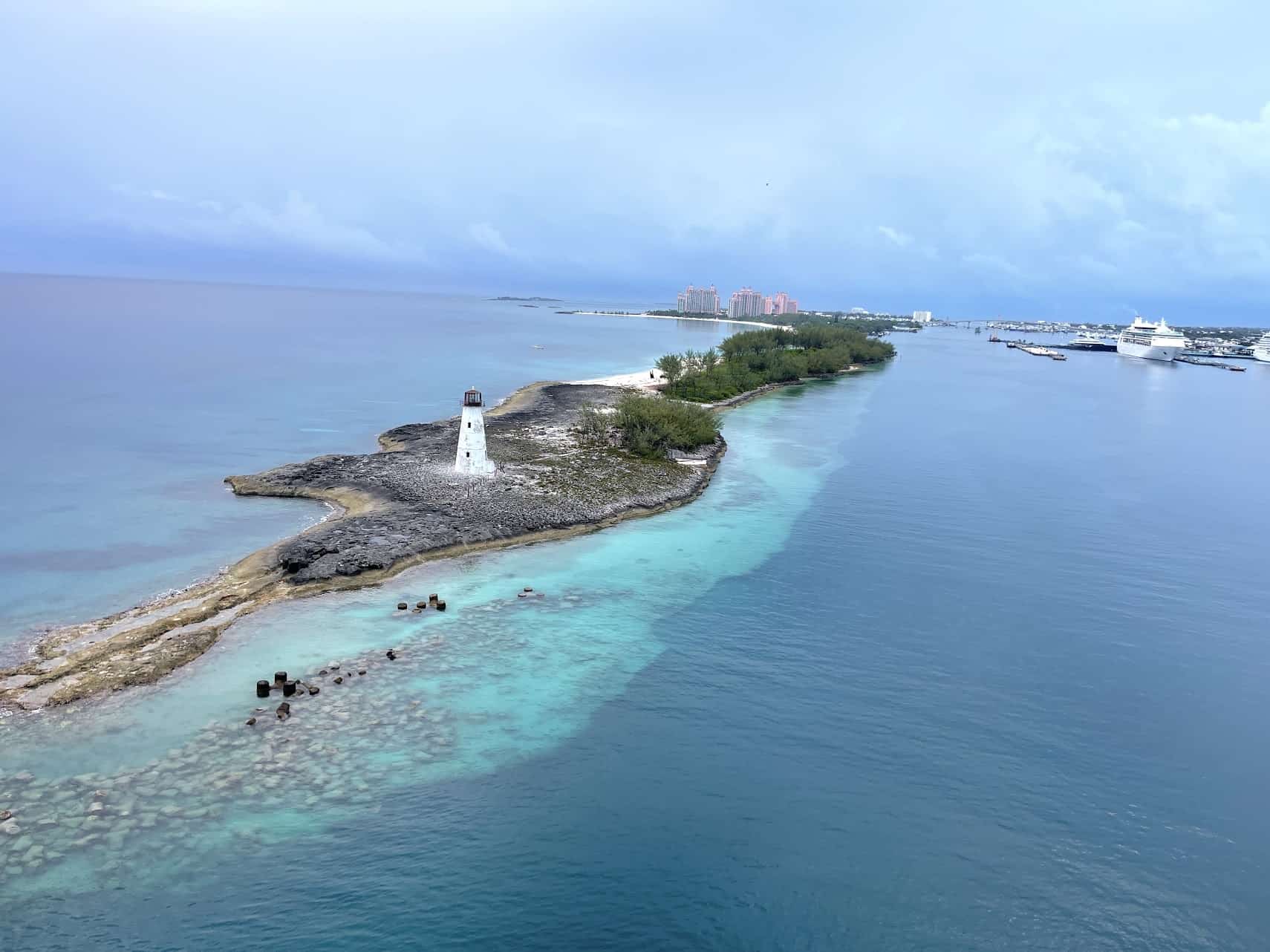 This was another one of those moments which have happened often over the past week, when you see something and realize that there were times over the past 15 months when, on some deep level, you wondered if you'd ever see it again. Looking at the wake behind the ship. Sunsets over the ocean. Pulling into Nassau, something I've done more times than I could count… and something I will definitely never take for granted again.
Once off the ship, however, it quickly became obvious that this was not the Nassau we all left behind a year ago. Look, over the past few years Nassau has gotten a reputation as a port where people aren't necessarily compelled to get off the ship unless it was to go to Señor Frogs or maybe do an excursion.
Before the shutdown, even the local government was acknowledging the problem, saying that they needed to offer people more or stop complaining about the fact that cruisers were opting to stay on the ships.
Now, however… it's almost impossible to describe how hard hit the area around the port has been.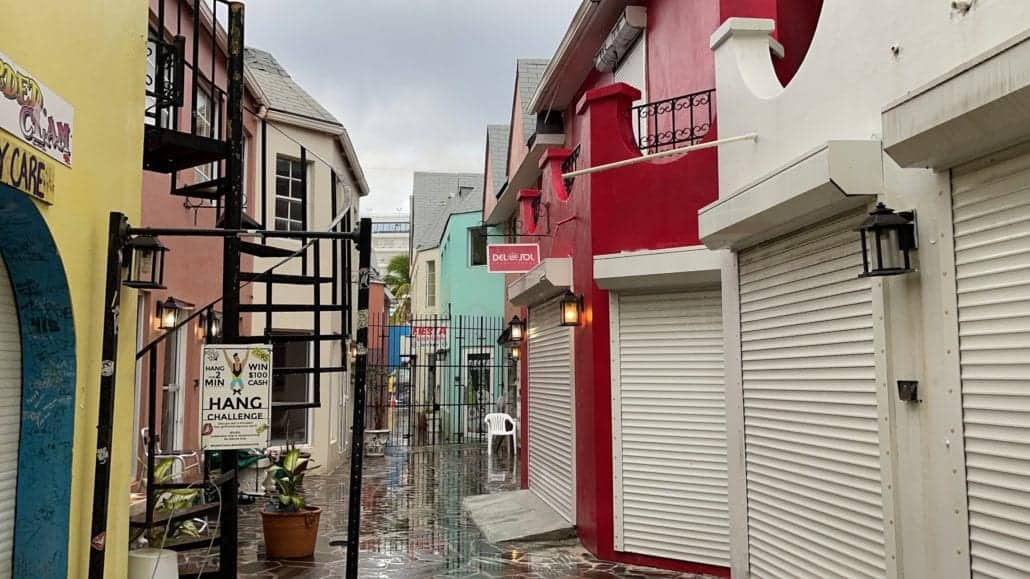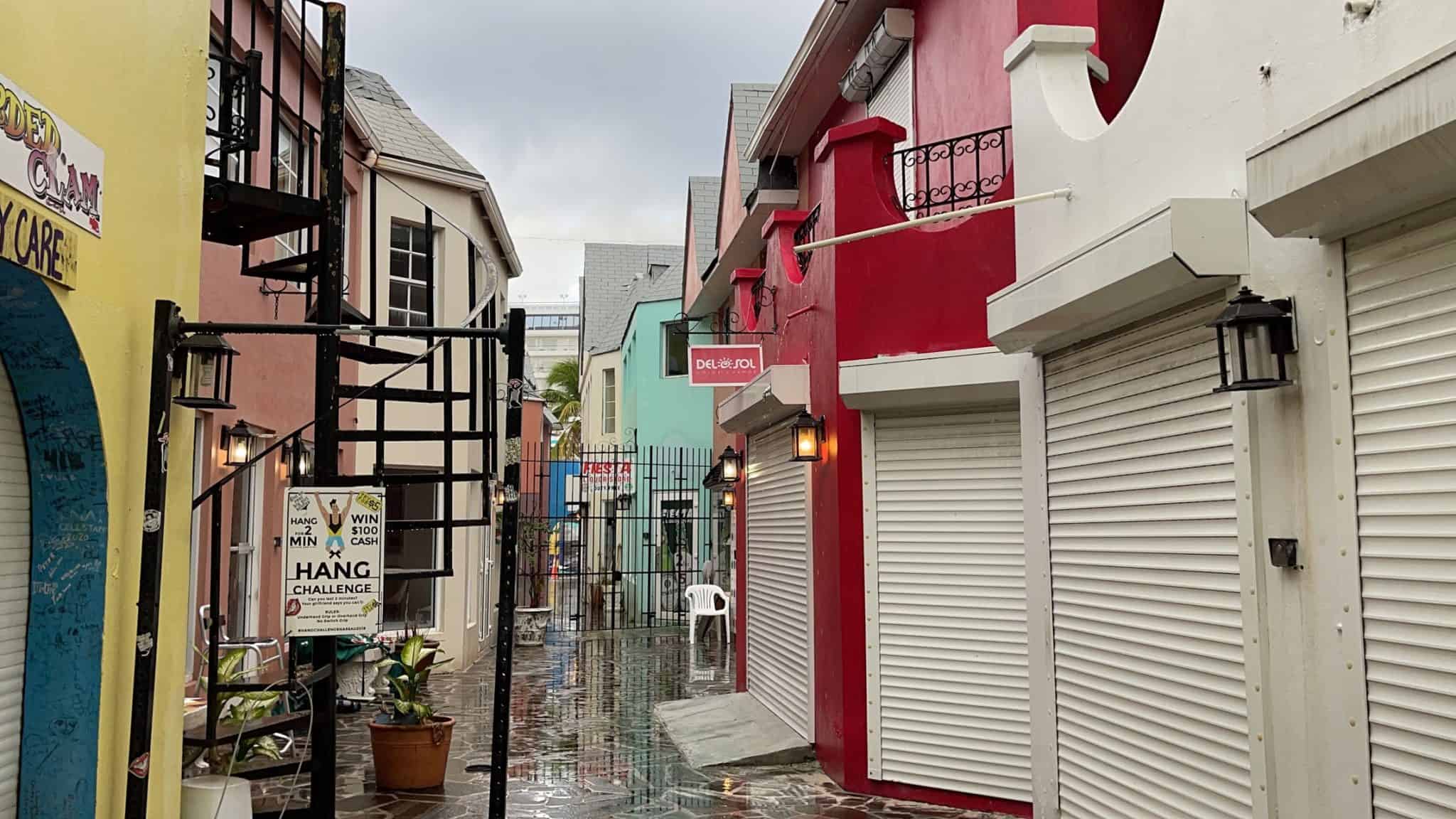 Shops. Restaurants. Bars. Pretty much everything is boarded up. Thinking of swinging by Señor Frogs for a typically wild afternoon? Think again. At the time of writing, it's take-out and delivery only.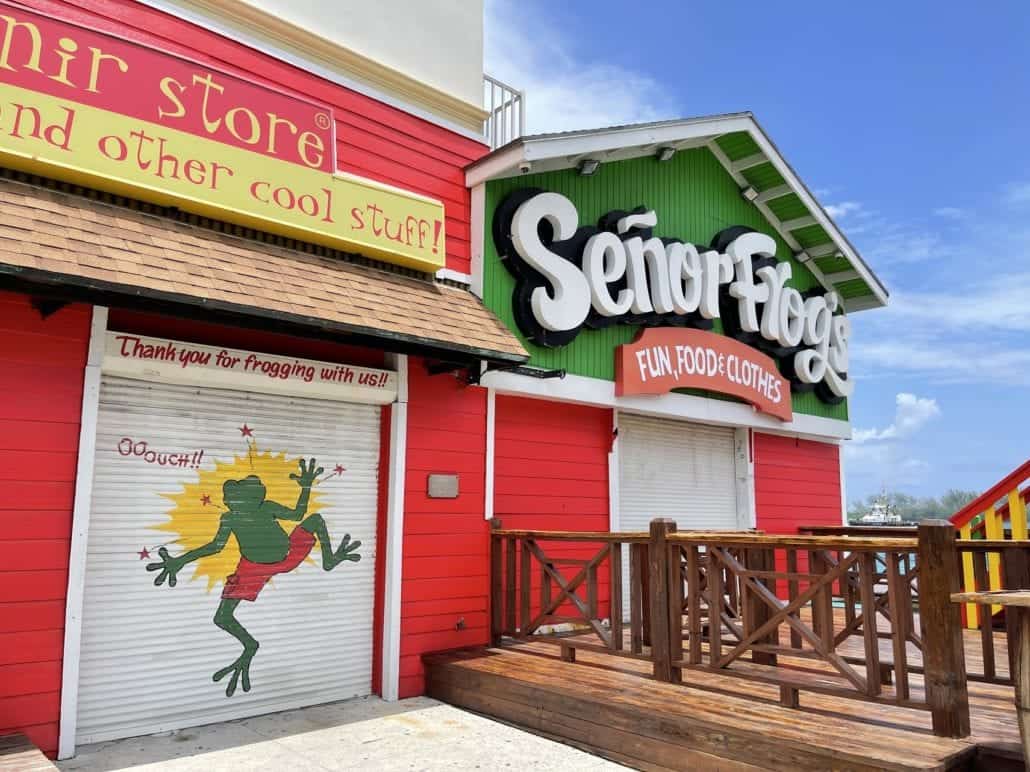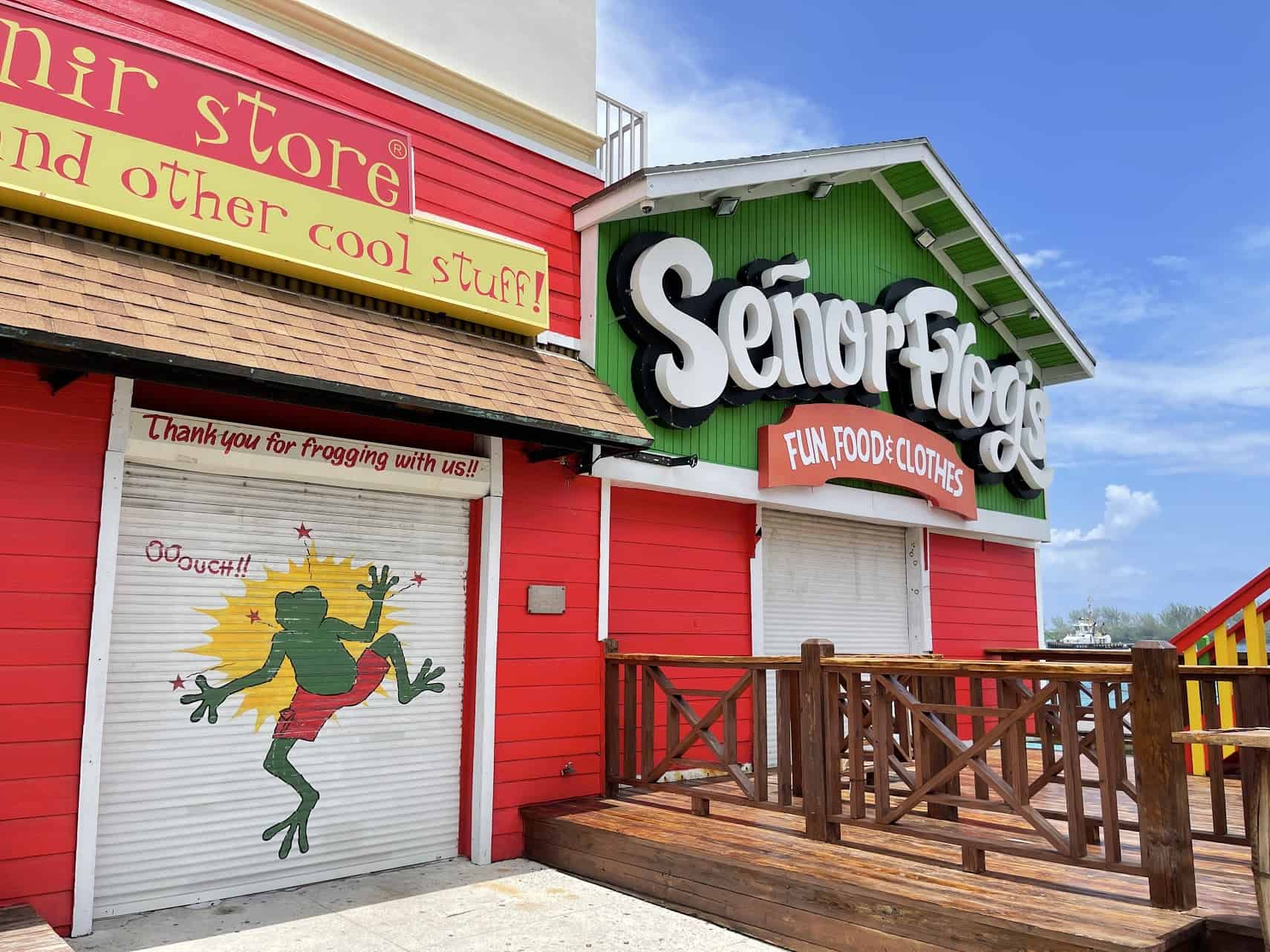 The Straw Market, too, has been shuttered, with no official date as to when it will be able to reopen for business.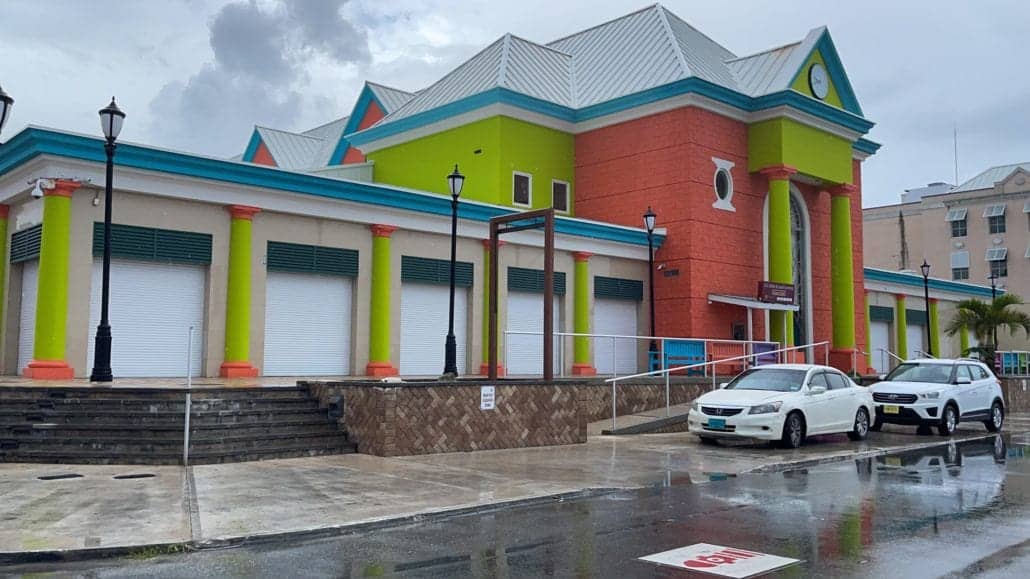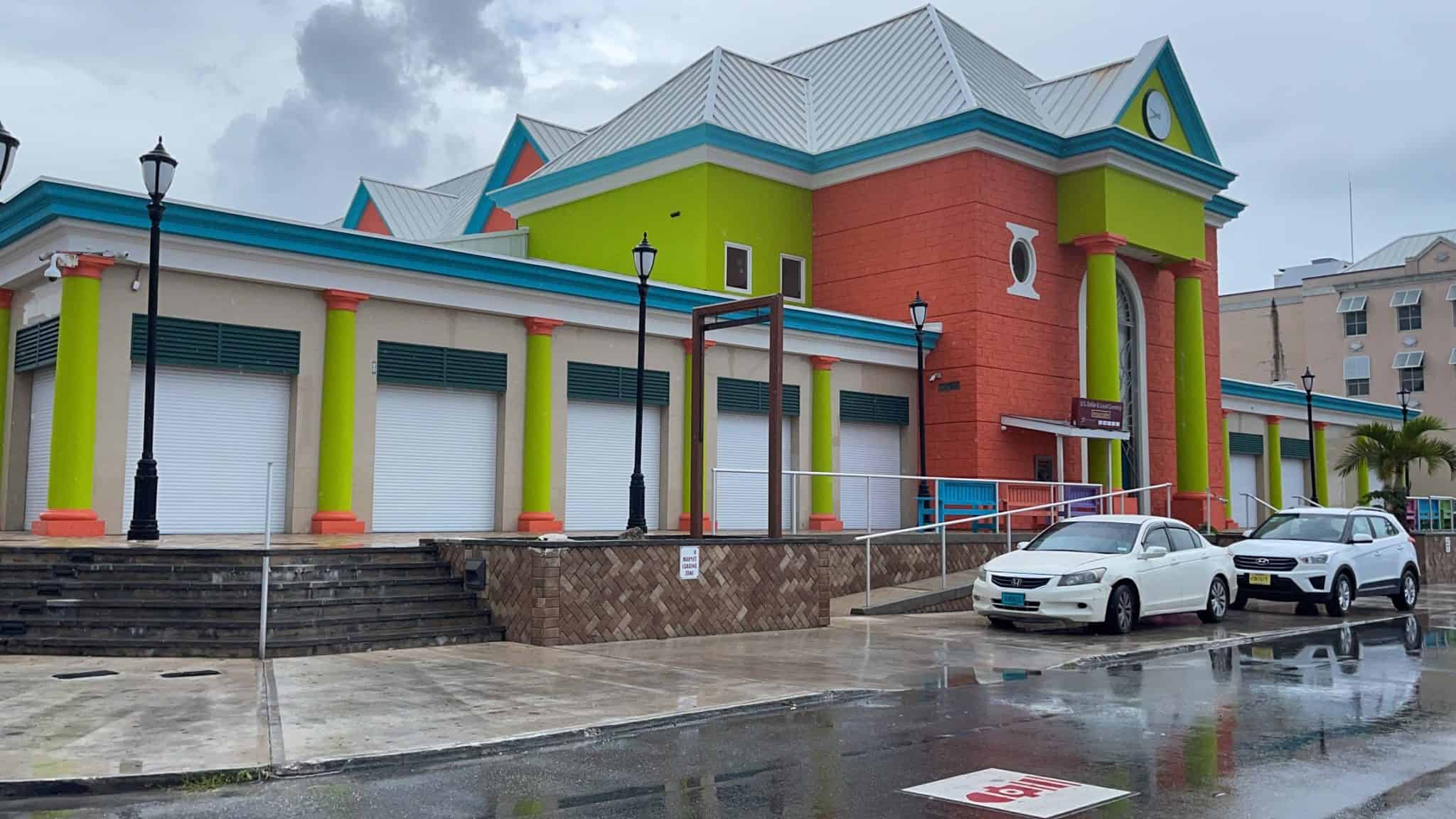 It's a glaring example of the symbiotic relationship between cruise lines and the ports they visit, as if one was needed. With no ships visiting, the many businesses relying on tourist dollars have had next-to-no income.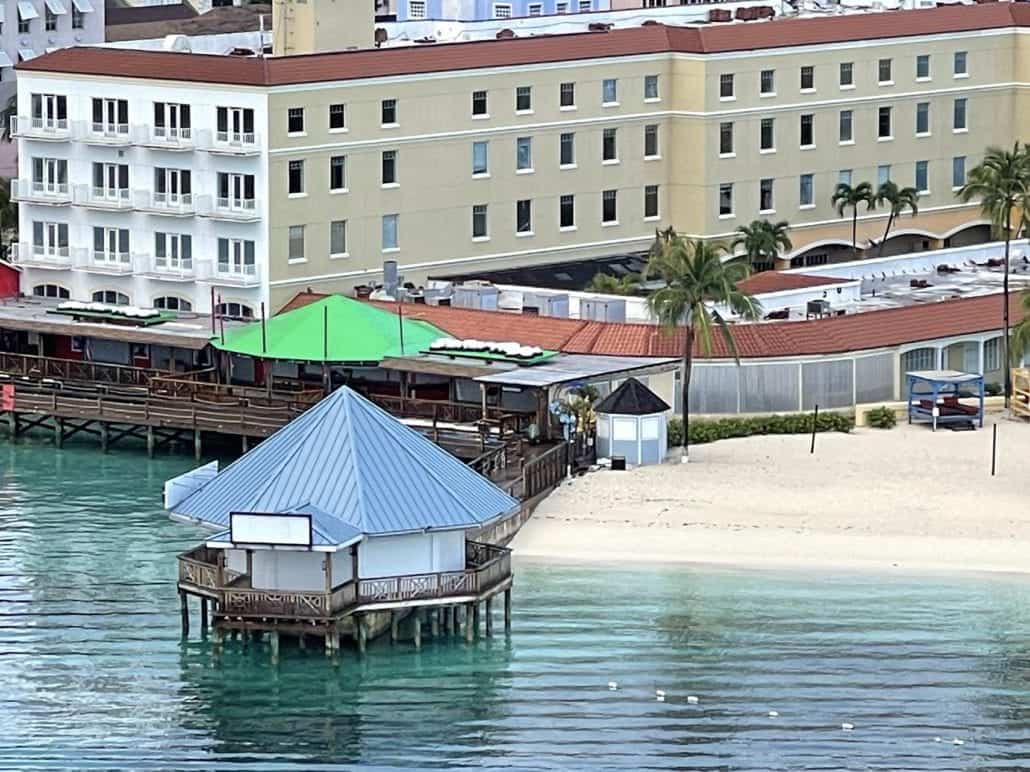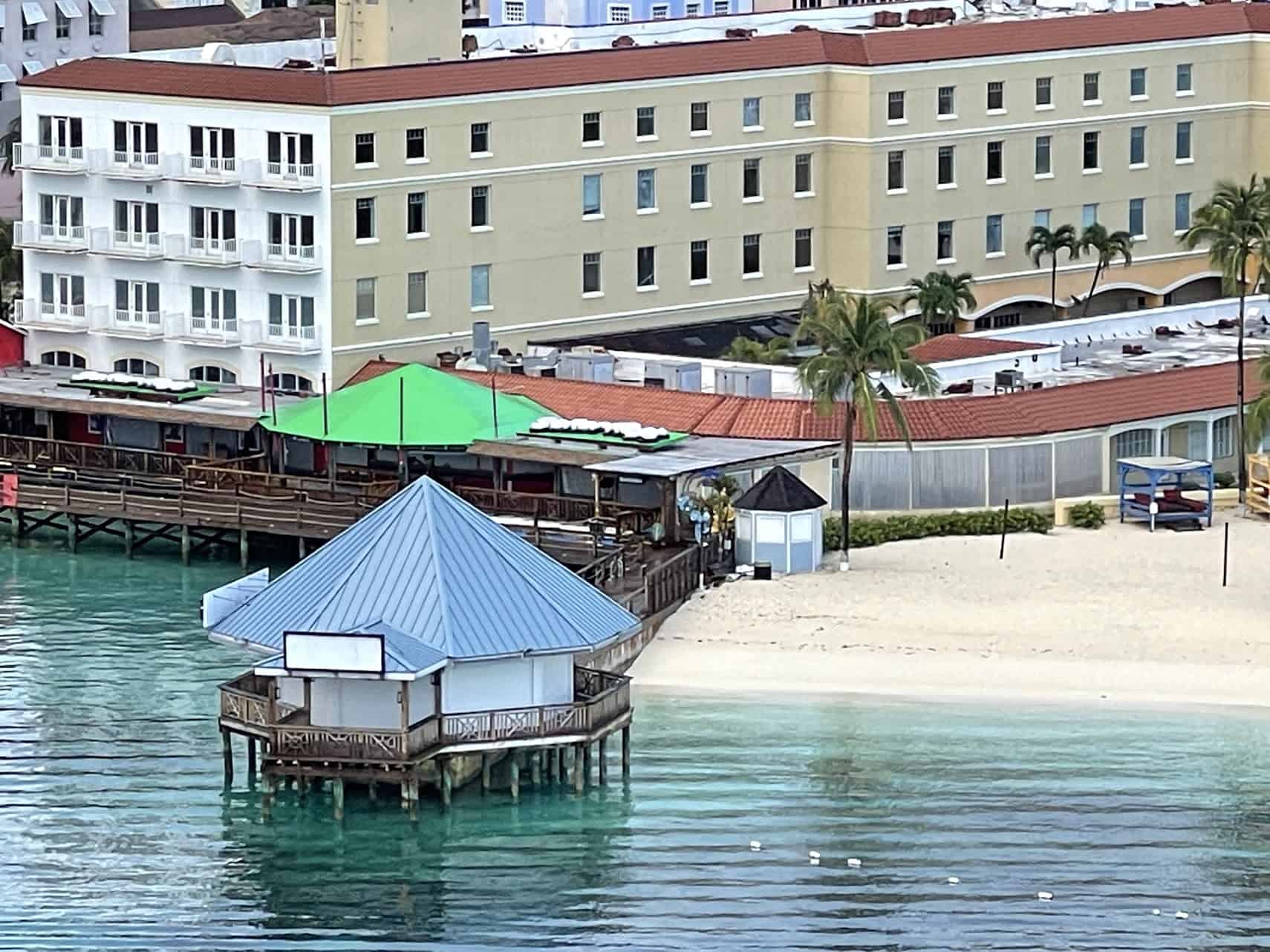 If there is an upside, it is that there are signs — literal signs — of changes to come.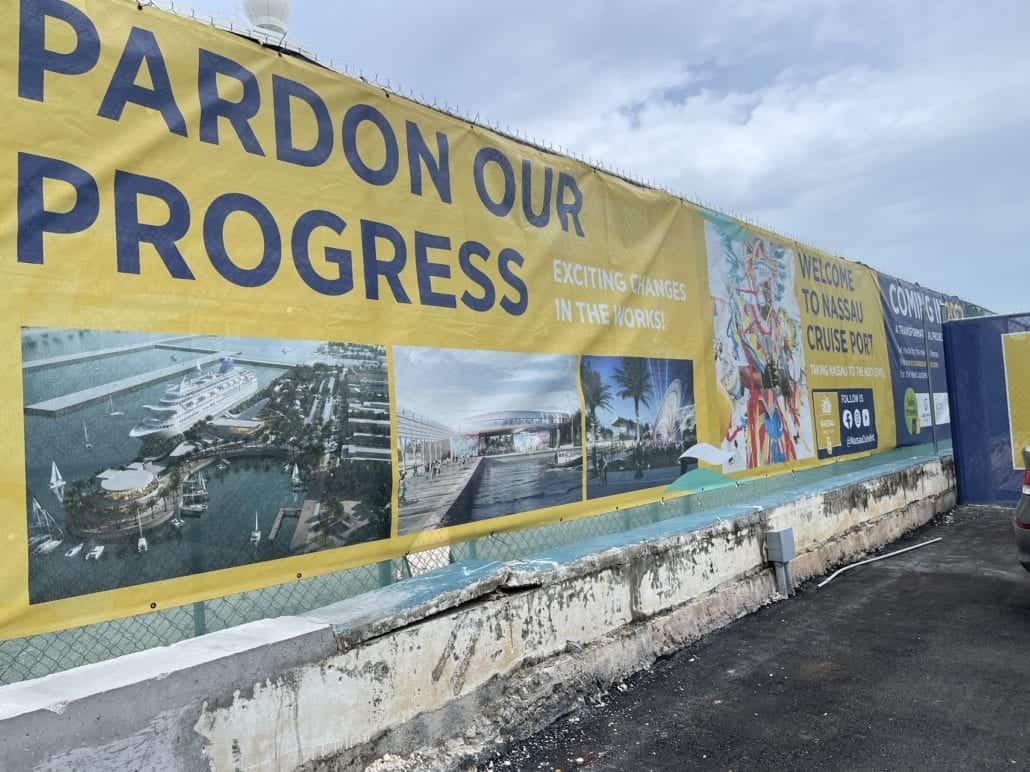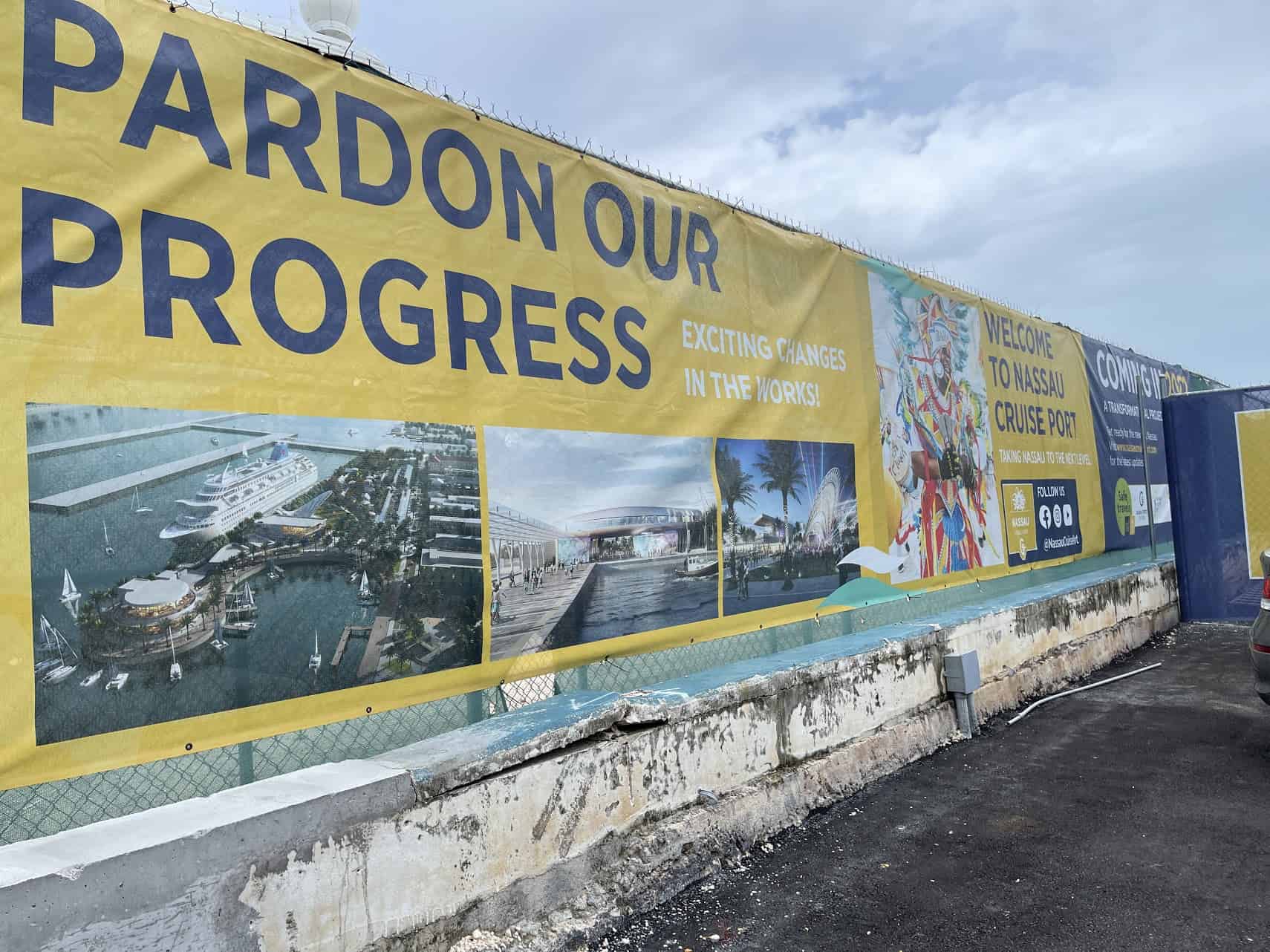 We've been hearing (and writing) for quite some time about the multi-million dollar renovation the port is expected to undergo, and there are definitely indications that the project is ready to begin any day now. But it's also clear that it will be quite a while before the revitalization is complete, all of which leaves me wondering, What happens next for the people of Nassau?
It seems like a vicious Catch-22: Clearly, Nassau's businesses are boarded up because they are in need of cruise dollars. But here we are, a ship arriving with passengers looking for places in which to have lunch or grab drinks and there's nothing much available. At what point does the tide turn?
All in all, the visit to Nassau was sort of a reality check. This week, we've been enjoying our time on the ship and thinking about how things are finally back to "normal." But as our visit to the port proved, there's still a long way to go for the industry as a whole, because the ports upon which the ships call are, of course, a vital part of that industry. Hopefully, as more ships return and money is pumped into those local economies, we'll see them begin bouncing back.
Once back on the ship, I headed to the Sunset Bar to enjoy sail away and a few cocktails.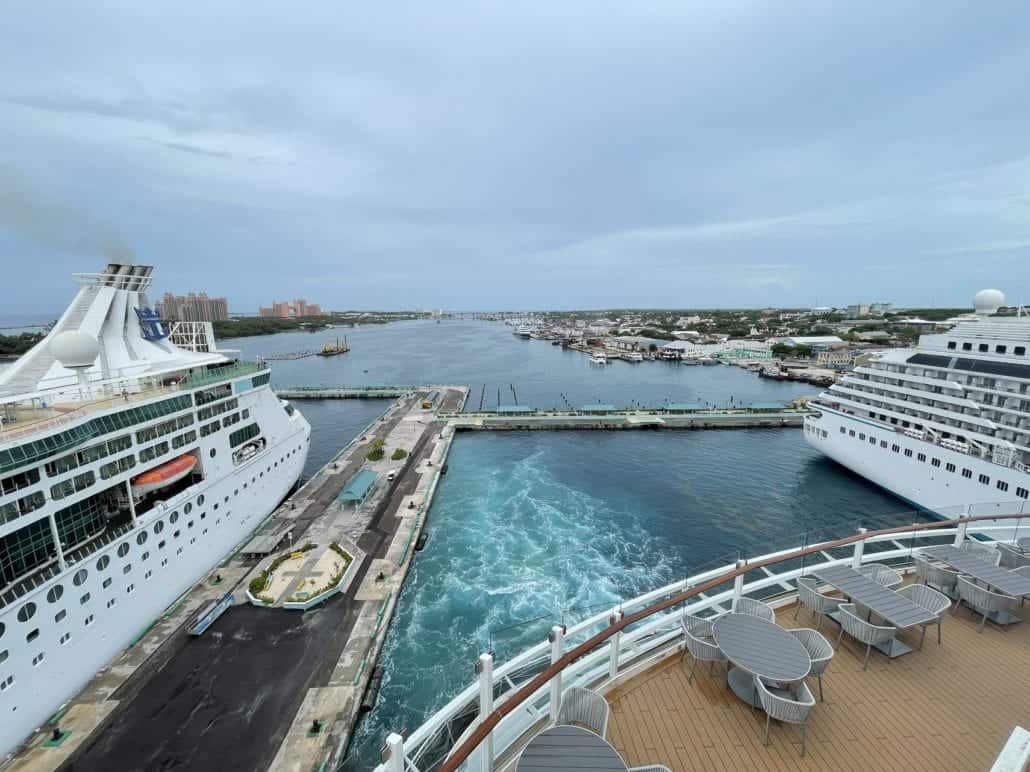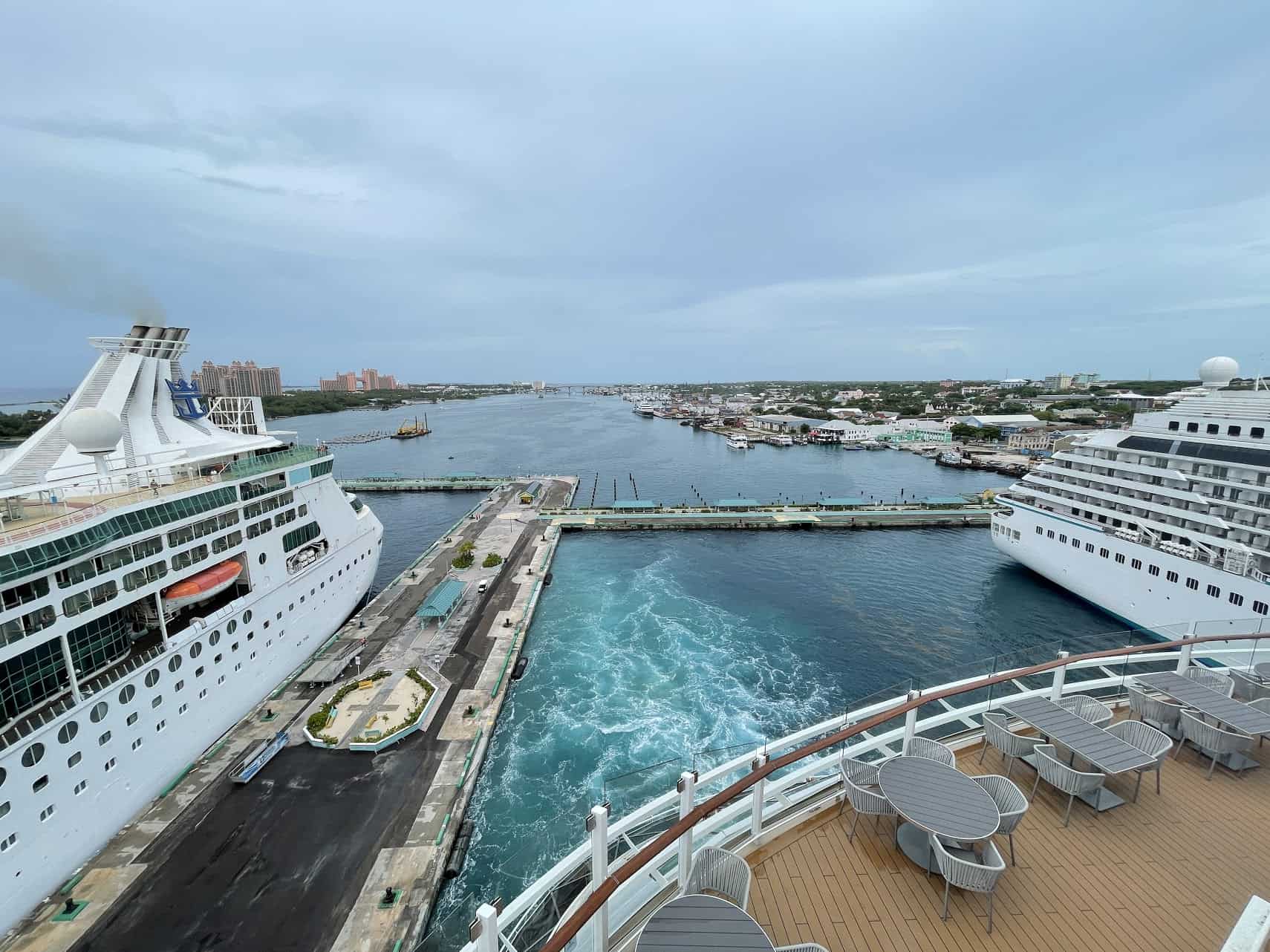 When dinnertime rolled around, I joined friends for a meal in Normandie, one of the ships' four main dining rooms. We haven't really talked about how Edge handles the main dining room, so let's take a minute to do that now.
As I mentioned, there are four MDR's aboard the ship, and each is themed differently. There's Normandie (French), Tuscan (Italian), Cyprus (Greek), and Cosmopolitan (described as "new American with international influences"). Each restaurant offers a selection of appetizers and main courses specific to the theme of that restaurant, as well as the more traditional offerings. Cosmopolitan also offers a separate vegetarian menu, which is a nice touch.
I'm glad we picked Normandie because if there was one thing I knew, a French-themed restaurant would (or at least darn well should) have escargot on the menu.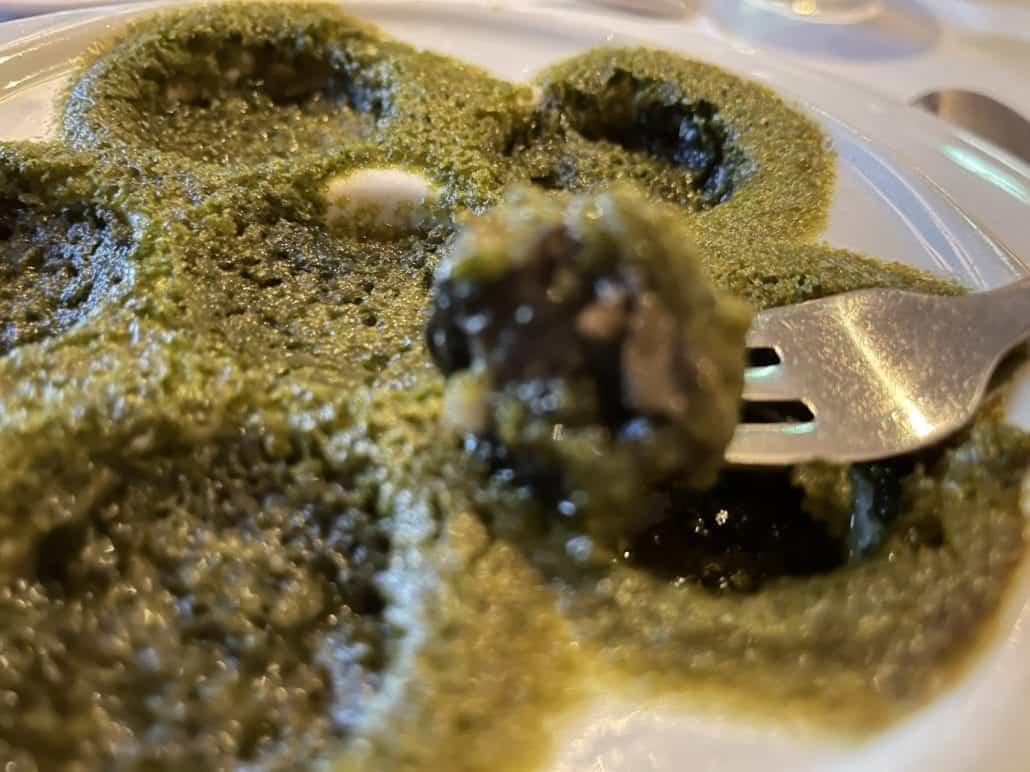 I know some people get freaked out at the thought of eating snails, but what they fail to understand is that the snail is really the least important (and noticeable) ingredient. This dish is all about butter, garlic, and some good bread to soak up the juice with. I followed this up with a delicious French onion soup…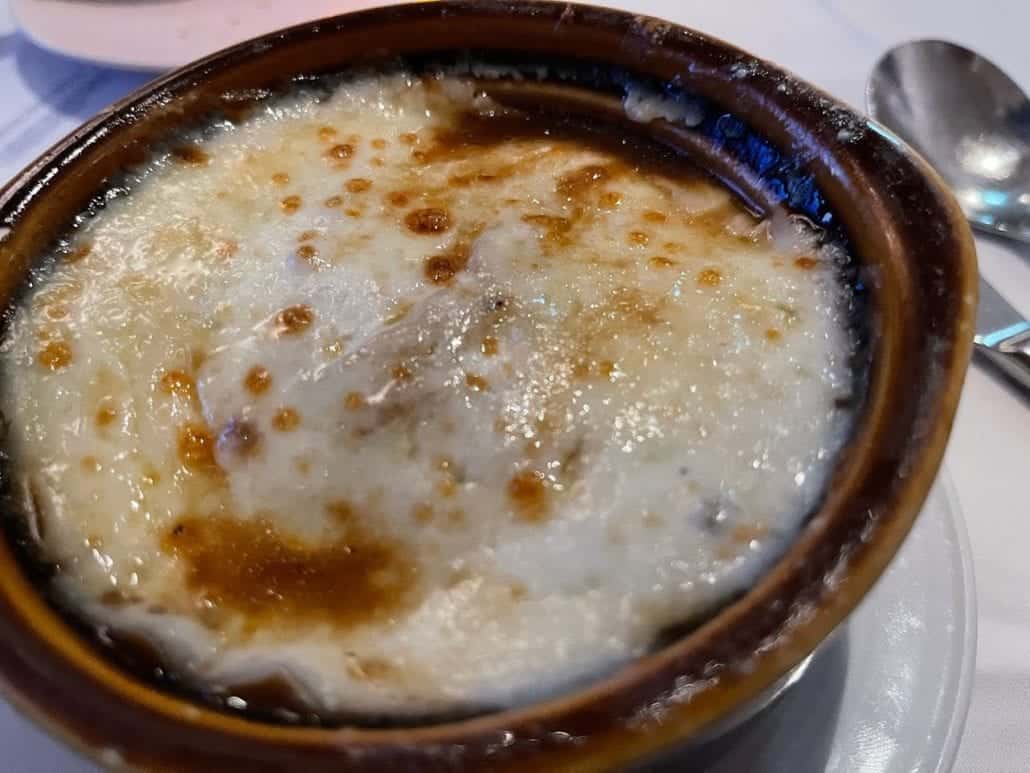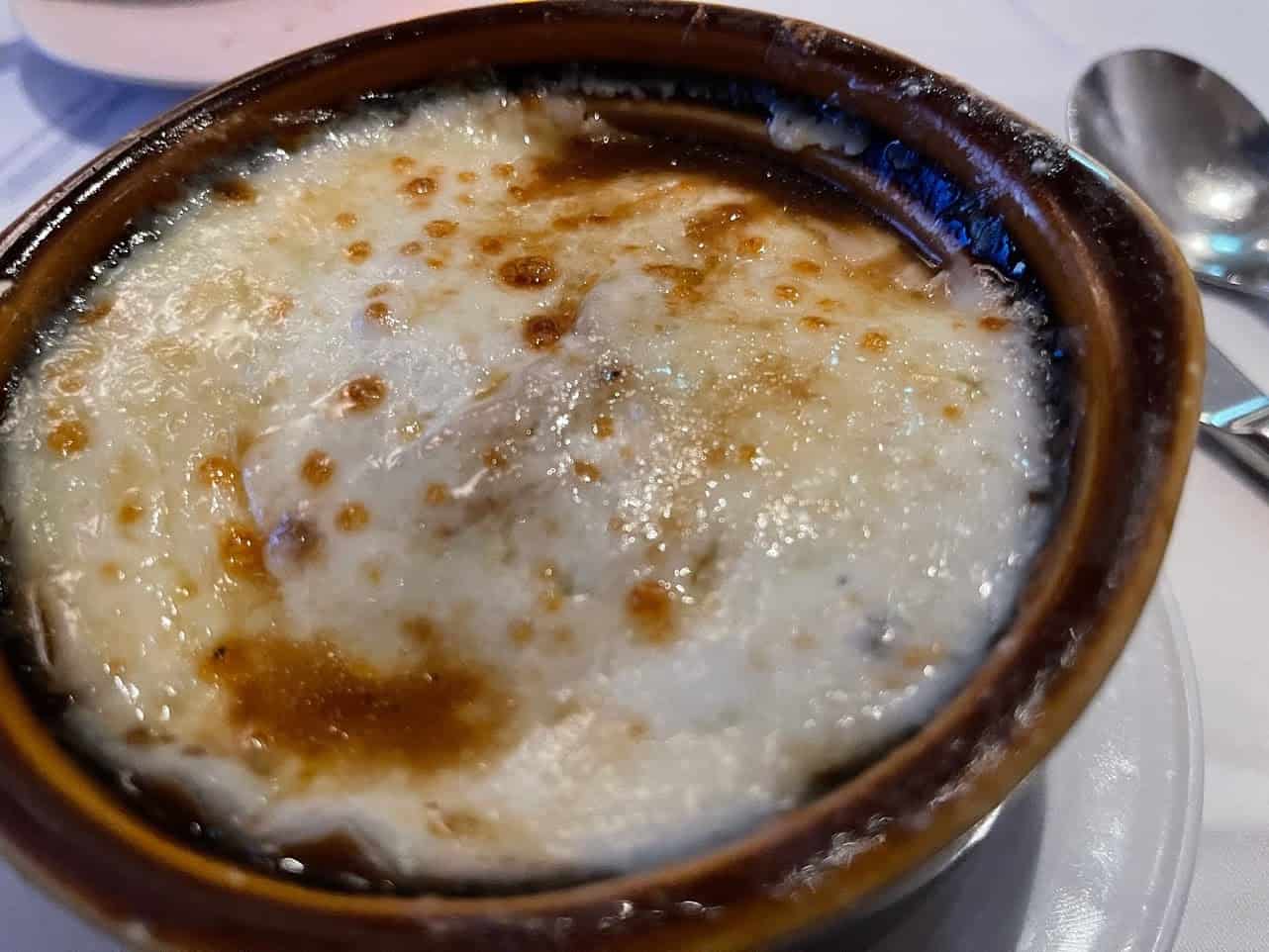 … a caesar salad (proving I can eat salads other than caprese, although if one had been on the menu there's a good chance I'd have gone with it)…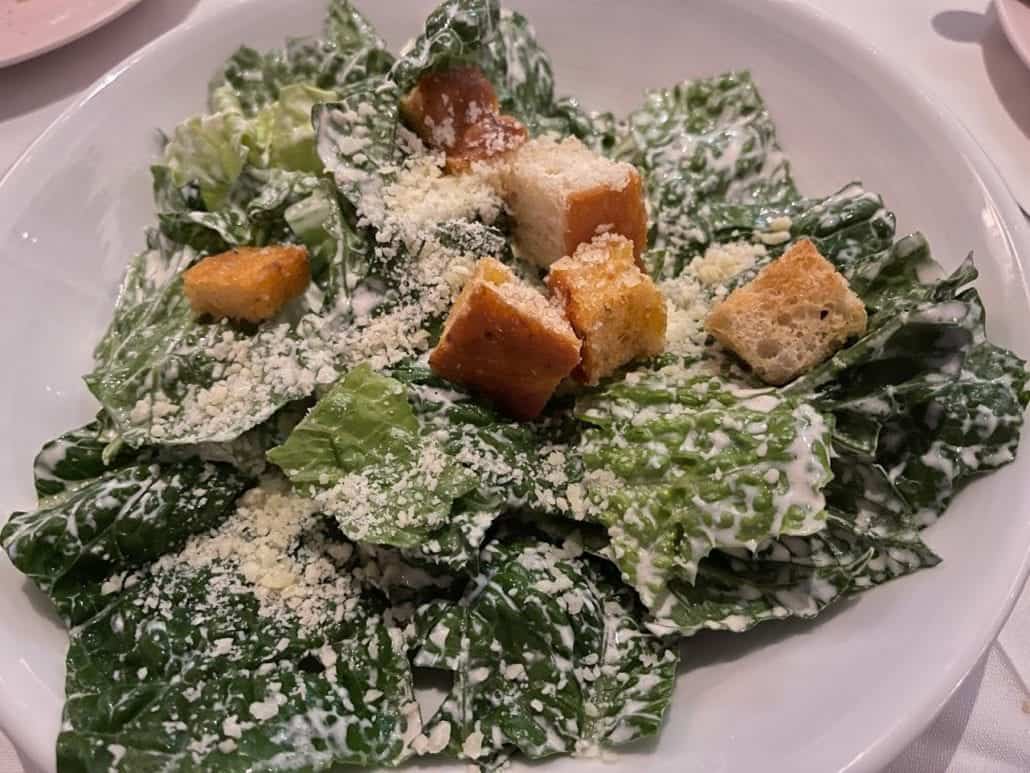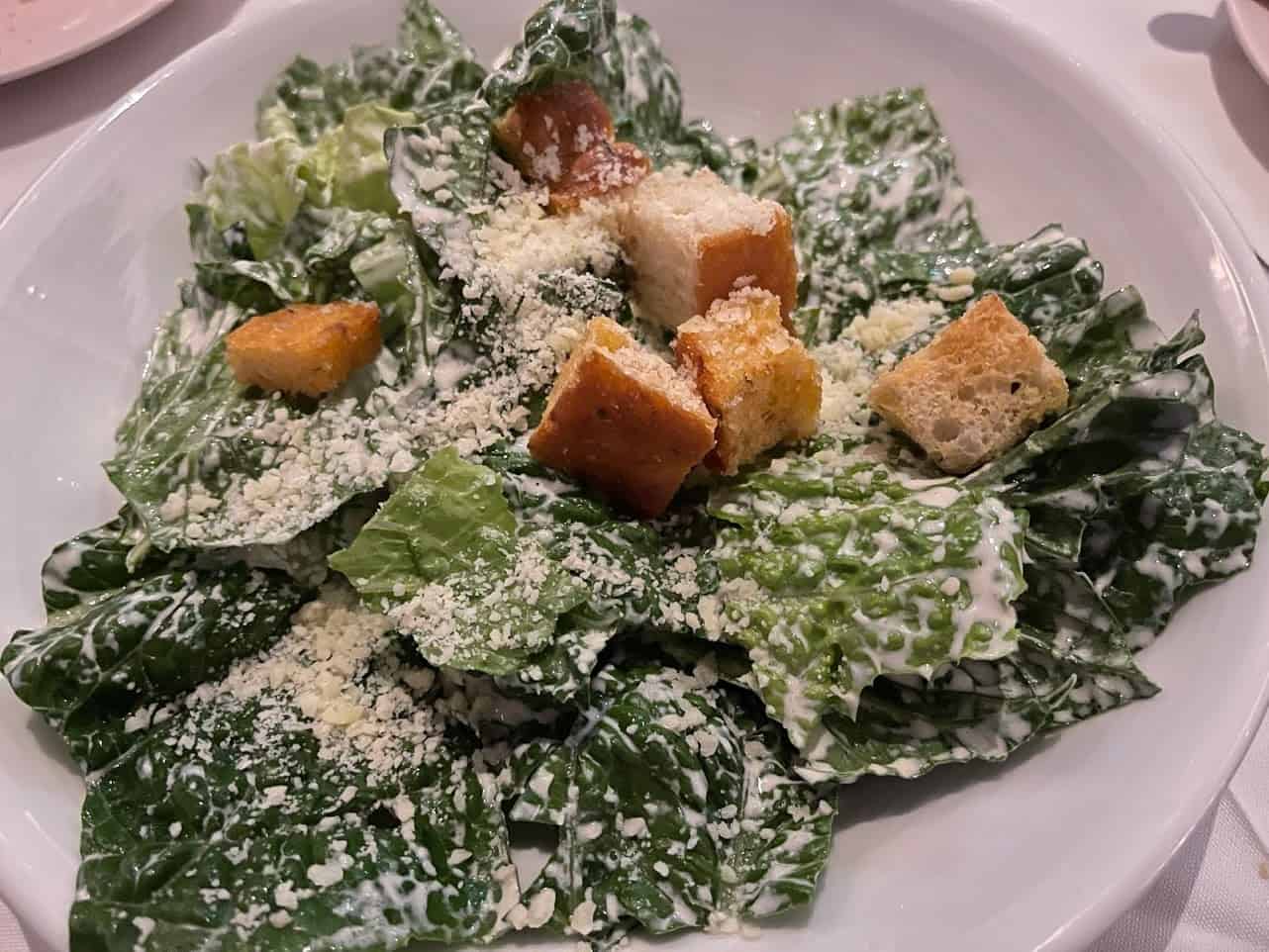 and a steak. It was all well-prepared, if not overly exciting. I feel that this is sort of what you expect from a main dining room these days. It would probably be a standout meal were it not being compared to all of the other, more exciting options that I've been chowing down on all week.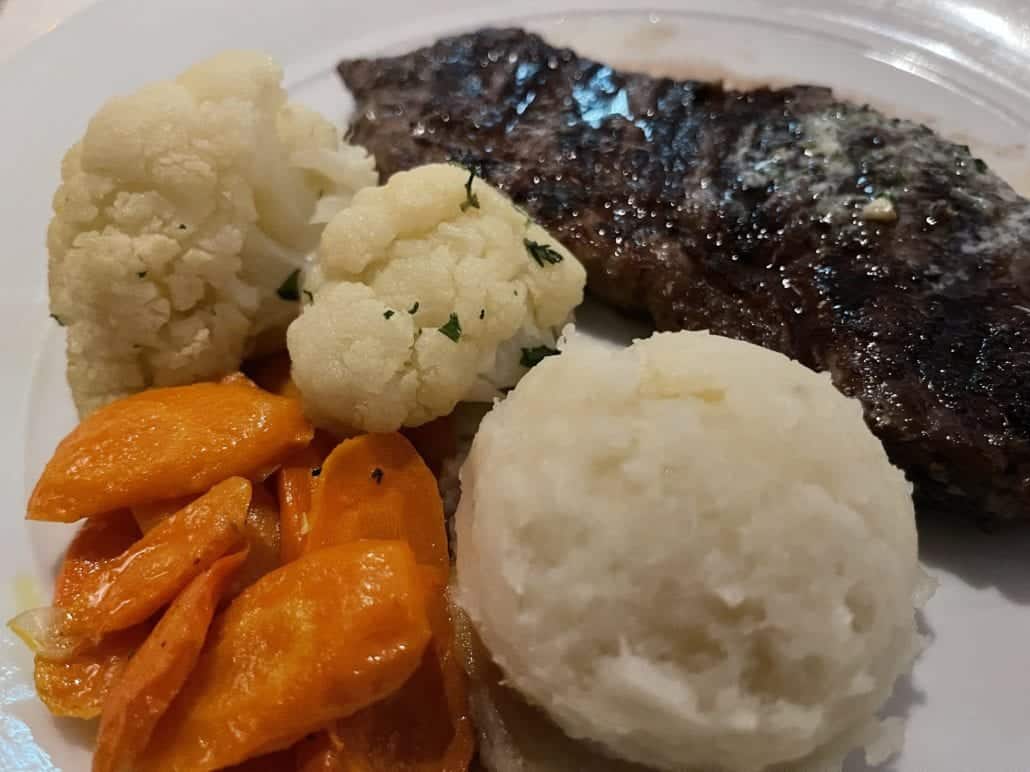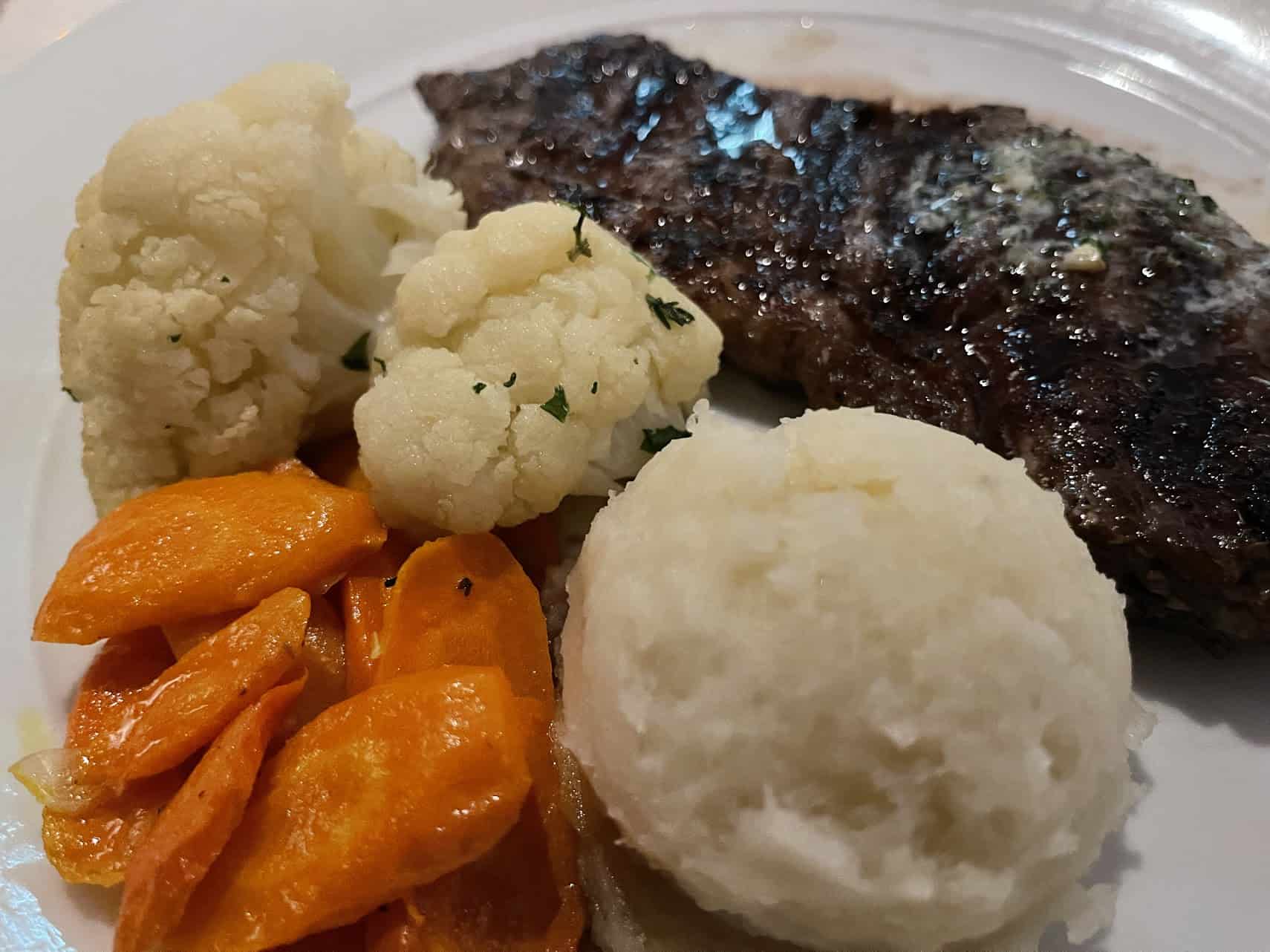 After dinner, I wandered around the ship for a little while. Not so much looking for something to do, but rather just to take it all in. The next morning, we'd arrive in Fort Lauderdale, I'd walk off the ship and just like that, things would have — to a certain degree — returned to normal.
I'd have been on a cruise for the first time in over a year.
This is the point where I'd originally anticipated that I'd do a rundown of the various health and safety protocols and how they impacted the passengers, for better or worse. I somewhat assumed it would be a mixed bag, with some good elements and some bad, but I'd been wrong.
Aside from the mask-wearing crew members and the distinct lack of fellow passengers (thanks to the vastly-reduced capacity), things were pretty normal. The two biggest changes were probably where the safety drill and disembarkation were concerned.
It occurs to me that I never really mentioned the safety drill, did I? Well, file this next paragraph under "better late than never." It turned out that by using the cruise line's app, you can actually complete almost the entire safety drill before you even arrive at the port. I watched the required safety video and filled out the necessary forms on my phone on my flight. That meant that after arriving at my appointed embarkation time, they simply asked for my proof of vaccination, scanned my phone, and I was on my way.
Disembarkation was also incredibly easy. Granted, I had chosen to walk off since all I had with me was a carry-on bag. Interestingly, once you're off the ship and back in the terminal, you immediately find yourself dealing with things like mask-wearing and social distancing again because, hey, you're out of the bubble and back in the real world.
All in all, I don't think I could have asked for a better return to cruising. Stepping off the ship, I had a moment of melancholy… until I realized that in less than 48 hours, I'd be getting on another. It will be interesting to see how Carnival Horizon's protocols differ from those in place on Celebrity Edge. Right off the bat, I know the ship is sailing at a higher capacity (closer to 70 percent).
If you're continuing on with me, I'll see you in the next entry. If this is where you disembark, thanks so much for coming along. As always, let me know if you have any thoughts or questions and I'll do my best to answer them!
Catch up on my previous Celebrity Edge trip reports: