I recently sailed on Carnival Vista on a Western Caribbean cruise. Although several years old at this point – since it debuted in 2016 – it was the first ship in the Vista class and still constantly ranked as a favorite among Carnival guests.
This is my Carnival Vista cruise review.
Carnival Vista Overview
Carnival Vista Quick Facts
Total guest capacity:
3,936
Length:
1,061 feet
Gross Tonnage:
133,596 gross registered tons
Decks:
15 passenger decks
Best for:
Families, multigenerational vacations, couples, and singles.
Not for:
Those seeking a quiet ship.
Carnival Vista is the namesake of the Vista Class, surpassing its predecessor, the Dream Class, by 5,000 tons. By incorporating many successful features from previous Carnival ships and introducing innovations, Carnival Vista quickly became popular when it debuted in 2016.
Distinctive branded partnerships stand out on Carnival Vista, from the complimentary poolside hamburger venue, Guy's Burger Joint — created by celebrity chef Guy Fieri — to an IMAX Theater and the RedFrog Pub & Brewery, the first North American-based ship to feature a brewery at sea (not surprisingly, shipboard breweries are a popular feature on Carnival's German-based sister company, AIDA Cruises).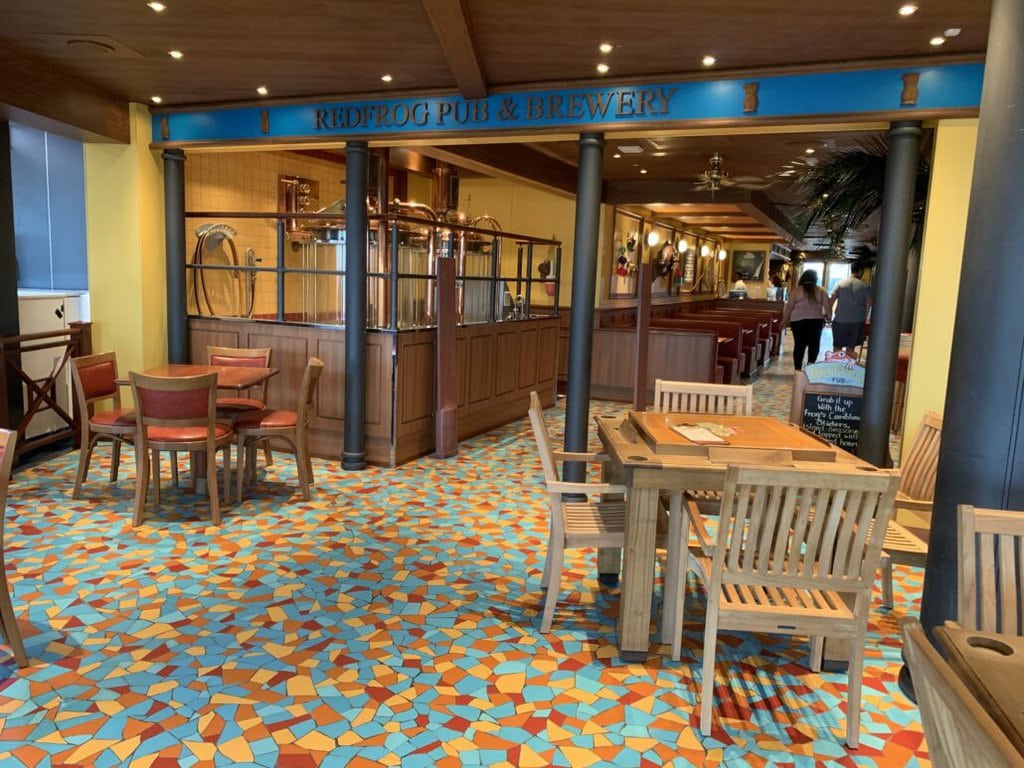 Carnival Vista also leverages the latest technological advances common across the fleet.
Facial recognition software enables passengers to sift through digital photos, accessible via iPads in the Pixels gallery, on stateroom televisions, or even smartphones through the HUB app.
The app also helps guests find onboard events via digital Fun Times, view their spending accounts, and chat with other guests.
(Note: While the app is free, there's a $5 additional charge for the chat feature.)
Staying connected during your cruise is affordable thanks to tiered Internet pricing plans with Starlink high-speed internet.
What we love about Carnival Vista
Top deck SkyRide
Thrill Theater
RedFrog Pub and Brewery
First IMAX Theater at sea
Design
Carnival Vista stands out from the line's typical ship designs with its modern Caribbean resort vibe and subdued color palette, in contrast to the flashy carpets and neon lighting of Carnival ships.
Instead of glass elevators, the ship's atrium has a three-deck-high HD LED sculpture called the Dreamscape, which can be programmed with various themed images and messages, "altering the space's ambiance," is what Carnival told me. A smaller version of this digital centerpiece is located in the casino.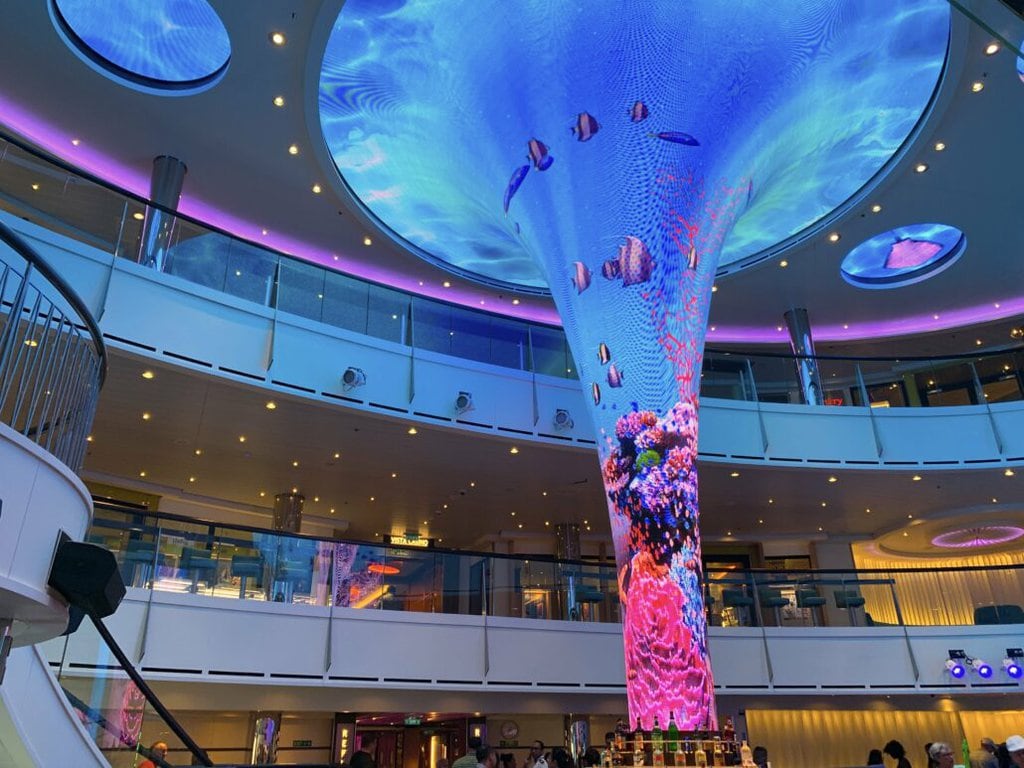 As you explore Carnival Vista, you'll find it's designed to encourage conversation. Public areas, like the Alchemy Bar and Ocean Plaza, offer open and comfortable seating, as do unexpected spots like the hallways on deck four, where benches are integrated into the walls.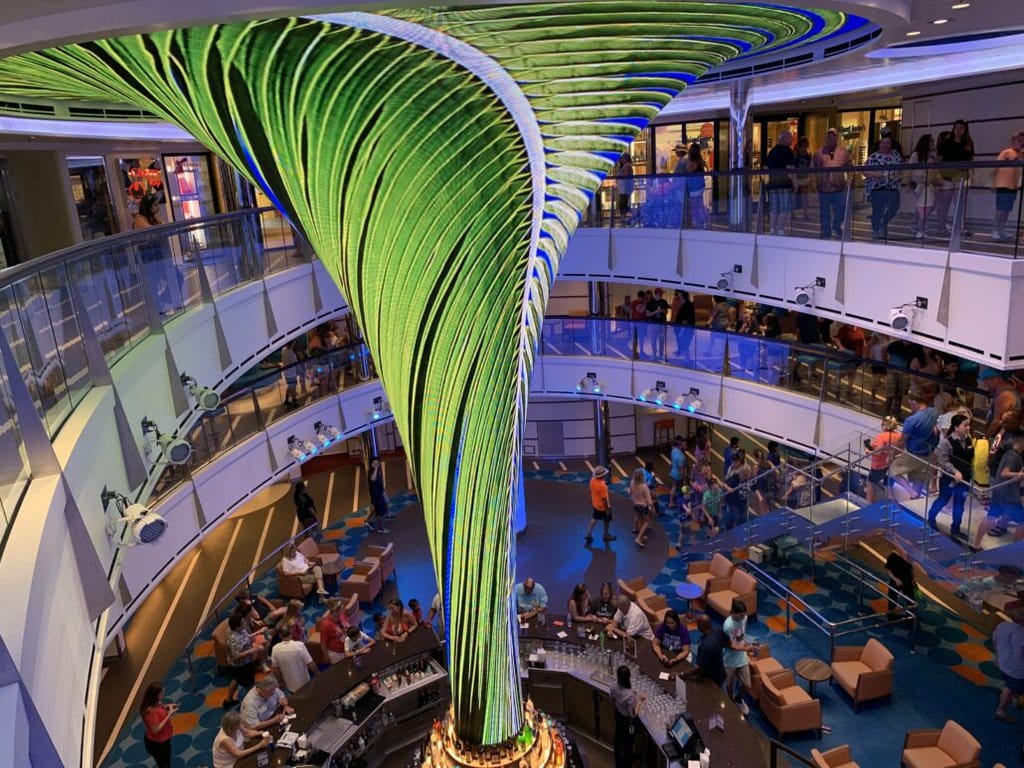 Carnival Vista Staterooms
Carnival Vista has two unique categories within standard cabin classes. One thing to remember about Carnival is that the stateroom steward will only make the room once daily.
On embarkation day, you will have to tell your attendant if you would like morning or evening cabin servicing. Many give push back on it but the truth is, it's quickly becoming the industry norm.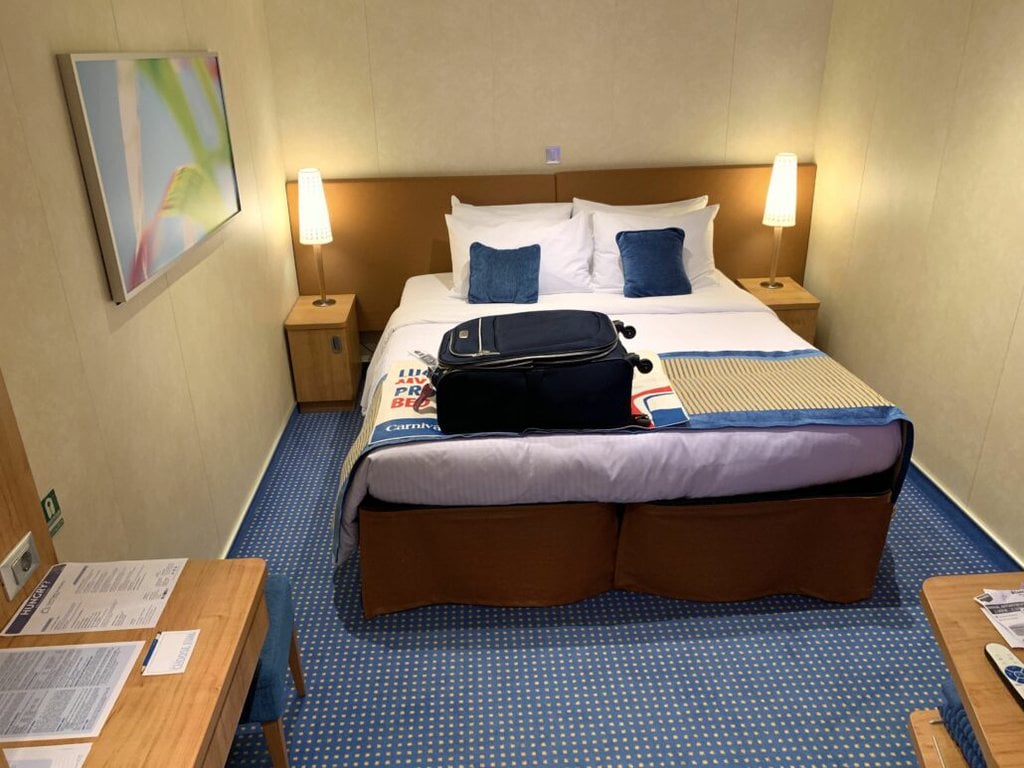 Standard Cabins
Carnival Vista offers a variety of staterooms to suit different needs and budgets. Standard staterooms are designed to provide comfort and convenience and are equipped with modern amenities.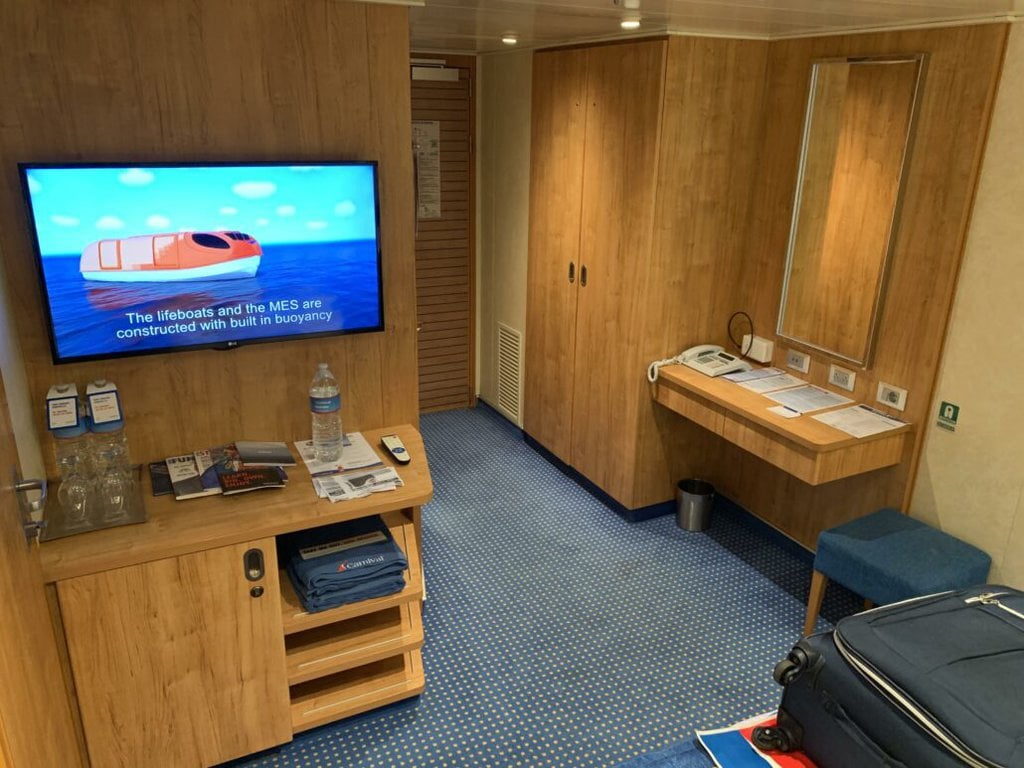 Interior rooms are budget-friendly and offer the essential comforts in a cozy setting.
If you want an ocean view without splurging on a suite, cove balcony staterooms are available. These staterooms, which debuted on Carnival Dream and are cut out of the hull, are located closer to the waterline, providing a unique view of the ocean and a quieter environment and even an occasional splash or two depending on the sea conditions.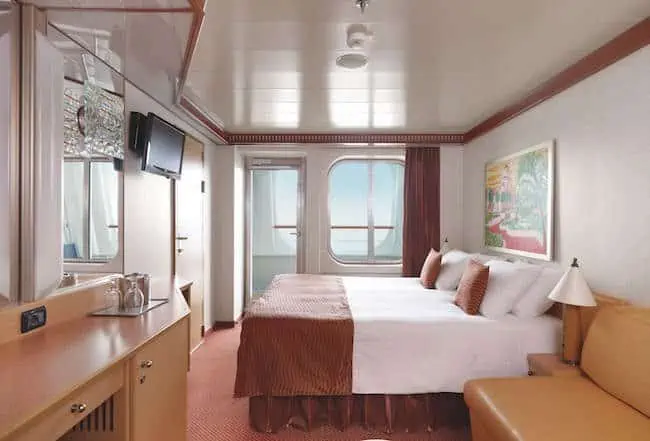 Balcony cabins are perfect for those who want to enjoy the sea scenery and have a private outdoor space. If you want a more upscale experience, suites offer spacious interiors and larger private balconies.
Cloud 9 Spa Cabins
Cloud 9 Spa staterooms are another popular option for spa lovers with access to the spa and thermal suite, included in the price, along with a few other amenities. But it's worth comparing the cost of booking a standard room and adding a thermal suite pass.
PRO TIP: If you're staying on deck six or seven, walk all the way forward, and you'll find a special area to take in the views that rarely anyone knows about.
Family Harbor Staterooms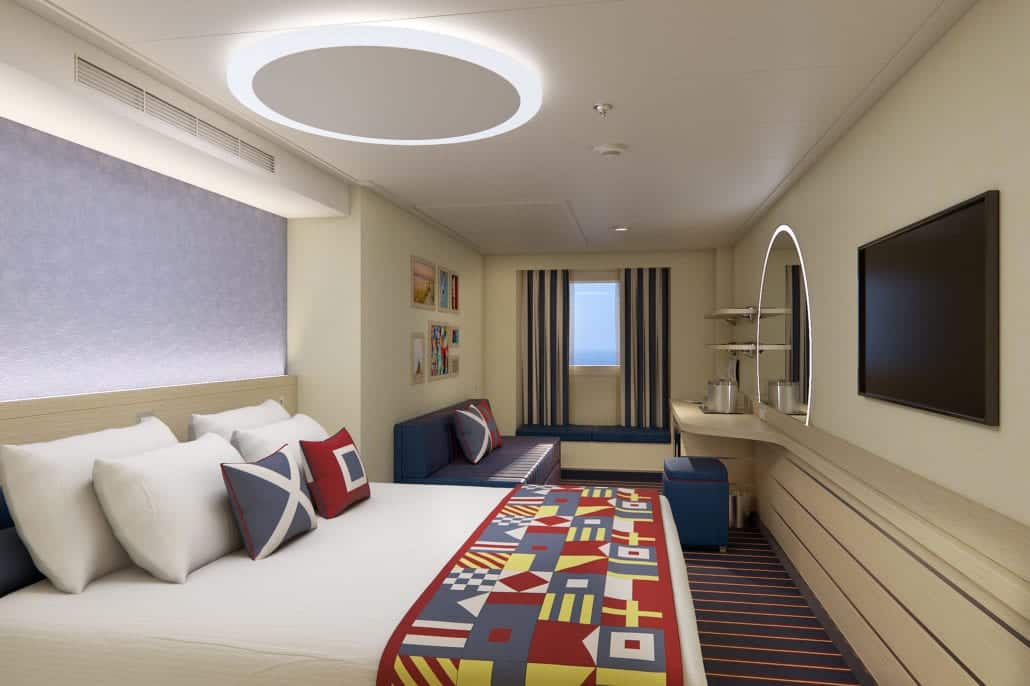 Family Harbor staterooms are perfect for families who want to stay in a single cabin.
These rooms come in different types: interior, oceanview, balcony, or suite. They also provide exclusive access to a lounge, where families can enjoy complimentary snacks, play games, and consult a concierge at specific hours.
There are a handful of these staterooms accommodating five guests with two bathrooms to avoid everyone trying to get ready at once.
Havana Staterooms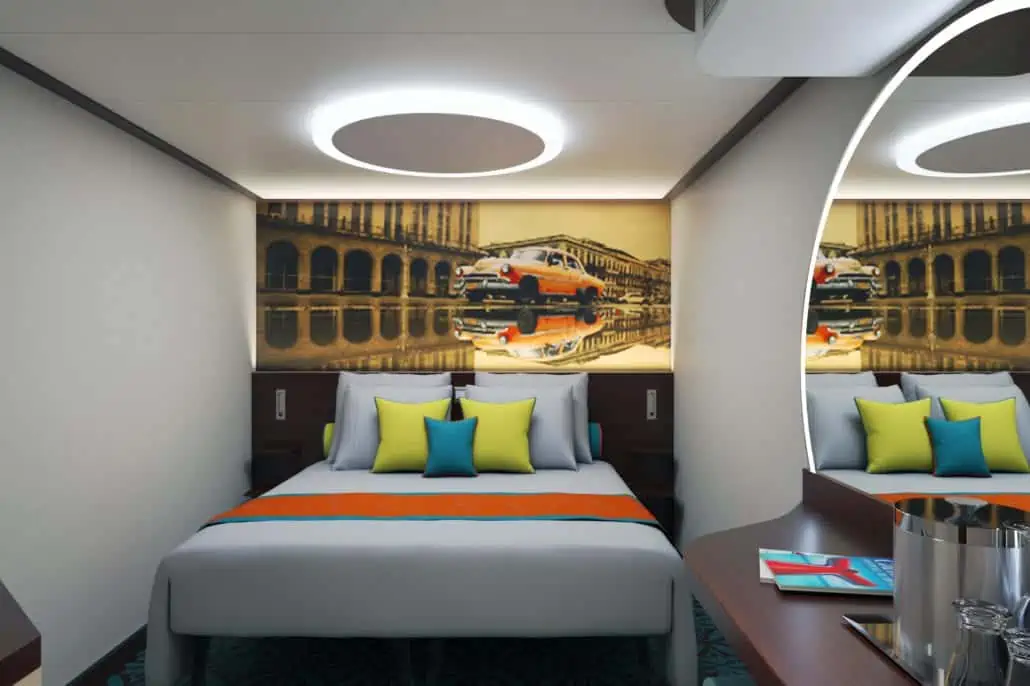 I stayed in a Havana stateroom inspired by the Cuban capital with colorful decor and special access to a dedicated bar and pool. Havana cabins are popular because they offer a private lanai and a hammock.
Those staying in Havana staterooms have exclusive access to the Havana pool area until the early evening; at night, the area opens to the public.
There are different levels of Havana staterooms so you can have a lanai with a hammock, a standard balcony, aft extended balcony cabin, or an inside stateroom.
Activities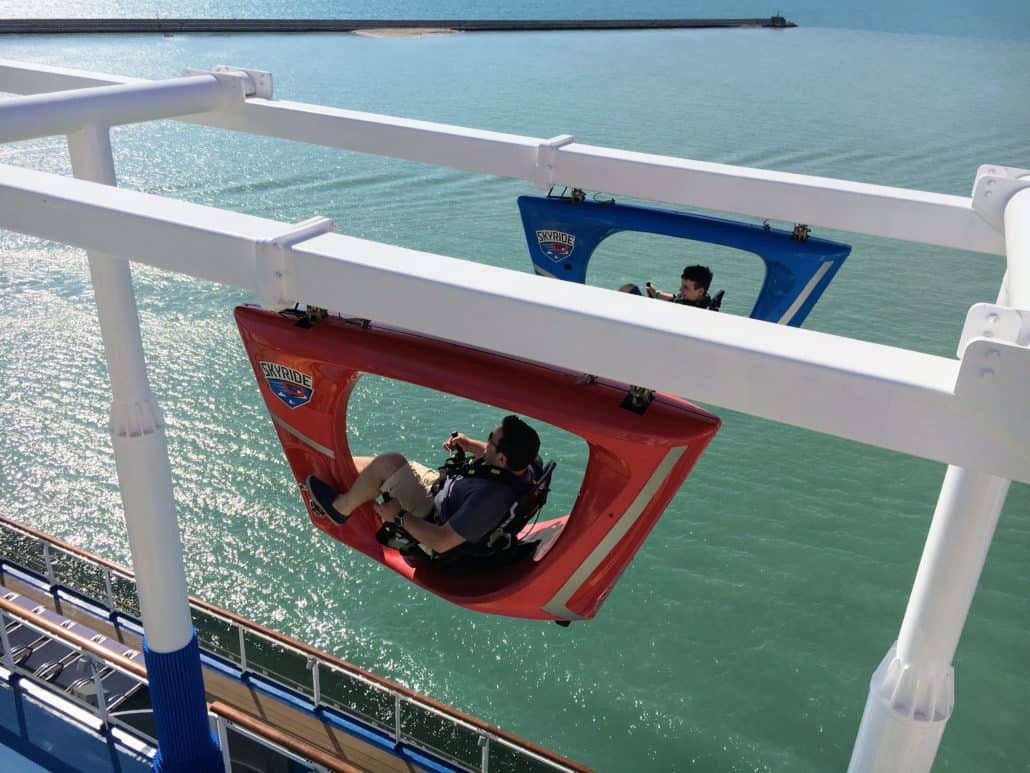 SkyRide is undoubtedly the most talked-about feature of Carnival Vista. Described as a "bicycle in the sky," these pedal-powered vehicles, suspended above deck 10, offer breathtaking views, a mild workout, and a unique experience. There is no cost associated with this one, but the lines do get long so be sure to plan accordingly.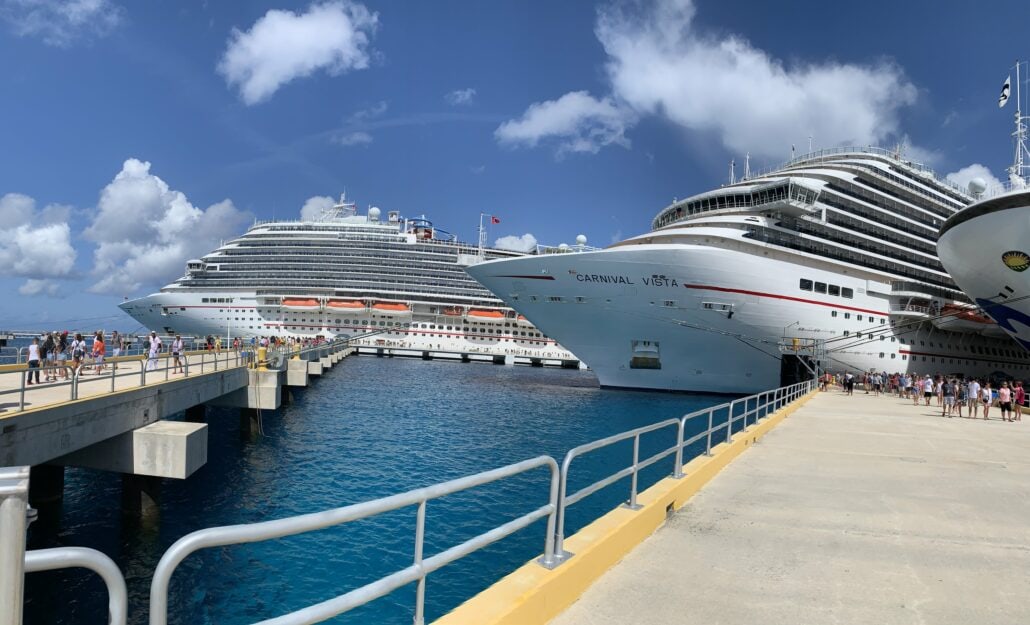 Similarly, a suspended ropes course called SkyCourse situated high above deck 14, offers beginner and advanced options with spectacular ocean views.
SkyCourse is free, as well, and tends to attract a diverse audience, from kids to adults and everyone in between.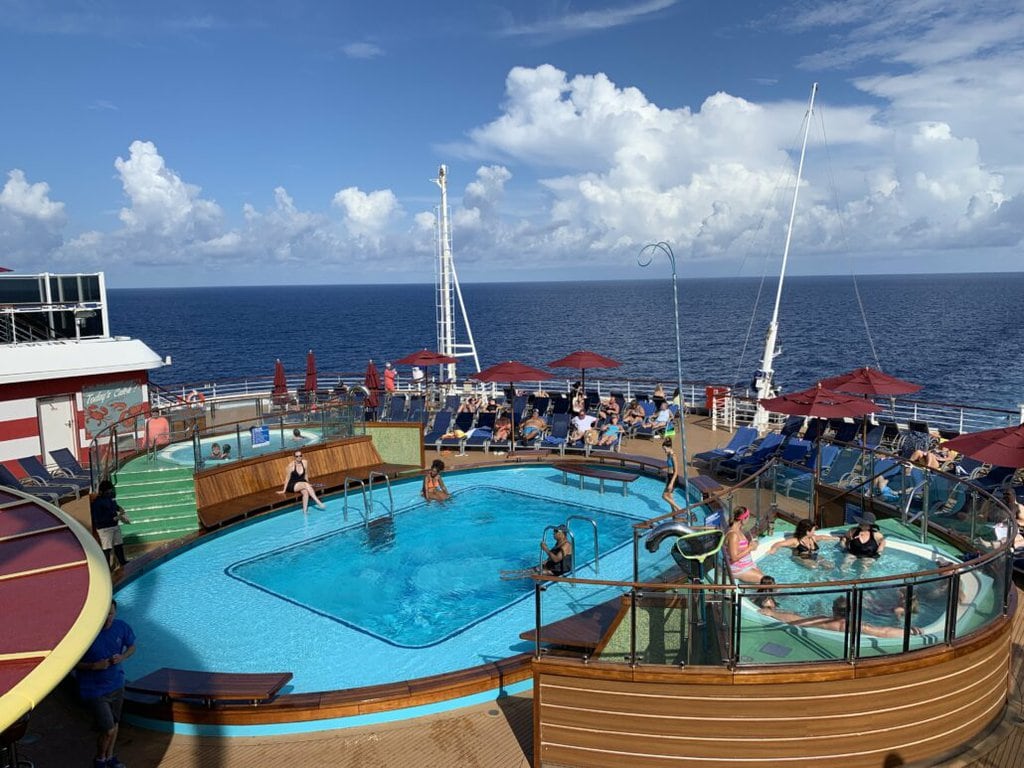 Carnival Vista boasts three pools and six hot tubs. The Havana Pool & Bar area is exclusively available to guests in Havana cabins during the day. Still, it opens to all guests, becoming the party hotspot after sunset with a talented live band and dancing.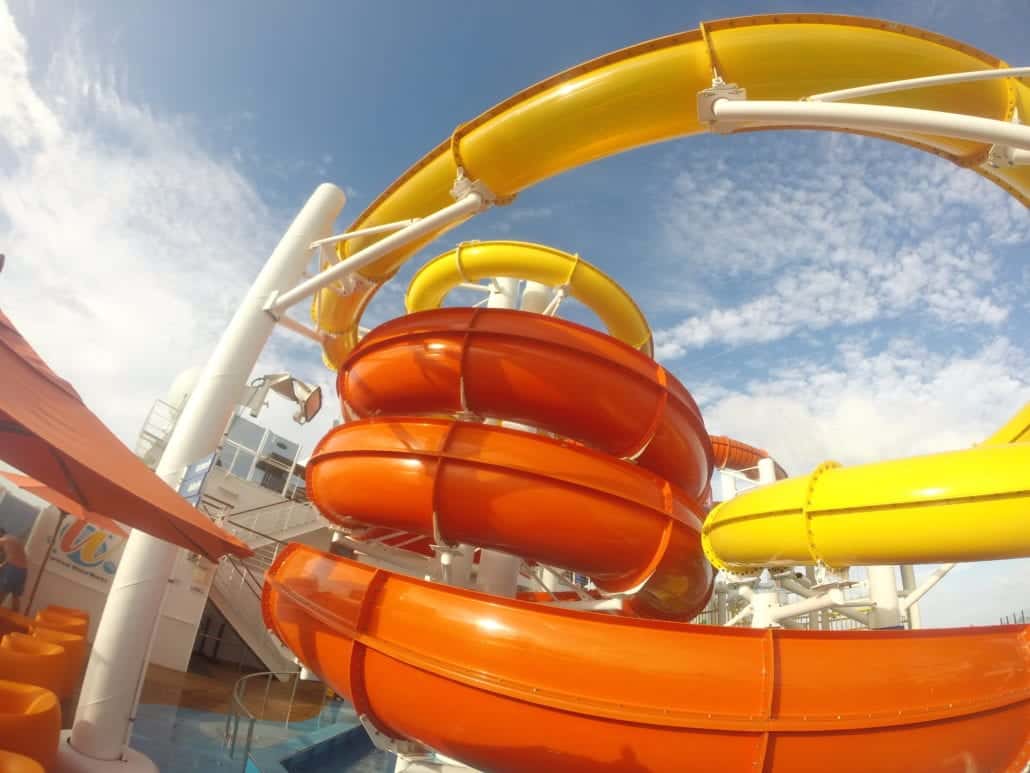 The WaterWorks park will delight guests of all ages, featuring the enclosed Kaleid-O-Slide, the line's first enclosed raft-riding experience with lighting effects.
We found ourselves acting like kids and spending the afternoon on the water slide (and burning off those burgers!).
For those seeking indoor activities, the multiplex houses an IMAX movie theater (the last time I was onboard, they did not have first-run movies playing). Prices are roughly similar to a land-based movie theater with a concession stand serving popcorn and snacks.
The ship also has a Thrill Theater with special effects to immerse viewers in the on-screen action. In my estimation, it's just okay, especially considering the extra fee involved. If you want to kill some time on a sea day, I say go ahead and do it. The first Thrill Theater debuted on Carnival Breeze in 2012.
Shows and Punchliner Comedy Club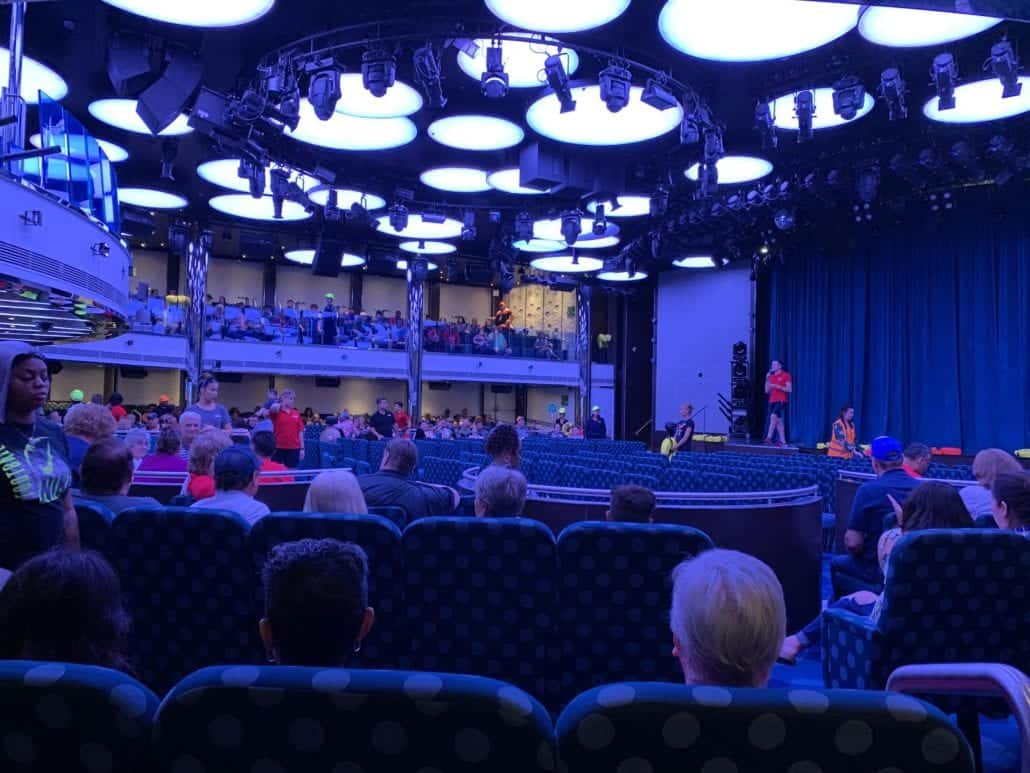 Evenings on Carnival Vista are filled with entertainment. The multi-purpose Liquid Lounge hosts three different Playlist Productions, high-tech productions where singers and dancers interact with massive LED screens. Shows tend to be shorter, think 35-40 minutes max, and include:
Amor Cubano: A Caribbean Dance Romance with a seven-piece Latin band (which also plays in the Havana Bar).
America Rocks: a vibrant show with a live band performing classic tunes from artists like Springsteen and Aerosmith.
Flick: The Power of Motion Pictures through song showcasing popular movies through the decades.
Some productions end with transforming the theater into a dance floor.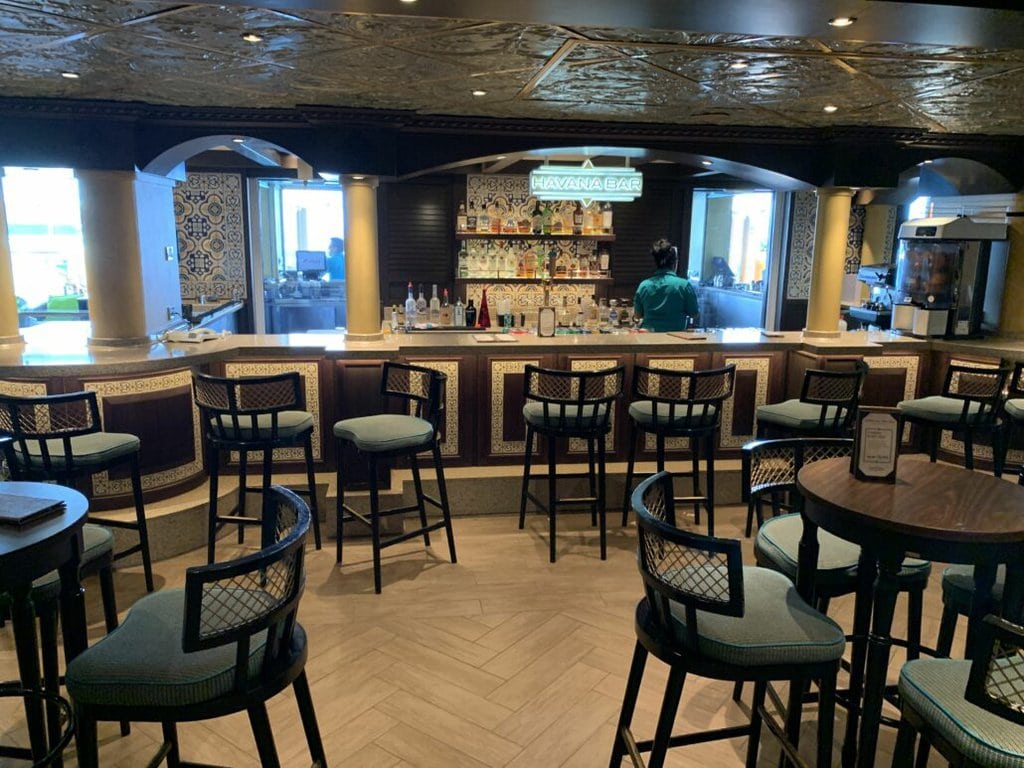 For comedy enthusiasts, the Punchliner Comedy Club, featuring family-friendly and adults-only shows, is a must-visit, but arrive early as seating is limited.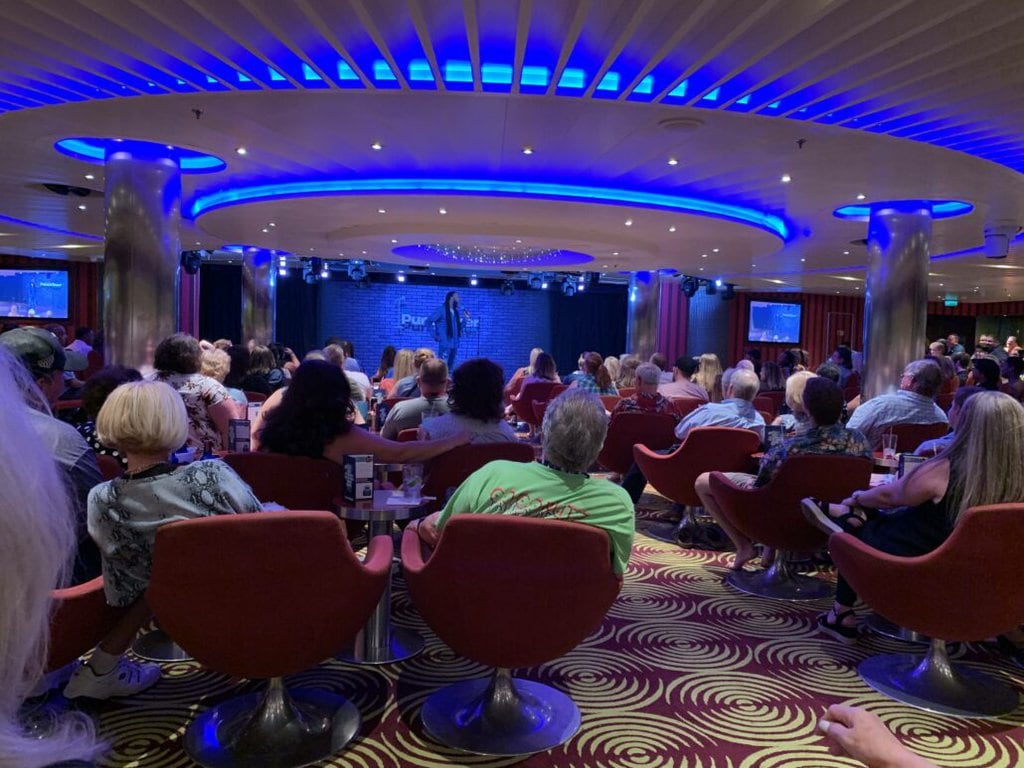 Carnival Vista Dining
There are a handful of additional cost dining options on Carnival Vista. This is one of the first ships that Carnival elevated the upsell experience. I will put a ($) next to items that have a fee associated with them.
During my time on the Carnival Vista, I dined at several places: Cucina del Capitano ($) offers a cozy atmosphere with classic Italian favorites, with waiters belting out "That's Amore" every night.
Bonsai Sushi ($) includes rolls, sashimi, and other Asian delicacies (the terrayaki steak is amazing!). While Blue Iguana Cantina serves tacos and burritos, including delicious breakfast burritos.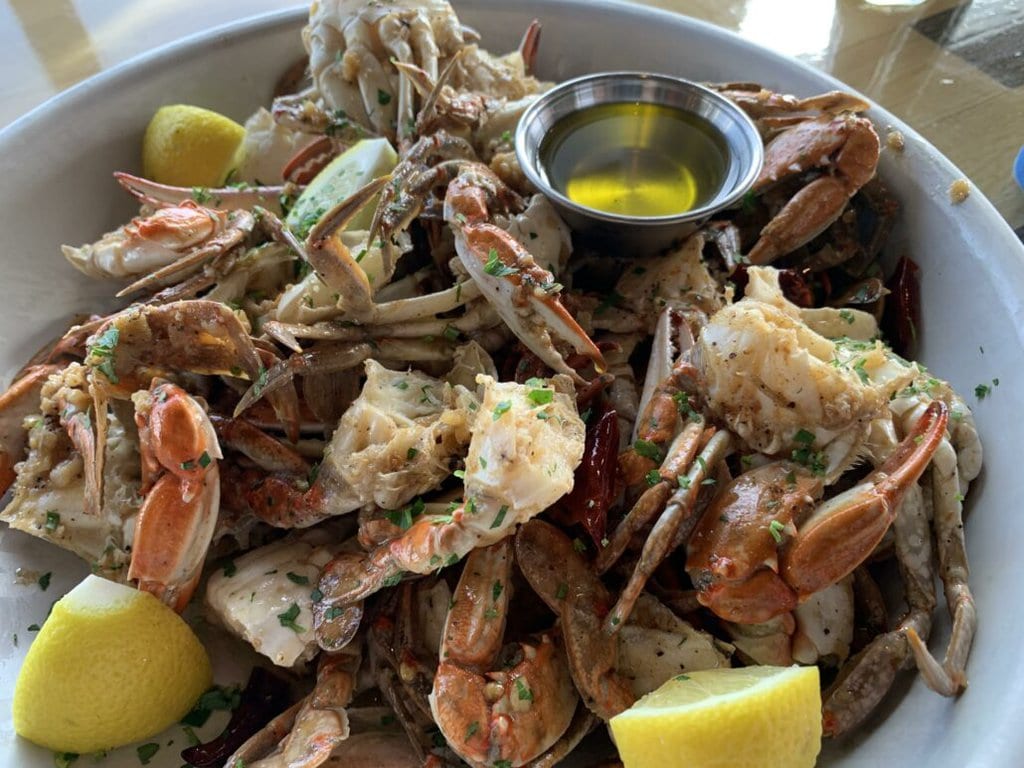 Pro Tip: order the Huevos Rancheros in the morning for a special treat.
Located aft on Lido Deck, Seafood Shack ($) features various quick-service seafood items like lobster rolls, crab legs, and boiled and fried shrimp.
For a different dining setting, check out the Fahrenheit 555 Steakhouse ($). Carnival Vista's lido buffet is more than you expect, offering many dishes in a casual atmosphere, as well as the Carnival Deli with piled-high sandwiches and traditional sides.
The steakhouse menu seems to evolve constantly but with every version, it gets better and better.
It's not a Carnival cruise without a visit to Guy's Burger Joint and for dessert, stop at Shake Spot ($), which has milkshakes and other desserts, including alcohol-infused shakes for adults.
The mentioned dining venues helped distribute the crowds during lunch and dinner. If you're wondering, The Lido Marketplace (buffet area) was the busiest during breakfast, especially on port days when people had early excursions. The space is laid out nicely and never seems over-the-top crowded.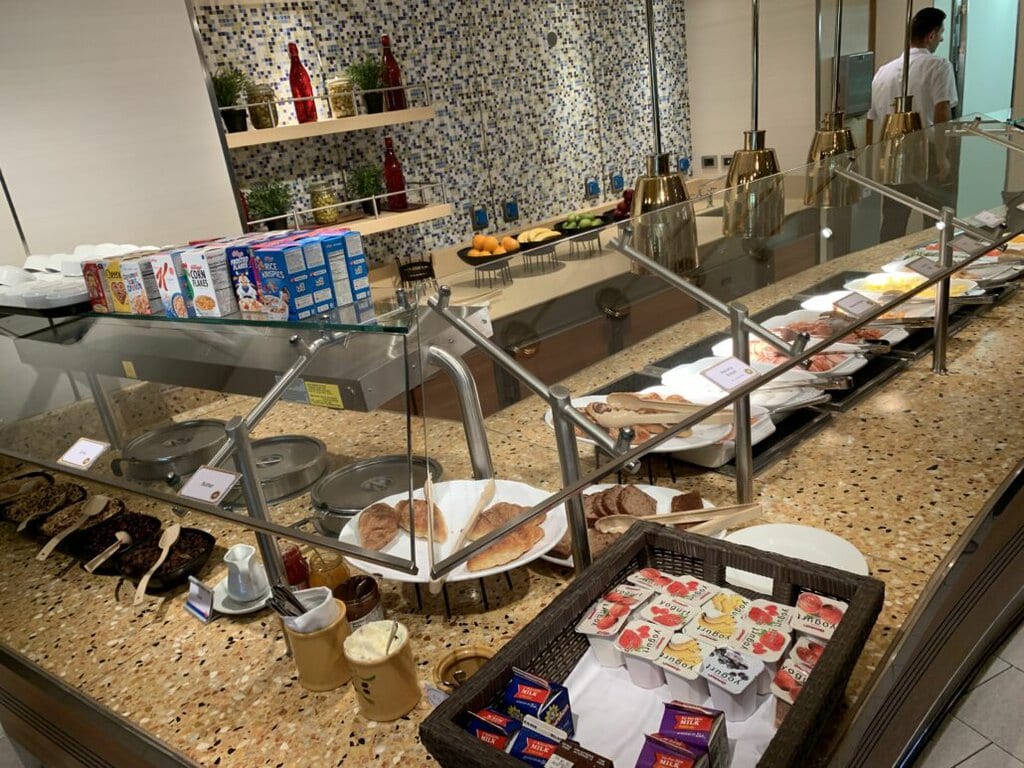 Hands down, one of my favorite spots is Guy's Pig and Anchor Smokehouse on deck five, featuring the only true smokers at sea, specially designed just for Carnival.
There's also 24/7 pizza at the Pizzeria del Capitano. Before dinner, I had a drink at the Library Bar ($) – leave it to Carnival to combine reading and drinking – and for coffee, JavaBlue ($) is a must for those looking for their caffeine fix.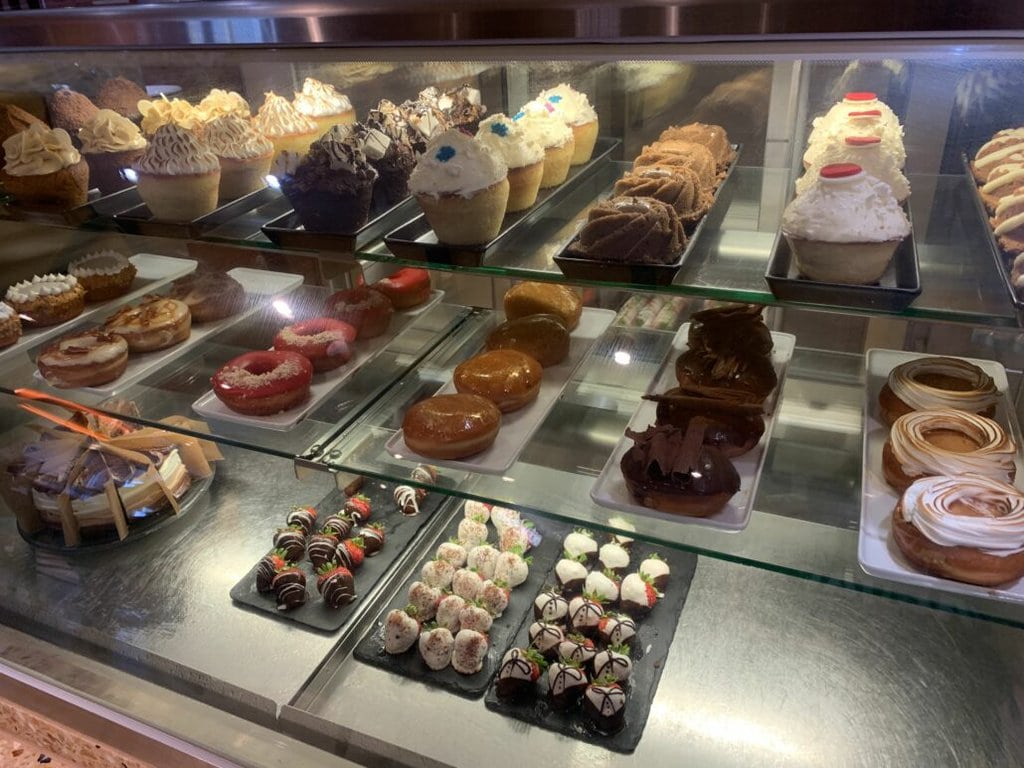 The Chef's Table ($) — a multi-course meal with wine pairings — is a "must visit," but remember to book in advance and allow at least three hours for the experience.
An often-overlooked area is the Fresh Creations salad bar in the adults-only Serenity area, featuring handmade salads and options like grilled chicken and tuna.
There are two dining rooms on this ship: Reflections for traditional early and late seating and Horizons for anytime dining (which could change depending on the sailing).
Every sea day, breakfast was served in the main dining room, but the famous Seaday Brunch was only served once during our sailing.
Other paid options include JiJi Asian Kitchen ($), where reservations were recommended, along with 24-hour room service ($), which offers a mixture of free and for-fee items.
As I write this, I'm looking at all the fees associated with dining, and it seems like a lot. Still, it's worth noting that during lunch, Cucina turns into a complimentary pasta bar, and JiJi Asian Kitchen turns into a complimentary noodle bar.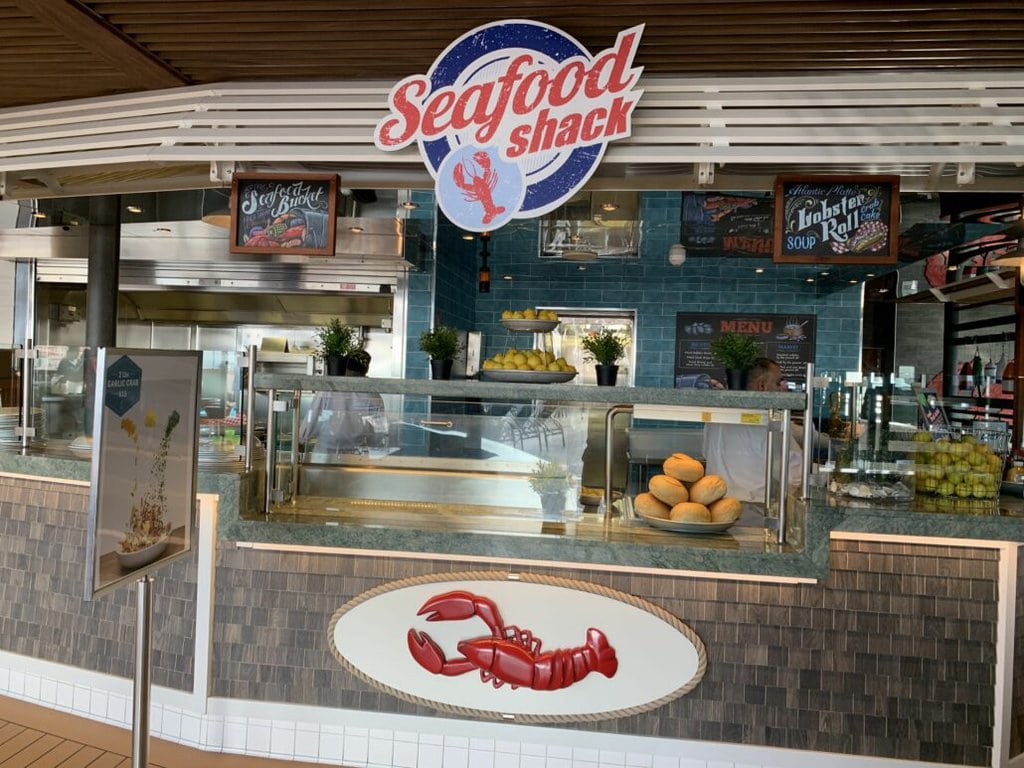 Entertainment
Carnival does a good job of creating entertainment and activities catering to different tastes, and Carnival Vista certainly fits into that philosophy. I found several spots for adults to unwind and socialize.
For those inclined towards physical activities, SportSquare was an ideal location with basketball, mini-golf, and even an outdoor billiards table, along with the nearby SkyCourse for those seeking an adrenaline rush.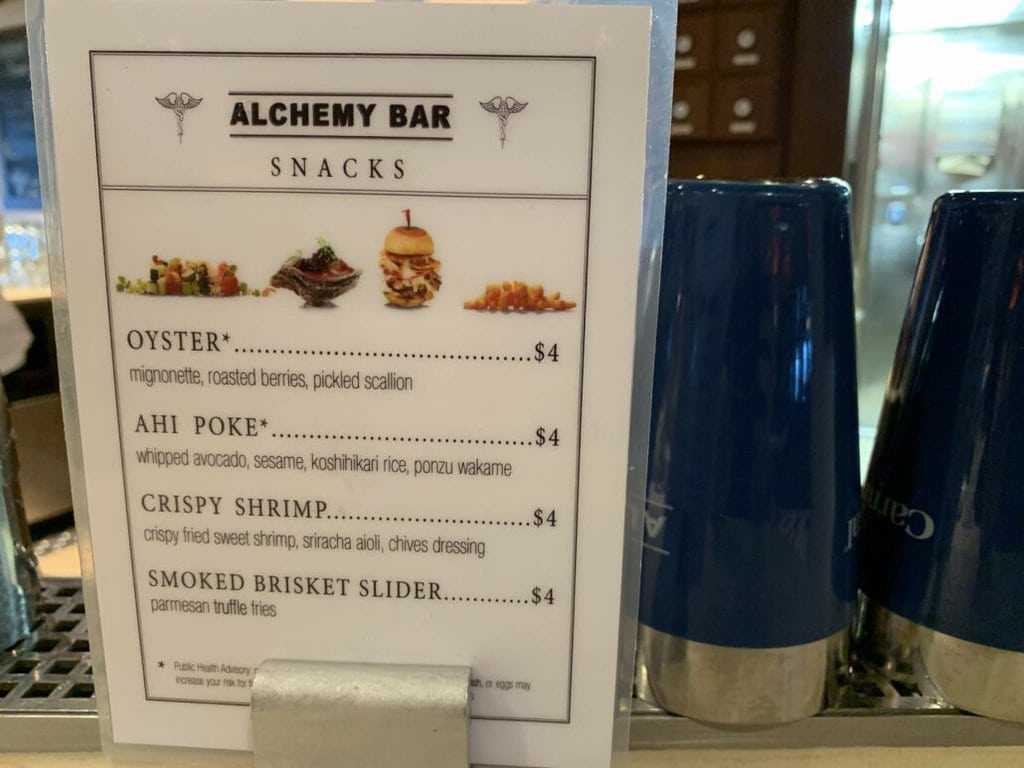 I started my first day at the RedFrog Pub poolside on Lido Deck (not to be confused with the RedFrog Pub & Brewery located along the promenade), serving Caribbean drinks in a lively environment.
Although, the RedFrog Pub & Brewery did have nightly acoustic soloists performing, and live music can be found throughout the ship, from the main atrium to the Piano Bar.
I liked the ThirstyFrog Red beer, which I paired with grouper fingers ($) off the bar menu.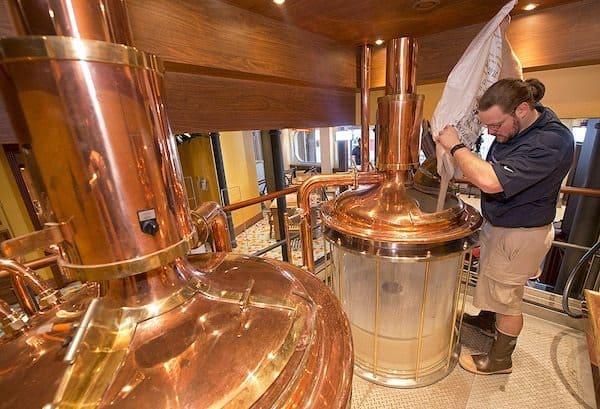 The RedFrog Brewery Tour is fun to do on a sea day, so are the mixology classes at the Alchemy Bar.
Later, we went to the Havana Bar to check the scene. I'm more of a vodka and soda person, so I asked a girlfriend to describe the space in a few sentences about the aft venue on deck five.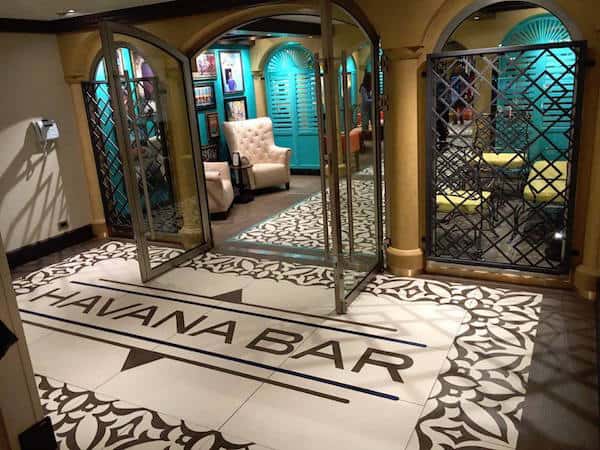 She said, "It radiated Cuban charm with its rum cocktails. The bartenders recommended I try the Hemingway Daiquiri. Live Latin tunes enhanced the vibe." Her words, not mine.
We found the Library Bar a great option for a peaceful ambiance, and we visited it a few times for a drink before dinner. According to Carnival, like many shipboard features of a bygone era, they won't be incorporating any new libraries in their upcoming builds, so it's best to relish this space while it's still available.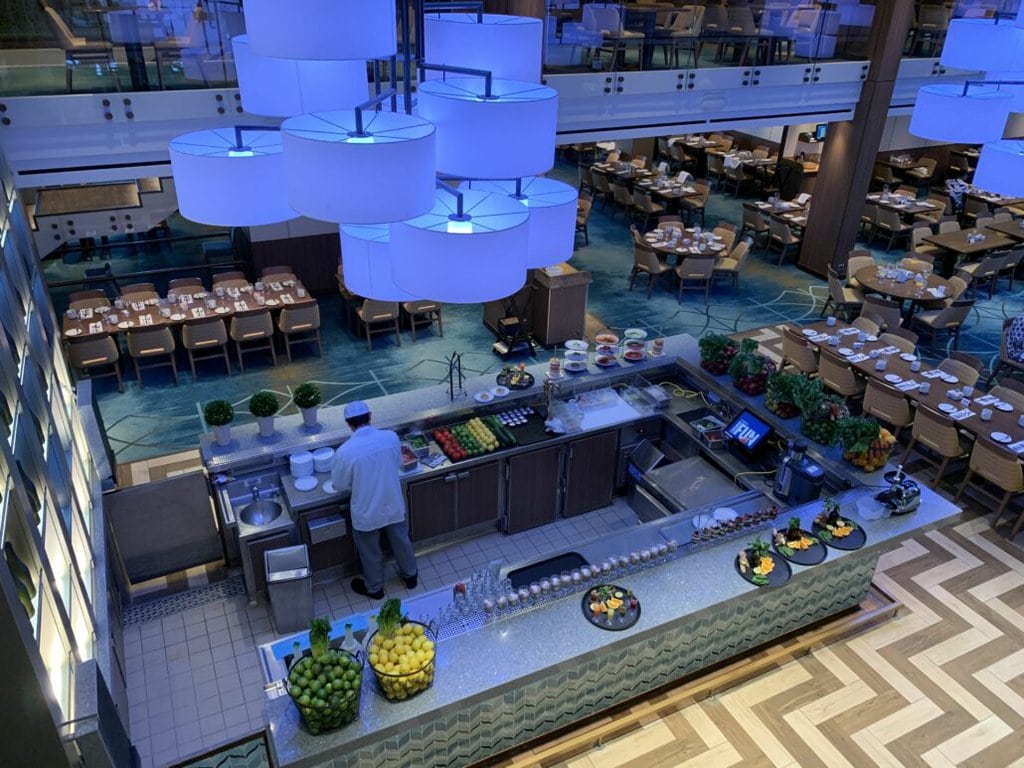 Cloud 9 Spa
I found myself continually drawn to the Cloud 9 Spa, having previously used it for a pedicure and thermal suite, making it a must-repeat experience.
The spa offers an array of thermal suites, from the dry heat chambers like the Laconium and Tepidarium to steam chambers like the Oriental and Aroma.
Each suite is designed for relaxation, helping to cleanse the body of impurities. The heated chaise loungers are a nice touch. Another highlight was the thalassotherapy hot tub (albeit much smaller than the Dream class) filled with ionized mineral water, ideal for muscle relaxation after long port days.
To ensure that it never feels crowded, these Cloud 9 Spa amenities are limited to only 50 guests per sailing.
FYI: Every visit to the thermal suite requires a wristband.
One of the underrated perks was the showers in the spa locker rooms, a significant upgrade from my stateroom shower. I noticed many guests showering in the locker room while their significant other was getting ready in the stateroom.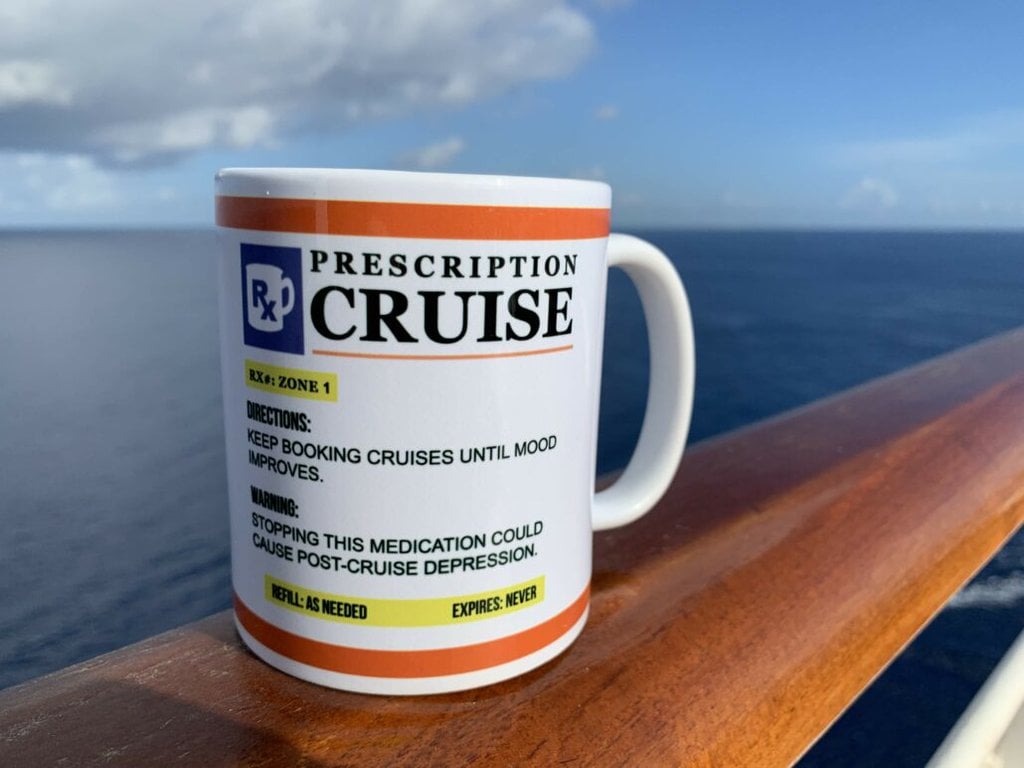 Kids & Teens
Carnival is well-known for providing entertainment and activities for families – after all, they carry upwards of a million kids a year. Its Camp Ocean program offers supervised, age-appropriate activities for children aged 2-11, all with a nautical theme. Circle "C" is designed for 12-14-year-olds, while Club 02 caters to older teens ages 15-17.
The Dr. Seuss Bookville is a colorful space inspired by the author's books, part of an exclusive partnership with Dr. Seuss Enterprises.
Carnival offers nightly babysitting services in Camp Ocean from 10 p.m. to 1 a.m., allowing parents some "we" time without the kids in tow to enjoy the evening entertainment.
(Note: Night Owls babysitting fees apply: $7.50 per hour plus an 18% service charge per child.)
A few "misses" on Carnival Vista
It's no secret that Carnival Vista has its share of issues, particularly with its propulsion system and azipods, which have caused several mechanical problems and delays.
In the summer of 2019, Carnival Vista was taken out of service for an emergency repair and famously towed to the Grand Bahamas shipyard via a "floating dry dock." Passengers have reported that the ship's speed has been reduced, resulting in longer travel times between ports.
Additionally, despite numerous repairs, some guests have complained about the noise and vibrations caused by the propulsion system, which can be disruptive and uncomfortable.
Final Thoughts of Carnival Vista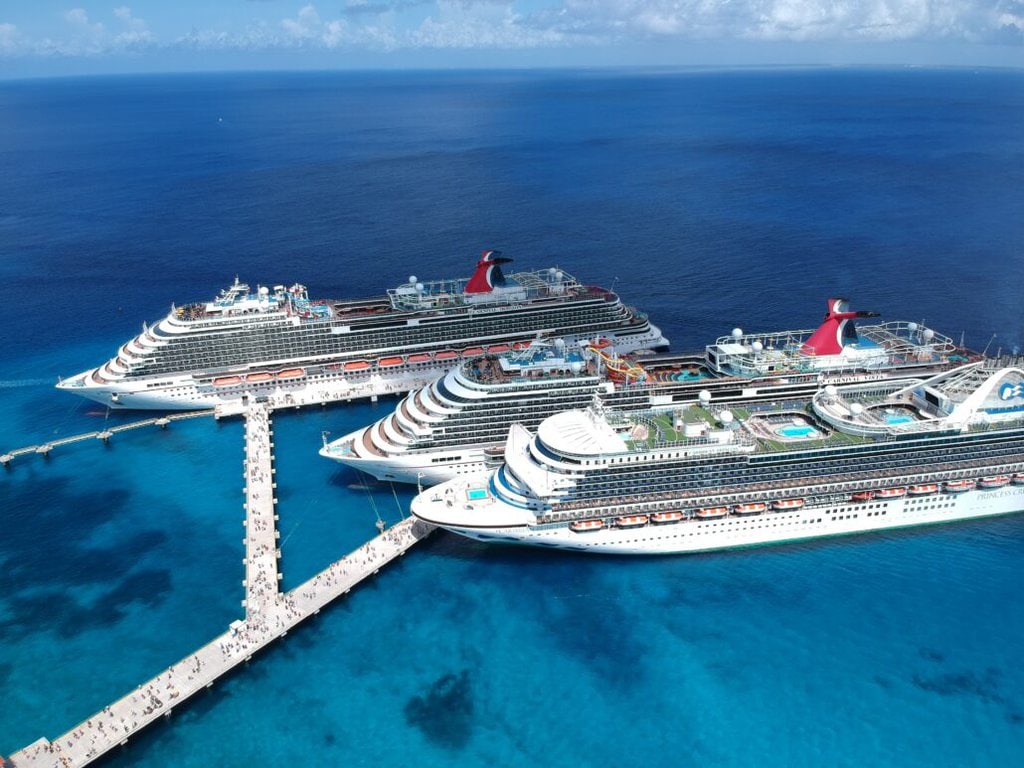 During my cruise, I noticed two areas of concern – lax enforcement of certain shipboard policies and the behavior of some fellow passengers.
Unfortunately, only one of these areas is under the control of Carnival. On sea days, I noticed children were running around the Serenity area, which is supposed to be reserved for adults only.
There were also several incidents of scuffles onboard where people were not being held accountable for their behavior.
Overall, my experience at the Carnival Vista was fantastic. The ship was clean, the sea days were fun, and the only time I had to go to guest services was because I lost my Sail & Sign card (the line wasn't bad at all, and I could resume my vacation quickly).
The food was solid, the vibe was fun, and the crew members were friendly. I highly recommend this ship to anyone looking for a Caribbean cruise with lots to do at an affordable price.
Carnival Vista Cruise Review and Tour [VIDEO]