We're so close to the big official unveiling of Carnival Vista!  Today's countdown topic is quite an entertaining one – the Multiplex Lobby with the ship's IMAX movie theater, and multi-dimensional immersive experience, Thrill Theater.
Carnival Vista's multiplex is a first at sea, and serves as the lobby to the two above mentioned theaters.  There's a kiosk for buying tickets, a concessions counter, and lounge for guests to wait for their show to begin.  The IMAX theater is also the first at sea, and its screen towers an impressive three decks high.  It will feature first-run movies, other recent blockbuster hits, as well as classic documentaries.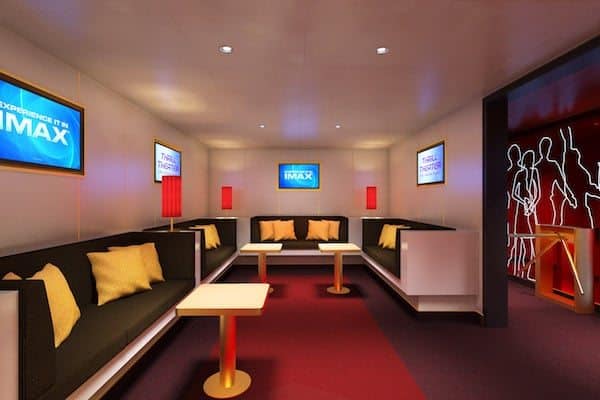 The Thrill Theater was introduced aboard Carnival Breeze, and has been a big hit among guests.  Carnival is bringing the adventure to Vista with the same fun experience, where guests will feel as though they're actually in the attraction.  Guests will be poked, squirted with water and bubbles, and feel their seats shift and vibrate in the multi-sensory experience.  If you've ever been inside the Tree of Life at Disney World's Animal Kingdom, this is the same sort of thing.  The theater will also feature an advanced 3D projection system and provide 3D glasses for everyone, bringing the experience to all-new depths.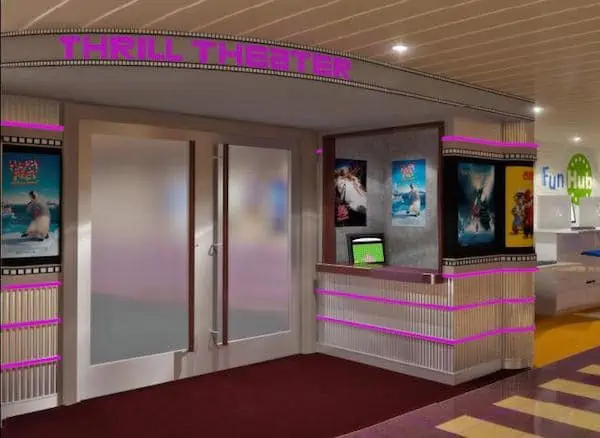 We think that the Thrill Theater and IMAX movie theater will be a great asset to Carnival Vista's many fun amenities and activities, and will be perfect for families looking to kick back out of the hot sun for a little while.  The ship is full of activities and entertainment both inside and out, and families are sure to love these exciting experiences.
To catch up on all of our previous Carnival Vista Countdown posts, browse the links below!