[su_desk_page gambar1="media: 112237,112238,112239,112240,112241,112242,112243,112244,112245,112246,112247,112248,112249,112250,112251″ gambar_utama="https://cruiseradio.net/wp-content/uploads/2018/07/Sunrise-Deck.png" gambar_default="https://cruiseradio.net/wp-content/uploads/2018/07/Sunrise-Deck-1.png"]
In one of the most expensive cruise ship refurbishment projects to date, Carnival Cruise Line revealed plans today for a nearly $200 million bow-to-stern makeover of Carnival Triumph. In spring of 2019, the ship will transform so drastically that it will receive a new name: Carnival Sunrise.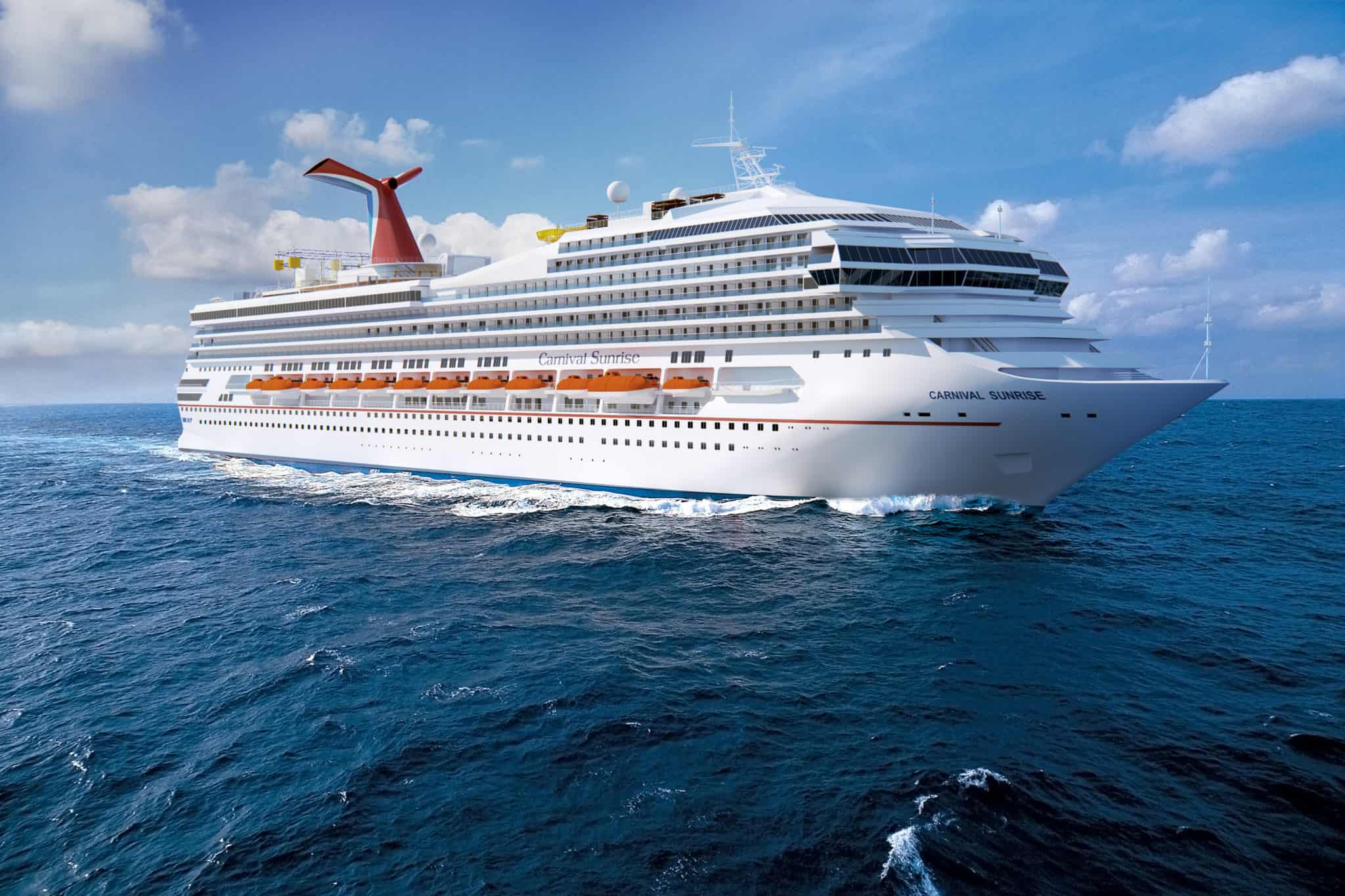 After a two-month dry dock in Cadiz, Spain, starting March 1, Carnival Sunrise will receive its new name and enter Carnival's Sunshine class.
Here's a look at what the reinvented Carnival Sunrise will feature.
Branded dining, beverage, and entertainment venues
Many of Carnival cruisers' favorite dining options will appear on the ship's new deck plans, including the Fahrenheit 555 Steakhouse, Cucina del Capitano, and Guy's Pig & Anchor Bar-B-Que Smokehouse. Sunrise will also offer The Chef's Table experience and receive a Bonsai Express (a more casual version of the line's sushi restaurant), Cherry on Top, and JavaBlue Café. Up on the lido deck, the Lido Marketplace will feature the new Carnival Deli option, a Pizzeria del Capitano, the á la carte Seafood Shack, and new Swirls soft serve stations.
The Caribbean-style RedFrog Pub will also be added to Carnival Sunrise, along with Piano Bar 88 – Carnival's new twist on the piano bar concept.
For public spaces, plans include a new Limelight Lounge for comedy shows as well as a new multi-purpose Liquid Lounge for entertainment like the Playlist Productions and "Hasbro, The Game Show." We spoke with Chief Operating Officer Gus Antorcha, who noted that "something a little different we'll be doing on Carnival Sunrise is including the piano bar in that area." By 'that area,' Antorcha means a space on the promenade deck where guests will also find the Alchemy Bar and RedFrog Pub. In essence, it will function like the Ocean Plaza on the Dream-class ships.
New and updated accommodations
According to Antorcha, who led the reimagination of Carnival Sunrise, a significant portion of the investment is going into the staterooms. Several staterooms will be added above the bridge, including two Captain's Suites. "Those are actually over where the Captain maneuvers the ship, so the views, as you can imagine, are incredible… You can see the whole side of the ship, and it'll have floor-to-ceiling glass." Junior suites and balconies will also be added, while all of the existing staterooms will be refurbished and updated as well.
New outdoor areas
Carnival Sunrise will also boast an impressive Serenity Adults-Only Retreat similar to that seen on ships like Carnival Freedom or Carnival Liberty, on which the private area is located higher and more forward. In addition, a WaterWorks park is planned, and, as a complement, a new SportsSquare complete with a ropes course, basketball court, mini golf, and other games will be added as well.
Spa and more
More additions include an expanded Cloud 9 spa with a thermal suite, private treatment rooms, and the latest cardio and weight-training equipment. Retail spaces will also be enhanced to offer more, along with the line's own branded spaces like Hip Fish and The Carnival Store. A new Camp Ocean is planned as well as new spaces for Circle "C" and Club O2. Additionally, Carnival's Warehouse Arcade will be added for more gaming and fun.
Carnival Sunrise will re-enter service with a series of five- to seven-day cruises from Norfolk, Va., beginning April 29, 2019, a summer schedule of four- to 14-day departures from New York commencing May 23, and then move to Fort Lauderdale in October. Once in Fort Lauderdale, Sunrise will operate four- and five-night cruises. The four-night weekend cruises will call at ports like Half Moon Cay, Princess Cays, Grand Turk, and Nassau, while the five-day cruises will visit Cuba as well as The Bahamas, Jamaica, Grand Cayman, and Grand Turk. Reservations are now open for all departure ports.